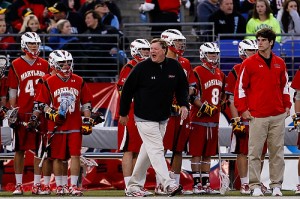 University of Maryland men's lacrosse coach Dave Cottle stepped down today after nine seasons leading the Terrapins.  Cottle led Maryland to eight-consecutive NCAA tournament appearances, including three Final Fours, the last of which came in 2006. Maryland won two ACC championships during his tenure in College Park, but did not advance to the NCAA title game. Cottle leaves with an overall mark of 99-45 (.688). The 99 victories are the sixth most of any Division I men's lacrosse program during that time.
"I have decided to step down as head coach at the University of Maryland," said Cottle. "I would like to thank Dr. Mote and Dr. Yow for the opportunity to coach at Maryland and in the Atlantic Coast Conference. I have enjoyed my nine years at Maryland. This season, I enjoyed coaching this team as much as any team I have ever been around. I have developed tremendous relationships with many Terp alumni, former coaches and have had some of the finest parents any lacrosse program has had. "Coach Cottle handled his duties as head coach with class and dignity," said director of athletics Deborah A. Yow. "We are appreciative of that and wish him the best in whatever he pursues professionally. We are grateful for his efforts over the last nine years."  from umterps.com
Bruce Weighs in:  This is a sad day for my good friend Dave Cottle and Maryland Lacrosse.  Yesterday's loss was an excruciating disappointment for Dave and Terrapin nation. Let's be clear however that the effort was there, it just wasn't their day.  It's really a shame that the under Dave's reign, the Terps never could gain that coveted title that so many Terrapins yearn for. But one thing everyone associated with Maryland will agree with is Dave ran a class show, the graduation rate and demeanor of his players was exemplary, the effort his teams put out was never questioned. His knowledge of the game is unquestioned.  Dave will land at another university quickly and all of Maryland wish him and his family only the best!!!!
And now the search for one of the most coveted jobs in NCAA lacrosse begins. Over the next few days I will detail many of the eligible candidates. Who ever comes to College park will have a preseason top 3 ranked program to inherit. Only Brian Phipps and Bryn Holmes will be missing from the starting lineup.  One thing for sure, the search is in great hands. Senior Associate Athletic Director Michael Lipitz is a devoted follower of Terrapin lacrosse has tremendous passion for the program.  I am fully confident Mike and the selection committee will select the best candidate to take Maryland back to the promised land!!!!!