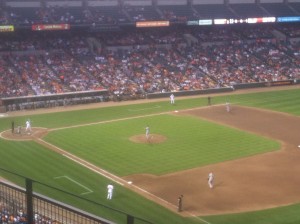 What a glorious night at Camden Yards!!!The O's coasted to a 7-1 victory behind recently exiled starting pitcher, Jake Arrieta. Jake went 7 innings and gave up just 1 run. He wasn't exactly sharp but he got the job done.
Upon entering the stadium I ran into Terrapin football coach Randy Edsall there with his family.
I am beginning to really like Chris Davis. I think his everyday role has relaxed him and the results are showing. 2 two run singers in 2 days.
Excellent crab soup at the Old Bay stand. I still miss Attman's Deli at the Yard.