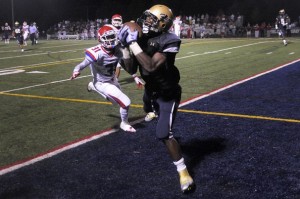 from Gene Wang of the Washington Post:
The Maryland football team scrimmaged on Saturday for the second time during training camp, and while quarterback play provided initial intrigue, freshman Stefon Diggs wound up being the talk of Bryd Stadium.
The two-time All-Met from Good Counsel scored touchdowns the first two times he touched the ball and added a third via a red-zone reception, underscoring why Coach Randy Edsall and his staff were elated the highly regarded prospect chose to remain local rather than play for a Bowl Championship Series power such as Florida or Ohio State.
The first highlight came when Diggs fielded a punt at his 32-yard line with 4 minutes 14 seconds left in the first quarter. Eluding the first wave of tacklers with nifty sidestepping, Diggs turned the corner and pulled away from the pack for a touchdown that was merely a prelude to more showmanship.
With the ball in hands the next time at the 2-yard line on a kickoff return, Diggs weaved through congestion in the middle of the field and came out the other side, sprinting the rest of the way untouched into the end zone opposite the Gossett Team House.
The virtuoso performance continued late into the second quarter when Diggs was on the field in hurry-up offense and came open on a slant pattern. Quarterback Perry Hills spotted his classmate and released a throw Diggs caught just short of the goal line before burrowing into the end zone with 34 seconds left until halftime.
"It was definitely explosive," senior wide receiver Kevin Dorsey said of Diggs, who was not available to speak to the media per team rule for all freshmen. "It's what we expect out of him. It's something he can do every single play, whether out there on kick return, punt return, we're definitely going to block because we know he's the guy who can take it to the house every time."