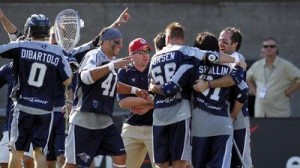 Some of my comments on this great victory for Head Coach Dave Cottle and the Chesapeake Bayhawks:
Where as I thought the Bayhawkks were too deep and strong for Denver,i never saw this one sided game as the outcome. Both of the regular season match ups were brutally tight games that could have gone either way. Not today. The Bayhawks dominated every way possible.
The key difference to me was the x position dominance of Alex Smith winning 17 of 25. The Outlaws possessions  were so limited that a comeback was almost impossible.
When Brendan Kelly named Dave Cottle as head coach, then proceeded to hire Brian Reeses as GM –all the parts of the puzzle were in place for a title. Dave was on the Sports Maven way before the season started and spoke about gathering the talent and depth from anywhere he had to –to bring in a championship calibre team. He brought in Spallina and Polanco, Drew Westerfeld while giving up some talented players. The purpose was to strengthen this team every way possible. Every home at Navy was a true family event causing the Bayhawks to average 10,000 fans. There is nothing left to say except—-MISSION ACCOMPLISHED—HAIL TO THE CHAMPIONS
from thebayhawks.com
 Midfielder Ben Hunt totaled six points on the strength of two 2-point goals as the Chesapeake Bayhawks routed the Denver Outlaws, 16-6, at Harvard Stadium to become the first franchise in Major League Lacrosse history to capture four championships. Goalkeeper Kip Turner recorded 12 saves to anchor another suffocating defensive effort as Chesapeake held Denver to its lowest goal output of the season. The Outlaws, who came into the game averaging more than 16 goals per game, were held to just one in the second half by a stingy defense led by long sticks Michael Evans, Nicky Polanco and Brian Spallina.
 "Going into today, I was very confident that we were going to play a great game. This is the first team I've ever coached that we didn't need to trick anyone to win. We had great talent, great character and great chemistry. All we had to do was execute and we would win," Chesapeake head coach Dave Cottle said. "Coming into the tournament, I thought we had the best team on paper and we proved that on the field this weekend. I'm really proud of the players for putting together two great performances on back-to-back days."
   "You join the Chesapeake Bayhawks to win championships. We don't play to just get into the playoffs, we play to win the title," said Evans, an All-MLL selection. "Brendan Kelly and Dave Cottle put together something special this season. We had great group of players who are all winners and understood what it took to win a championship."
 Attackman Ben Rubeor was named Most Valuable Player of MLL Championship Weekend after scoring eight goals in two games. "Benny is such a high character guy with tremendous intangibles. He's a great teammate who cares so much about winning and does all the little things. Those little things turned into a lot of big things this weekend."
 Turner was a brick wall in the postseason, totaling 26 saves to stymie the two top-scoring offenses in the league this season. Barney Ehrmann, Dan Hostetler andMike Simon handled long stick defensive midfielder responsibilities while Matt Abbott, Jeff Reynolds and John Orsen were the short stick defenders as Chesapeake set an MLL Championship Weekend record by allowing just 16 goals to Boston and Denver. 
     "Our goalie really stepped up in this tournament. I think from the second quarter of the semifinal on, he was the best player in the tournament," Cottle said. "Defensively, we started winning our individual matchups and that meant we didn't have to slide so much. We were able to play solid, straight-up defense because we weren't scrambling around, which was crucial. I really felt Mike Simon was a difference-maker. He gave us the final piece of the puzzle."
 "It's incredible to win the championship two out of three years. That is a great testament to everyone involved with our organization," Chesapeake owner Brendan Kellysaid. "This is what happens when you have quality people who commit to each other and commit to a goal. I'm really happy for Dave Cottle because he's one of the greatest coaches in lacrosse history. I'm thrilled that he got to taste a championship."
picture from the Sun