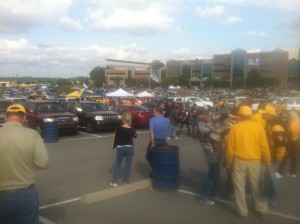 Some comments on an overall good day at Morgantown:
Okay we lost but remember this was the #8 team in the country. To me it was unbelievable that Tavon Austin was able to catch 13 passes for 179 yards and 3 TDs. He has to be just an incredible talent because to do this when the whole world knows he is getting the ball makes little sense. The sting of the recruitment loss of Tavon 4 years ago finally will come to an end as his Senior year is here. I do believe that Randy will not let this kind of local talent in Maryland slip away.
But now let's get to the great news. The play of the day did not belong to Tavon, (who by the way said he never heard of Stefon –yea right) but by our #1 Stefon Diggs in the 3rd quarter. Stefon weaved through the Mountaineer linebackers and secondary like they weren't there. I was sitting at the game with 1961 Terrapin offensive end Tom Rae who was pleading to get Diggs more touches. Stefan finished the game with 3 catches for 113 yards!!!! We must ge the ball in his hands more often.
Perry Hills continues to improve. He finished the day with 20-29 for 305 yards and 3 TD passes. By the way he was brutally sacked 5 times, but the former All State wrestler took the beating and got up and responded. The offensive line and support in the backfield must pick up their play or Perry is bound for injury.
Coach Stewart schemed the defense into just about shutting down the run and only a few great plays by Tavon saved the Mountaineers from upset city.
Brandon Ross gained 52 yards on 20 carries but I believe the best isyet to come for this young man. I liked the staff used all 4 running backs. Albert Reid was certainly much stronger then in his debut effort against W&M.
The whole football experience in Morgantown is something to behold. The town seems to be in the middle of nowhere yet 65,000 strong showed up wearing colors today. The 12th man effect was even recognized by Stefon. When the game was over and by the way very few people left–the audio in Milan Puskar Stadium played Country Roads. The entire crowd belted out the song and the left the stadium to begin the wait til next Saturday's game. Yes I was impressed. The 20 minute walk to our car began with a climb up 162 steps—I was drenched and could barely breathe by the time we reached the car.
If the Terps continue this effort, cut down the mistakes, and find a way to get Stefon more touches ACC victories await us this year.