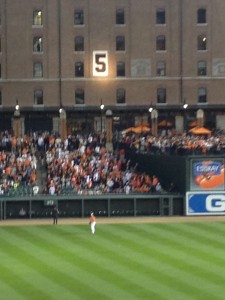 One of the most electric crowds in 2 decades graced Camden Yards last night to honor Brooksie but also to watch this amazing squad continue its rise back to respectability.
Manny Machado did Brooks proud contributing a sterlind double play and providing the game winning hit.
The O's survived a few mistakes tonight–Chris Davis drops a fly ball, Reynolds tries to go to 3rd on a hard single to center and gets thrown out by 10 ft
My vote for O's MVP—Jim Johnson—has been utterly incredible
Buck replaces Chris Davis with Endy Chavez in the 9th. Chavez proceeds to make a great shoestring catch
The O's are now tied with the Yanks for 1st place but still haven't clinched a playoff spot
The ceremony for Brooks was off the charts. Story after story were told about what a great guy Brooks was.
Joe Saunders starts for the O's today