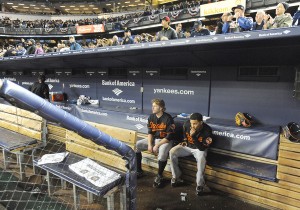 First it was Evans Dropping the Super Bowl pass
Then it was Loyola Ruining the Quest of Maryland to Win the NCAA Title in Lacrosse
Of course then it was the Capitals Pulling their Yearly Choke
Then the O's Bats Fell silent and faded to the Yanks
And if I may add the most Improbable of Losses –Davey Johnson Forgot He was managing and allowed the Nats to Blow a 6-0 Lead and lose to the Cards 9-7
Back to the O's game:
Listen it was a phenomenal season so I am not going to dewell on the negative of the dead bats but: Do we have a hitting coach?
Lew Ford drove in the only run of the game—can't figure out why Thome was ever in the lineup
Sorry, I know the Yanks were falsely gracious Post Game—but I only hope they get swept. Remember we got beat by a 20 million dollar pitcher
One good result from last night—- I have watched my last baseball game of the year
I already can't wait til next year—some key questions
Will the O's exercise their $11 mill option on Reynold. He certainly carried the team at times but for the most part of the year his hitting was horrendous
                  Will the O's make a play for Nate NcLouth?
                  Who will be in the rotaion next year–seems like—-Hammel, Gonzalez, Chen, Matusz, Tillman—What about Britton, ?
                  Set up man—O'Day
Bullpen—Hunter, Strop, Ayala, Patton, JJ
Do the O's make a play for Hamilton?
Was the ball fair or foul? Sure looked like it hit the pole to me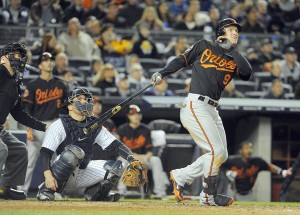 The love afair with the O's has been reborn. All "Come lately" folks are welcome