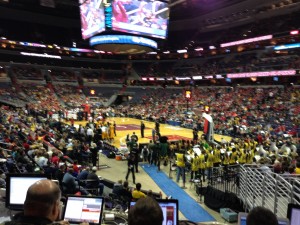 Sophomore guard Dez Wells is coming into own. Sunday Dez scored 25 on top of his 23 point performance at Northwester. Our big scoring 3 of Wells, Faust , and Len combined for 51 points. This was an extremely tough win for the Terps as they do not face a small scrappy team like Paul Hewitt's George Mason often.
Maryland's defense was strongholding Mason to a shooting % of 31. As usual the Terps outrebounded their opponent –49-34. Then why was this game close–turnovers. Maryland committed 19 led by Dez Wells' having 5.
The bench combined for only 8 points and this will have to improve going forward. Jake Layman did not score again as he is having trouble finding open looks. 
I don't how to define it but with each game I am gaining confidence with this group. They seem to wear down the opponents and finish strong. Most likely its the defense and rebounding that is doing it. 
All of PeShon's numbers are strong 6 assists, 3 turnovers, 7 rebounds except his field goals. He needs to be more of a threat shooting and it seems like he is passing up many shots. But overall his presence in the lineup appears to be a necessity.
Next up UMES on Wednesday at 7PM at Comcast.
December 3rd, 2012 |
0 Comments »
No comments have been posted yet, be the first!
Post a comment by filling out the form below.