Yes I thoroughly enjoyed this victory. No it doesn't make up for the Championship loss last May but every lacrosse fan in Terrapin nation had to feel good for the student athletes today!!! let's go down the list of reasons the Terps triumphed today.
LSM Jesse Bernhardt was simply sensational today. 10 groundballs frustrated the Greyhounds. Jesse's counterpart on Loyola, Scott Ratliff also excelled with 6 groundballs and a goal but let's give the edge today to Jesse. #36 is able to pickup ground balls in a split second. No doubt this is why Dave Cottle grabbed him in the 1st round of the MLL draft. Assistant Coach Brian Farrell, himself an All American LSM at Maryland told me postgame that Jesse's performance was incredible.
The Terps 1st midfield line of Mike Chanenchuck (2 goals), John Haus (4 goals) and Jake Bernhardt (1 g 1 assist) simply outplayed the d middies from Loyola. After trailing 1-0, the Middie line kickstarted Maryland to a 5-1 lead, one which was never lost.
John Tillman and his staff coached a masterful game changing up much of the offense after struggling against Loyola in the National title game.  Here is video of Coach Tillman talking to the troops after the game.IMG_0208
FYI–Loyola had no penalties called against them the entire game. I promise this would not have been mentioned had Maryland lost the game
Tewaaraton nominee Niko Amato was nearly flawless in the first half and certainly was the reason the Terps had a 7-3 advantage going into halftime. He had 7 saves compared to only 2 for Runkel from Loyola. Niko and Michael Erhardt combined for 65 interceptions of Loyola passes.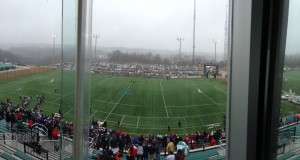 The picture above represents the packed house at the game Saturday. Traffic poured in even after the game started. This is a game that is needed to be played every year. Terrapin fans were out in strong numbers including my buddy Nick from the Costas Inn.
Loyola show the heart of a champion fighting to the end. With the Terps up by 4 goals with under 2 minutes left, the Greyhounds made a late run only to be stopped by Amato on a point blank shot with 12 seconds left. Toomey went to a zone late in the game and yet while it frustrated Maryland, it definitely slowed the game down which did not help Loyola gather its forces for a comeback.
Let's be real however, it's February 23rd–way too early in the season to be celebrating especially for Maryland who has but one major goal. The Maryland players to a man denied that this was any sort of revenge game, only a tough marchup early in the year. At this point of the season, I would not be shocked to see these 2 teams playing again in Philadelphia. But any way you slice it, IT WAS A TREMENDOUS DAY FOR MARYLAND LACROSSE!!!!