It takes 3 pieces of the puzzle to make the Terps offense click but tonigh Nick Faust was hampered with foul trouble. Sean Mosley continued his hot shooting scoring 21. If he was a little less unselfish, he could get even more productive. His shot has definitely improved. The Terps were beaten badly inside. Iona is one of the stronger mid majors.
Some comments on a great Terrapin victory in Puerto Rico
Terrell Stoglin was simply incredible last night scoring 32 on 12-21 shooting and playing his heart out all over the court.
Sean Mosley had the kind of game that we will need in order us to win. He was 4-5 from the 3 point line and wound up with 16 points.
It is hard to believe that Nick Faust is a Freshman. Handling the point almost the entire game Nick finished with 15 points, 3 assists, 3 turnovers and 5 rebounds.
Coach Turgeon was charged up on the sideline. it was easy to tell how much he wanted this win. By the way Nick is fine–that was just some cramping at the end of the game.
This did not even look anything like the team that lost to Bama on Thursday night. I was just sorry it was only on ESPN3. But you can watch it again if you want. Next up—Iona on Sunday at 2 PM on the U.
Fingers crossed that it is a positive decision. We should know soon.
Observations of a special night in College Park:
There is no doubt as to who is #1 in Field Hockey –unfortunately it's Old Dominion. The Monarchs came to town undefeated and left the same way after a 5-2 thrashing of the Defending Nation Champions. However no dynasty is returning with the Monarchs. Their team is propped up by the 1 year addition of 2 Srs from the UK including Emma Batten one of the world's best players.
I watched the end of the Field hocket game with AD Kevin Anderson then shot up to Ludwig Field and watched the #3 Terps manhandle Duke 4-2 in front of nearly 8000 fans. The bad news was that Sonny James was ejected from the game and must sit out next week's contest vs North Carolina. John Stertzer scored twice for the Terps.
Kevin wanted me to mention the first class way Georgia Tech handled the Andrew Gonnella injury. As we all know by now Coach Paul Johnson visited Andrew on Sunday.  Georgia Tech treated this most unfortunate occurance as if it happened to one of its own. Hats off!!!
Midnight Madness certainly was one of the most memorable in the 40 year history.
The introduction of the Alumni was very special. Greivis was thrilled to return to the adulation of the crowd. Steve Blake, Chris Wilcox, Johnny Rhodes, Dave Neal, Eric Hayes all received thuderous Comcast ovations. As for the game—here's a few thoughts:
—Johnny Rhodes can still play. He was incredible.
—Blake, LaRon Profit, Chris Wilcox and Senor Vasquez all stood out like NBA players should!!!
—What a shame Wilcox didn't plat 1 more season with the Terps.
As for the intro game of the men's and women's team:
The women are clearly led by Lynetta Kizer–she can do it all including hitting a few 3s. I do believe that barring injuries the Ladt Terps have the depth they've been missing the past few years.
Watching the men, I now agree with the Coach—this is not a small team especially if Len ever clears the NCAA.
Turgeonn introduced Sean Mosley as the solo Captain. He reiterated how crucial Mr Baltimore is to the team.
What I saw of Nick Faust I liked a lot. You would never think he is a freshman.
PeShon and Stoglin seemed to have matured greatly.
Ashton Panket seemed to be playing pain fress.
Behrend Weijs ran the court impressively.
Of the 6 walkons, Spencer Barks seemed to play the best but I wouldn't look for major contributions from any of the guys.
–Gary spent a few minutes with the press and admitted this was always the best time of the year for him. Turgeon post game said that Gary has been a great help to him in his transition.
httpv://www.youtube.com/watch?v=rLdhyxc8L9w
Now I know why Bino, Turge, G , Calipari, etc have spent so much time in Houston. This is one awesome team. My analysis of the 5 Terrapin targets:
Shaquille Cleare–tremendous mobility for a 6'9 285 lb guy. More then held his own against one of the best defenders in the nation. Has a great sense fo rthe ball inside. Gets up real quick for someone so big. When the ball gets in his hands it's over. Good inside moves. Will be a force immediately in the ACC> Message to Shaq–COMMIT!!!!!
Harrison Twins—Aaron will never be in anyone's shadow. Tonight he was the best player on the court. Only player hitting from the outside. Not bashful about shooting. Andrew, who many consider the #1 2013 Recruit is a true field general. These guys are a package and whoever lands them will instantly become final four ready.
Christian Sanders –shooting was a little off but his passing was spot on.Tremendous asset to the team that gets him
Jake Layman–reminds you of Mike Dunleavey, tall lanky but could really drive to the bucket. If he wants to come to Maryland get it done!!!
Turge—Land these 5 guys and a final four will be in your near future
Yes –one could certainly make the case that had Jordan Williams returned to Maryland he would have been a 1st round pick next year. But he didn't and that's that. However, Avery Johnson wanted him on the NJ Nets and the reat is history. Jordan should get to play for Avery johnson. Here is an analysis of the pick from espn.com:
PLAYER: Jordan Williams
SCHOOL: Maryland
POSITION: Power forward
HEIGHT: 6-9
WEIGHT: 250
WHAT IT MEANS: When your starting center (Brook Lopez) only averages 6.0 rebounds per game — the lowest amount ever for a big man who played at least 35 minutes a game in a season — then you need to draft a physical presence and dominant rebounder. With a second-round selection, that type of player you select is Williams, who averaged a double-double last season at Maryland (16.9 ppg and 11.8 rpg). Outside of Kris Humphries, who eventually took over the starting four spot full-time halfway through the season, the Nets didn't have a reliable banger and boarder off the bench. Williams gives Nets head coach Avery Johnson a chance to breathe a bit lighter whenever a shot goes up.
HOW HE FITS IN: Now that rookie power forward Derrick Favors is gone — he was traded to Utah along with point guard Devin Harris — Williams fills a hole as Humphries' back-up. After the Nets finished as one of the worst teams in the league last season (24-58), Williams will get plenty of opportunities to earn minutes in training camp.
PROJECTED IMPACT: Six points and six rebounds per game, averaging around 15 minutes per game. While Williams' outside shot, and especially his free throw shooting is inconsistent, he's big enough with very good hands to find his way around the rim. By 2012-13, expect him to be close to double-digit averages in points and boards.
It was wall to wall Terrapin fans at The Greene Turtle adjacent to the Verizon Center. Of the many Terrapin rock stars the following were present:
AD Kevin Anderson
Mark Turgeon
Randy Edsall
Brenda Frese
Brian Pensky (Women's Soccer)
Kerry McCoy (Wrestling Coach)
Emcee Chris Knoche opened up the evening by informing the crowd about the start of Terp Talk DC on 1580 AM every Saturday morning at 8AM. Optimism abounds at these events. The Lacrosse Final Fours were the topic of conversation tonigh.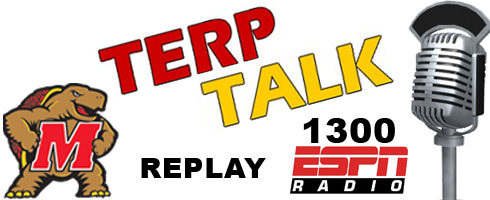 Terp Talk Thursday Night 04-21-11
Host–Bruce Posner Guests Keith Cavanaugh, Ray Schulte
Subjects–Review Maryland vs Hopkins, Keith Cavanaugh, the passing of some great Terp supporters,
From terrapin times.com comes the story of Jared Guest an up and comer from the Charis Prep School lb Columbia, SC. He is a quick leaper who developed late and has brought the 3 point shot into his game at prep school. Guest is visiting VCU this week and come to College Park next week.
Yes it seems like Desmond Hubert may become a Tar Heel but not quite yet. If anyone is reading this and has contact with Desmond. Let him know he will be an afterthought in Roy's lineup but an integral part in Gary's right away.
Desmond was excellent last night , much better then I had seen previously.Yes he needs some weight and muscle but he can play. He is stronger on the defensive end. He told the ESPNU broadcasting crew that his recruitment is down to UNC and Maryland.