June 19th, 2013 |
0 Comments »
http://rivals.yahoo.com/video/recruiting-football/rivals-250-db-likely-talks-terps-1111343
Shane finished with 9 carries for 107 yards, 4-6 passing for 127 yards and 2 TDS.
Some of the many topics on the show this morning:
Homecoming game vs NC State–Can Terps take another step toward Bowl Eligibility
The Reemergence of Maryland Basketball as a National Power
PG Roddy Peters Verbals to Maryland
Intense competition for playing time 
Terps defeat UVA to move to 4-2
Diggs, Drakeford snag ACC Honors
#1 Soccer Team Defeats Carolina 1-0 in OT
#6 Field Hockey will host #1 North carolina Saturday at 1PM
#5 Women's Soccer Drops 1-0 Game to Miami 
The pain only lasted a few days. Turgeon &Co have just landed one of the premier PGs in the nation. Roddy Peters who WANTS and has always wanted to be a Terp will arrive in the fall of 2013. The Bsaketball world is now aware that the Terps are back! Check out this article from cbssports.com and Jeff Goodman:
Terps Could Be Major Players in 2013-14 Even Without The Twins
Maryland fans everywhere were in anguish 11 days ago when the Harrison twins chose Kentucky (and Nike) over their beloved Terps (and Under Armour). Andrew and Aaron Harrison were considered the saviors of sorts, a pair of talented brothers who could bring this program back to national relevance.
But Mark Turgeon doesn't necessarily need the Harrison twins in order to compete for a Final Four. What he needs is sophomore 7-footer Alex Len to remain in College Park beyond this season. Then the Terps will be a major player on the national level.
Here's their 10-man rotation for a year from now in 2013-14 if the big Ukranian sticks around:
Frontcourt — Alex Len (junior), Shaq Cleare (sophomore), Jake Layman (sophomore), Evan Smotrycz (redshirt junior), Charles Mitchell (sophomore), Damonte Dodd
Perimeter — Dez Wells (redshirt sophomore), Nick Faust (junior), Pe'Shon Howard (senior), Roddy Peters (freshman), Seth Allen (sophomore)
That's pretty impressive and certainly a collection of talent that can compete for an ACC title — especially when you factor in Turgeon's X's-and-O's ability.
Maryland landed a commitment from Peters on Tuesday morning, according to several reports. Peters is a local combo guard who isn't Andrew Harrison, but he is a top-50 player and a likely four-year kid. He and Howard give the Terps a pair of quality point guards — although Peters can also play off the ball. Wells and Faust are two high-level wings, Layman and Smotrycz are two skilled forwards and Turgeon could have a big-man duo of Len and Cleare.
Turgeon and his staff have yet to land that elite-level player, but the Terps have managed to add four top-75 players (if you include Wells) since he got the job less than 18 months ago.
I'm not sure next year's team ultimately will get to the Final Four in Dallas, but it's certainly not far away. When Turgeon took over, I said the Terps would be in the Final Four within five years. Maryland could — if things break right — have an opportunity (as long as Len returns) in Year 3.
Yes, even without the Harrisons.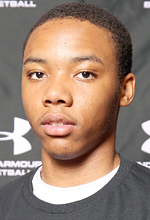 Yes, this could be the big news every Terrapin Basketball has been waiting for. Turge and Dalonte Hill had an in home visit with the Suitland PG Monday night. The final decision is between Georgetown, Xavier, Rutgers, and Maryland. Kansas and UCLA had been in the mix but have vanished.  Many (including Mike Ricklen) have thought that Peters was the more rational selection for the Terps, but that is really just opinion. Roddy is 6'4″ and 180 lbs. He is a 4 Star and ranked overall as the 38th best player in the country. As I have been saying Turge is the real deal.
according to terrapin times.com Roddy will be in the house—Great News!!!!!!!
I will never sugarcoat it. It's plain and simple–Mark Turgeon and Bino Ranson have done everything humanly possible to land the twins. Why? Because Turgeon knows that added to the existing players that will be at Maryland next year, the addition of Andrew and Aaron will elevate this team into the top reaches of the NCAA. That's a fact. Not based on film but based on talent. Andrew is the number 1 prospect in the nation but mark my words, brother Aaron is the best 2 guard I have seen come into the NCAA ever. There will be no bridge jumping by me if we lose the twins to Calipari but I will be sick because they belong at Maryland. That's my take.
Terrapin times Dan Painter,  the most knowledgeable reporter on Maryland basketball recruiting will be on Terp Talk tomorrow discussing the Twins' decision.