Maryland junior defender Megan Douty, freshman midfielder Zoe Stukenberg and head coach Cathy Reese earned 2014 Atlantic Coast Conference Women's Lacrosse individual postseason honors, as voted on by the league's eight head coaches and announced Monday by the conference office.
Douty and Stukenberg were named ACC Defensive and Co-Freshman of … Read More »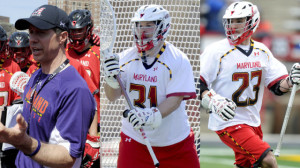 Head coach John Tillman, senior goalie Niko Amato and freshman attackman Connor Cannizzaro were among the recipients of the annual ACC men's lacrosse individual awards, the conference announced Thursday.
Tillman was selected as the ACC Coach of the Year, while … Read More »
2014 All-ACC Men's Lacrosse Team
Deemer Class, So., M, Duke
Brendan Fowler, Sr., M, Duke !*
Myles Jones, So., M, Duke
Jordan Wolf, Sr., A, Duke %*
Niko Amato, Sr., G, Maryland %*
Mike Chanenchuk, Sr., M, Maryland *
Mike Ehrhardt, Sr., D, … Read More »
ACSMA All-ACC Team
(First place votes in parenthesis, followed by total points)
First team
Jabari Parker, Fr.. Duke (77) 231
T.J. Warren, So., NC State (77), 231
Marcus Paige, So., North Carolina (69) 223
C.J. Fair, Sr., Syracuse (47) 200
K.J. McDaniels, Jr. Clemson (46) 199
Second Team
Without question  the best Terrapin Victory since Grievis' last game at home. Turgeon had this team perfectly prepared and once again out coached the King of the Evil Empire into the ground. HATS OFF TO COACH TURGEON!!!!!!!!!!!
When I was submitting my vote for ALL ACC–I just could not leave … Read More »
March 15th, 2013 |
1 Comment »
Maryland sophomore center Alex Len received honorable mention All-ACC and was named to the All-ACC Defensive Team, both of which were announced on Monday by the Atlantic Coast Sports Media Association.
The Antratsit, Ukraine, native ranks second in the conference with 60 blocks and recorded at least one in 28 of … Read More »
Senior Tianna Hawkins and junior All-American Alyssa Thomas were voted to both the Blue Ribbon Panel and league coaches All-ACC First Team, announced Monday by the conference.
The two were Nos. 1 and 2 in the ACC in scoring and rebounding throughout the year. Hawkins led the league in scoring since day … Read More »
Maryland defensive lineman Joe Vellano headlined a list of five Terrapins that received All-ACC honors, announced by the league on Monday.
Vellano was a first-team selection for the second straight year, while linebacker Demetrius Hartsfield earned second-team honors. Hartsfield earned honorable mention last season.Stefon Diggs (specialist), A.J. Francis (defensive line) and Kenneth Tate (linebacker) … Read More »
The Maryland's men's basketball team was picked sixth today in the Atlantic Coast Conference men's basketball preseason coaches poll. Below is a look at the voting and the preseason All-ACC team.
1. NC State (8) 139 2. Duke (3) 130 3. North Carolina (1) 124 4. Miami 104 5. … Read More »
Here's the list
2012 Atlantic Coast Conference Preseason Team Offense Pos. Name (Votes) Ht Wt Class Hometown WR Conner Vernon, Duke (41) 6-2 195 Senior Miami, Fla. WR Sammy Watkins, Clemson (68) 6-1 200 Sophomore Fort Myers, Fla. TE Matt Furstenburg, Maryland (35) 6-4 245 Senior Flemington, N.J. T James … Read More »