Maryland junior defender Megan Douty, freshman midfielder Zoe Stukenberg and head coach Cathy Reese earned 2014 Atlantic Coast Conference Women's Lacrosse individual postseason honors, as voted on by the league's eight head coaches and announced Monday by the conference office.
Douty and Stukenberg were named ACC Defensive and Co-Freshman of the Year, respectively, while Reese garnered coach of the year honors for a sixth-straight season.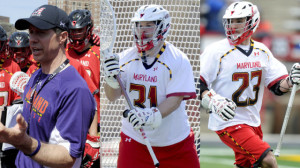 Head coach John Tillman, senior goalie Niko Amato and freshman attackman Connor Cannizzaro were among the recipients of the annual ACC men's lacrosse individual awards, the conference announced Thursday.
Tillman was selected as the ACC Coach of the Year, while Amato and Cannizzaro were named the Defensive Player of the Year and Freshman of the Year, respectively.
Tillman earns his first ACC Coach of the Year honor after guiding the Terrapins to a 10-3 overall record, including a 4-1 mark in conference play, which earned Maryland the 2014 ACC Regular Season championship. Tillman, who is in his fourth season at the helm of the Maryland program, is the third Terrapin head coach to earn the honor, joining Dick Edell, who won the award in 1989, 1992 and 1998, and Dave Cottle, who won the award in 2004 and 2008.
from umterps.com
2014 All-ACC Men's Lacrosse Team
Deemer Class, So., M, Duke
Brendan Fowler, Sr., M, Duke !*
Myles Jones, So., M, Duke
Jordan Wolf, Sr., A, Duke %*
Niko Amato, Sr., G, Maryland %*
Mike Chanenchuk, Sr., M, Maryland *
Mike Ehrhardt, Sr., D, Maryland *
Goran Murray, Jr., D, Maryland
Charlie Raffa, Jr., M, Maryland
Jimmy Bitter, Jr., A, North Carolina
Ryan Creighton, Sr., M, North Carolina
Joey Sankey, Jr., A, North Carolina !*
Chad Tutton, Jr., M, North Carolina *
Matt Kavanagh, So., A, Notre Dame*
Steve O'Hara, Sr., D, Notre Dame *
Brandon Mullins, R-So., D, Syracuse
Kevin Rice, Jr., A, Syracuse *
Mark Cockerton, Sr., A, Virginia !*
% Four-time All-ACC Team selection
! Two-time All-ACC Team selection
* 2014 Tewaaraton Award Candidates
ACSMA All-ACC Team
(First place votes in parenthesis, followed by total points)
First team
Jabari Parker, Fr.. Duke (77) 231
T.J. Warren, So., NC State (77), 231
Marcus Paige, So., North Carolina (69) 223
C.J. Fair, Sr., Syracuse (47) 200
K.J. McDaniels, Jr. Clemson (46) 199
Second Team
Malcolm Brogdon, So., Virginia (35) 170
Lamar Patterson, Sr. Pitt (10) 158
Tyler Ennis, Fr., Syracuse (13) 156
Rodney Hood, Jr., Duke (4) 148
James Michael McAdoo, Jr., North Carolina (2) 103
Third Team
Olivier Hanlan, So., Boston College (3) 101
Joe Harris, Sr., Virginia (1) 79
Rion Brown, Sr., Miami 52
Dez Wells, Jr., Maryland 45
Daniel Miller, Sr., Georgia Tech 34
Just for Reference—I had Dez on the 2nd Team and Seth Allen on the 3rd team
Without question  the best Terrapin Victory since Grievis' last game at home. Turgeon had this team perfectly prepared and once again out coached the King of the Evil Empire into the ground. HATS OFF TO COACH TURGEON!!!!!!!!!!!
When I was submitting my vote for ALL ACC–I just could not leave out Dez Wells despite the Terps 8-10 record. Look we all saw it –there were games when he was fantastic. Minus his plethora of turnovers, he really was great all season. Out of 77 votes only 4 writers picked him for any of the 3 teams as ALL ACC. I am proud that I was one of them.
Without question Duke was baffled by the press. though there weren't many steals, it took Duke 10 seconds or so to break and through their offense off kilter. At some point of the 1st half Duke was playing racehorse bball just like Maryland. 
Duke could never adjust to Maryland's 4 guard set that virtually ruled Ryan Kelly useless. By the way this was the first loss Duke had with Kelly in uniform. Coach Turgeon virtually went with a 8 man lineup —Padge didn't play and Logan got 2 minutes PT. The guys who did play just seemed more in rhythm all night. PeShon had 7 points but more important 5 assists and 0 turnovers.
So next up is Carolina. I have said all along that the magic number was 3 wins not 4. If by some way the Terps upset Carolina on the "Neutral" Greensboro court, to me it seems like the Terps will be in. But you know what, winning the ACC Championship in one of our final years in this dreadful conference would be dynamite. But the best thing about tonight was watching Coach K squirm.
March 15th, 2013 |
1 Comment »
Maryland sophomore center Alex Len received honorable mention All-ACC and was named to the All-ACC Defensive Team, both of which were announced on Monday by the Atlantic Coast Sports Media Association.
The Antratsit, Ukraine, native ranks second in the conference with 60 blocks and recorded at least one in 28 of 31 regular-season games. He's helped Maryland control the paint, where the Terps have outscored opponents by an average of 36.8 points to 24.0 points.
Senior Tianna Hawkins and junior All-American Alyssa Thomas were voted to both the Blue Ribbon Panel and league coaches All-ACC First Team, announced Monday by the conference.
The two were Nos. 1 and 2 in the ACC in scoring and rebounding throughout the year. Hawkins led the league in scoring since day one of the season with her 18.5 points per game, which is the most by any Terrapin since Deanna Tate averaged 19.8 in 1988-89. Thomas finished third in scoring with 17.7 points per game.
Thomas led the league in rebounding throughout the season with 10.3 boards per game and Hawkins finished just behind her with 9.4. Thomas also finished second in assists with 5.3 per contest. In ACC games, Thomas led the league in scoring, rebounds and assists. Thomas also led the league with 17 double-doubles, 12 in 18 ACC games.
Maryland defensive lineman Joe Vellano headlined a list of five Terrapins that received All-ACC honors, announced by the league on Monday.
Vellano was a first-team selection for the second straight year, while linebacker Demetrius Hartsfield earned second-team honors. Hartsfield earned honorable mention last season.Stefon Diggs (specialist), A.J. Francis (defensive line) and Kenneth Tate (linebacker) received honorable mention. from umterps.com
The Maryland's men's basketball team was picked sixth today in the Atlantic Coast Conference men's basketball preseason coaches poll. Below is a look at the voting and the preseason All-ACC team.
| | |
| --- | --- |
| 1. NC State (8) | 139 |
| 2. Duke (3) | 130 |
| 3. North Carolina (1) | 124 |
| 4. Miami | 104 |
| 5. Florida State | 103 |
| 6. Maryland | 78 |
| 7. Virginia | 68 |
| 8. Clemson | 61 |
| 9. Georgia Tech | 40 |
| T10. Virginia Tech | 32 |
| T10. Wake Forest | 32 |
| 12. Boston College | 2 |
Preseason All-ACC
Lorenzo Brown, Jr., NC State
C.J. Leslie, Jr., NC State
James Michael McAdoo, So., North Carolina
Mason Plumlee, Sr., Duke
Michael Snaer, Sr., Florida State
Preseason ACC Player of the Year
C.J. Leslie, Jr., NC State
Preseason ACC Rookie of the Year
Rodney Purvis, Fr., NC State
Here's the list
2012 Atlantic Coast Conference Preseason Team
Offense
Pos.
Name (Votes)
Ht
Wt
Class
Hometown
WR
Conner Vernon, Duke (41)
6-2
195
Senior
Miami, Fla.
WR
Sammy Watkins, Clemson (68)
6-1
200
Sophomore
Fort Myers, Fla.
TE
Matt Furstenburg, Maryland (35)
6-4
245
Senior
Flemington, N.J.
T
James Hurst, North Carolina (48)
6-7
300
Junior
Plainfield, Ind.
T
Oday Aboushi, Virginia (29)
6-6
310
Senior
Brooklyn, N.Y.
G
Omoregie Uzzi, Georgia Tech (57)
6-3
300
Senior
Lithonia, Ga.
G
Jonathan Cooper, North Carolina (55)
6-3
295
Senior
Wilmington, N.C.
C
Dalton Freeman, Clemson (58)
6-3
285
Senior
Pelion, S.C.
QB
Tajh Boyd, Clemson (29)
6-1
225
Junior
Hampton, Va.
RB
Giovani Bernard, North Carolina (60)
5-10
205
Sophomore
Davie, Fla.
RB
Andre Ellington, Clemson (53)
5-10
190
Senior
Moncks Corner, S.C.
Defense
Pos.
Name (Votes)
Ht
Wt
Class
Hometown
DE
Brandon Jenkins, Florida State (59)
6-3
265
Senior
Tallahassee, Fla.
DE
James Gayle, Virginia Tech (31)
6-4
250
Junior
Hampton, Va.
DT
Joe Vellano, Maryland (58)
6-1
285
Senior
Rexford, N.Y.
DT
Nikita Whitlock, Wake Forest (33)
5-11
260
Junior
Wylie, Texas
LB
Kevin Reddick, North Carolina (49)
6-3
240
Senior
New Bern, N.C.
LB
Bruce Taylor, Virginia Tech (42)
6-2
253
Senior
Riceboro, Ga.
LB
Steve Greer, Virginia (32)
6-2
225
Senior
Solon, Ohio
CB
David Amerson, NC State (63)
6-3
194
Junior
Greensboro, N.C.
CB
Kyle Fuller, Virginia Tech (25)
6-0
181
Junior
Baltimore, Md.
S
Lamarcus Joyner, Florida State (45)
5-8
204
Junior
Ft. Lauderdale, Fla.
S
Earl Wolff, NC State (30)
6-0
207
Senior
Raeford, N.C.
Specialists
Pos.
Name (Votes)
Ht
Wt
Class
Hometown
PK
Dustin Hopkins, Florida State (54)
6-2
190
Senior
Houston, Texas
P
Dalton Botts, Miami (65)
6-3
198
Senior
Taft, Calif.
SP
Greg Reid, Florida State (35)
5-8
186
Senior
Valdosta, Ga.