"It's a great day to be a Terp. Great football win yesterday, Coach Friedgen. In my five years at Army, we never beat Navy, so thank you very much. They told me, don't come back without a win. I'd like to thank again President Loh and Linda Clement and the search … Read More »
I do not know about Kevin Anderson. His credentials seem excellent. It seems like Dr Loh wanted a squeaky clean guy tfor this position. That is what he got. the following is from umterps.com
Kevin Anderson has been hired as the new director of athletics at the University of Maryland, … Read More »
Jeff Hathaway—from UConn already covered –see previous posts
Kevin Anderson  (Current AD at Army)–brief Bio —Since Kevin Anderson was introduced as Army's Director of Athletics on Dec. 13, 2004, West Point's intercollegiate athletic program has enjoyed immense success both on and off the "fields of friendly strife. Boasting more than two … Read More »
Apparently the search is really on as 3 candidates were interviewed in the past few days. rumors have it that Jeff Hathaway in one of the 3.
From Jeff barker's column in the Sun:
Incoming University of Maryland president Wallace D. Loh said Wednesday that he expects to play a significant role in selecting the school's next athletic director, even though his appointment is not effective until Nov. 1. Loh's role might be unofficial — for example, meeting … Read More »
Chuck Neinas is perhaps the most wired in sports headhunter in the country. Some of his recent recruits were Mark Dantonio (Mich State), Urban Meyer (Utah then Florida, Tom Davis (Carolina) and Randy Shannon (The U). It is very obvious Maryland is looking for a high profile person to take … Read More »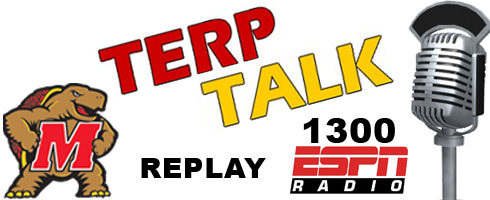 Terp Talk Thursday Night 07-15-10
Host–Bruce Posner Guests–Dino, Freddy
Subjects–Terps in NBA Summer league, New Lax Recruits, Deaths of Joe Gardi, Steinbreener, Terp News
2011 Basketball Recruits
,
Athletic Director Search
,
Dave Cottle
,
Debbie Yow
,
Directors Cup
,
Freddy from Boca
,
Greivis Vasquez
,
Hall of Fame
,
John Tillman
,
Lance Stephenson
,
Men's Lacrosse
,
Radio Shows
July 17th, 2010 |
0 Comments »
terrapintimes.com reported on Tuesday that Rob Mullens, Associate AD at Kentucky is certainly making a strong play for the departed post of Debbie Yow. His experience at Maryland and his roles in football and basketball in kentucky certainly qualify him as a strong candidate.
Members of the search committee to select the University of Maryland's next Director of Athletics have been appointed, President C.D. Mote Jr. announced Tuesday.
A national search to fill the position will begin immediately. A timetable has not yet been established for the search process. Dr. Linda Clement, vice president … Read More »
Jeff Hathaway, Connecticut AD — A Maryland graduate who served as Lefty Driesell's team manager as an undergraduate, the 50-year-old Hathaway received an endorsement from Yow on Friday. Has also been the athletic director at Colorado State and currently serves on the men's NCAA tournament selection committee.
Neil Eskin, Connecticut … Read More »