"It's a great day to be a Terp. Great football win yesterday, Coach Friedgen. In my five years at Army, we never beat Navy, so thank you very much. They told me, don't come back without a win. I'd like to thank again President Loh and Linda Clement and the search committee for selecting me to be the next athletics director at the University of Maryland. My family and I are very proud of this opportunity and we promise not to let anybody down. I'd like to take a minute to express my thanks to all my friends and all my staff and coaches at West Point… I want to thank the cadets. All of those cadets that touched my life and my family's life because… I can tell you our country is in good hands because those people I worked with, fighting for our freedom, are outstanding Americans and human beings. Today is a new day at the University of Maryland. I am excited and looking forward to building an incredible team. That was the main thing when President Loh called me, he talked about me being a part of his team. That's what sold me right away because that's how I grew up in athletics, my family and in everything else. It's always been about the team. I definitely am glad to be part of your team and the University of Maryland's team. Trust me, you've done good and great things, but we're going to do better and greater things.  Quoted from Kevin Anderson
I do not know about Kevin Anderson. His credentials seem excellent. It seems like Dr Loh wanted a squeaky clean guy tfor this position. That is what he got. the following is from umterps.com
Kevin Anderson has been hired as the new director of athletics at the University of Maryland, Acting President Nariman Farvardin and President-Designate Dr. Wallace Loh announced Saturday. Anderson comes to Maryland from the United States Military Academy, where he has directed Army's athletics department since 2004. At Army, Anderson has been responsible for a 25-sport program that served more than 900 cadet-athletes. "We conducted an extensive national search which was rigorous and insightful, and I am grateful for the dedication and commitment of the search committee, especially its Chair, Linda Clement. The search committee worked extremely hard and, in the final hour, Dr. Loh and I were in complete agreement that Kevin was the best person to lead Maryland Athletics," said Farvardin.
"Kevin has built a solid program of competitive and academic success at the U.S. Military Academy, supporting the student-athlete and demonstrating that academics and athletics can go hand in hand," said Dr. Loh. "I am convinced that his leadership will raise Maryland Athletics to even greater heights. We are delighted to welcome Kevin into the Terrapin family."
Anderson helped develop and manage a budget of $25 million and turned an operating deficit of more than a million dollars into a $2.73 million surplus in only five years. Sponsorship, ticket sales and fund-raising revenue have all increased during his time there.
Anderson led a team that negotiated a five-year, $55 million deal with CBS to televise the Army-Navy game, and worked on the agreement that will bring college football to Yankee Stadium, beginning this season with the Army-Notre Dame game. During his time at West Point, Anderson also brokered broadcast deals for Army's football program with ESPN, WABC Radio and its current five-year agreement with CBS College Sports Network.
On the field, Anderson has led a broad-based resurgence that has seen 20 teams earn berths in NCAA Championships, including programs in 10 different sports. Army improved its standing in the 2009-10 Learfield Sports Directors' Cup by 11 places, marking its highest showing since the 2004-05 season and finishing ahead of both its service-academy rivals Navy and Air Force.
In the last two years, Anderson led searches that resulted in the hiring of Rich Ellerson as Army's football coach and Zach Spiker as the program's men's basketball coach. In his first season, Ellerson led the Black Knights to their winningest season since 1996 and came just one victory from a bowl berth, while Spiker posted the most wins by a first-year Army coach since Bob Knight led the Black Knights. Another Anderson hire, Michelle DePolo, was named the 2010 Patriot League Softball Coach of the Year in her first season. In all, four coaches hired during Anderson's tenure were honored with league coach of the year awards in 2009-10.
Jeff Hathaway—from UConn already covered –see previous posts
Kevin Anderson  (Current AD at Army)–brief Bio —Since Kevin Anderson was introduced as Army's Director of Athletics on Dec. 13, 2004, West Point's intercollegiate athletic program has enjoyed immense success both on and off the "fields of friendly strife. Boasting more than two decades of leadership and experience, Anderson departed his post as executive associate athletic director at Oregon State University to accept the challenge of re-invigorating Army's proud athletic program.  The veteran administrator has played a large role in accomplishing that goal during his five years along the banks of the Hudson. In that time, Army has sent 20 intercollegiate athletic teams to the NCAAs, captured its first National Championship in more than 50 years, witnessed the revitalization of its hockey and men's basketball programs, and experienced unparalleled success in several others, such as baseball, women's volleyball, women's tennis and women's basketball. This past fall, Army's women's volleyball team became West Point's 10th different intercollegiate program to advance to the NCAAs under Anderson's watch, while the baseball team reached a regional final for the first time in school history last spring.
Warde Manuel (AD at Buffalo)
Finishing his fifth year as University at Buffalo Director of Athletics, Warde Manuel's vision for building a championship intercollegiate athletics program has led to the most Division I athletics success in the history of the school..
Since Manuel's arrival on campus in August 2005, the athletic department has accomplished some impressive and historic achievements under his leadership:
The 2008 football team won the Mid-American Conference Championship and played in their first bowl game in school history – the 2009 International Bowl.
The 2008-09 men's basketball team won a share of the Mid-American Conference regular season title for the first time since joining the conference and advanced to play in the College Basketball Invitational for only their second postseason appearance as a Division I program.
The 2010 men's tennis team became Buffalo's first team to go unbeaten in the MAC regular season, capturing the conference regular season crown.
UB's rowing team continued their unprecedented championship run by capturing the Colonia Athletic Association team title in addition to winning back-to-back (2008 and 2009) the overall points title at the Dad Vail Regatta, the largest collegiate Regatta in North America
The 2009 softball team tied a school record for wins in a season.
The 2009 and 2010 baseball team won the most games in their Division I history.
Showcasing Manuel's increased focus on academics since arriving on campus – including the creation of a new study center, quadrupling the investment in tutorial support and doubling the number of computers available to student-athletes – in Fall of 2009, UB achieved the highest student-athlete GPA since joining the MAC.
Apparently the search is really on as 3 candidates were interviewed in the past few days. rumors have it that Jeff Hathaway in one of the 3.
From Jeff barker's column in the Sun:
Incoming University of Maryland president Wallace D. Loh said Wednesday that he expects to play a significant role in selecting the school's next athletic director, even though his appointment is not effective until Nov. 1. Loh's role might be unofficial — for example, meeting with the athletic director finalists before Nov. 1 and offering his blessing to the top choice. "These are the kinds of searches that one has to move very quickly. One can't say, 'Well, we'll wait until the new president arrives,'" Loh said in a question-and-answer session with media members the day after his appointment was announced. "So if they do have finalists before I come, I will certainly want to meet with them and offer my input to the interim president." "From the point of view of the incoming athletic director, that person needs to know who his or her boss is going to be, and athletics is — as [Loh] said — such a visible part of the university that he's got to have confidence in and chemistry with the person who is going to serve," Kirwan said. Asked about his philosophy of athletics Wednesday, Loh likened college sports to the "front porch" of a house — never the most important part of the structure, but a highly visible one. "What happens on that front porch has a big impact on what happens with the rest of the academic house, and vice versa," Loh said. "I guess what I'm saying is you have to view it as a totality. And given the university's commitment to excellence, it is a commitment, No. 1, to academic excellence, and No. 2, to athletic excellence." Earlier, Loh ended a campus speech with a fist pump and a "Go Terps!"
Loh, whose background is in law and psychology, will come to Maryland from the University of Iowa, where he is executive vice president and provost.
"I'm happy he comes from a school that has a good football tradition," said Maryland football coach Ralph Friedgen, whose job status was reviewed after last season's 2-10 mark.
Chuck Neinas is perhaps the most wired in sports headhunter in the country. Some of his recent recruits were Mark Dantonio (Mich State), Urban Meyer (Utah then Florida, Tom Davis (Carolina) and Randy Shannon (The U). It is very obvious Maryland is looking for a high profile person to take over the AD role left vacated by the sudden departure of Debbie Yow.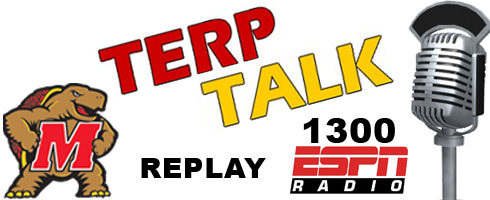 Terp Talk Thursday Night 07-15-10
Host–Bruce Posner Guests–Dino, Freddy
Subjects–Terps in NBA Summer league, New Lax Recruits, Deaths of Joe Gardi, Steinbreener, Terp News
terrapintimes.com reported on Tuesday that Rob Mullens, Associate AD at Kentucky is certainly making a strong play for the departed post of Debbie Yow. His experience at Maryland and his roles in football and basketball in kentucky certainly qualify him as a strong candidate.
Members of the search committee to select the University of Maryland's next Director of Athletics have been appointed, President C.D. Mote Jr. announced Tuesday.
A national search to fill the position will begin immediately. A timetable has not yet been established for the search process. Dr. Linda Clement, vice president for student affairs, will chair the director of athletics search committee, whose full membership is listed below.
Linda M. Clement, Chair
Vice President for Student Affairs
Sasho Cirovski
Head Coach, Men's Soccer
Leonard J. Elmore, Esq.
CEO, iHoops
Brenda S. Frese
Head Coach, Women's Basketball
Edwin F. Gregory
President, M-Club
Nicholas J. Hadley
Professor, Department of Physics
Vice Chair, Athletic Council
James F. Harris
Professor and Dean, College of Arts and Humanities
Cheryl K. Harrison
Associate Director of Athletics/Development
Missy Meharg
Head Coach, Women's Field Hockey
Danita R. Nias
Assistant Vice President of Alumni Relations and Development
Kevin A. Plank
CEO, Under Armour, Inc.
Rosalie Reggettz
President, Terrapin Club
Lisa Scott
Student-Athlete, Volleyball
Saul Sosnowski
Professor and Associate Provost for International Affairs
Lee Thornton
Eaton Chair, Philip Merrill College of Journalism
Incoming Interim Provost for Equity and Diversity
Charles F. Wellford
Professor, Department of Criminology and Criminal Justice
Chair, Athletic Council
Gary B. Williams
Head Coach, Men's Basketball
Jeff Hathaway, Connecticut AD — A Maryland graduate who served as Lefty Driesell's team manager as an undergraduate, the 50-year-old Hathaway received an endorsement from Yow on Friday. Has also been the athletic director at Colorado State and currently serves on the men's NCAA tournament selection committee.
Neil Eskin, Connecticut senior associate AD — Another Maryland graduate who followed a career path similar toHathaway's — including serving as a basketball team manager for Driesel and working for Lew Perkins — Eskin is highly regarded and might be ready to take over his own department.
Dan Gavitt, head of basketball operations for the Big East —The son of legendary Big East founder Dave Gavitt, he is a former AD at Bryant in Rhode Island. His father's relationship with Gary Williams could at least get the younger Gavitt an interview at Maryland.
Rob Mullens, deputy AD at Kentucky — Mullens spent six years working under Yow at Maryland and has gained experience in Lexington over the past seven years. He was recently a finalist for the AD job at West Virginia.   (article from the Sun)