Maryland's All-Big Ten Honorees
Brad Craddock: Bakken-Andersen Kicker of the Year, First Team All-Big Ten (Coaches and Media)
Sean Davis: Honorable Mention All-Big Ten (Media)
Stefon Diggs: Second Team All-Big Ten (Coaches), Honorable Mention All-Big Ten (Media)
Cole Farrand: Honorable Mention All-Big Ten (Coaches and Media)
… Read More »
For now, I have Ohio State and Wisconsin in a "New Year's Day" bowl. Also, the bowl hopes for Northwestern are on life support. Ditto Indiana. Purdue has been eliminated.
But I have slotted Michigan into this week's projections. The Wolverines need to win one of their final … Read More »
Here my thoughts on the significance of the Penn State victory  and the Controversial hand shaking incident
What lies ahead for Terrapin football after epic win
Recorded interviews with Melo Trimble, Richaud Pack, and Dion Wiley after Saturday's scrimmage
Field Hockey Clinches Outright Regular season title … Read More »
November 5th, 2014 |
0 Comments »
The Big Ten office today issued a public reprimand of Maryland football head coach Randy Edsall and student-athlete Stefon Diggs and imposed a one-game suspension of Diggs for violating the Big Ten Sportsmanship Policy prior to the Penn State game on Nov. 1.
The Big Ten determined that Edsall failed … Read More »
The Big Ten Conference office announced football division alignments set to begin in 2014 and nine-game conference schedules set to start in 2016. The changes were unanimously recommended by conference directors of athletics and supported by the Big Ten Council of Presidents/Chancellors.
"Big Ten directors of athletics concluded four months … Read More »
Proposed New Big Ten Divisions
Big Ten presidents and chancellors are expected to approve the new divisions and division names for 2014, along with a move to a nine-game conference schedule for 2016, sources told ESPN.
East West Indiana Illinois Maryland Iowa … Read More »
East
Maryland
Rutgers
Ohio State
Penn State
Michigan
Michigan State
Indiana or Rutgers
West
Iowa
Minnesota
Wisconsin
Illinois
Nebraska
Northwestern
Indiana or Purdue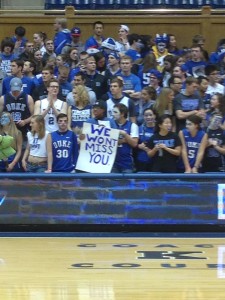 So the game is over and I have to endure the chants for 2 1/2 hours such as USA, USA at Alex, We won't miss you, Don't come back, ACC ACC, Not our rivals, and all the while Coach K … Read More »
It all started with Maryland exiting for the Big Ten. Then the dominoes started to fall. For those of you who second guessed the decision, the events of the past few days have left no doubt upon the correctness of the move.
from espn.com
The Atlantic Coast Conference has filed a lawsuit against Maryland seeking full payment of the approximately $53 million exit fee for the school's move to the Big Ten.
According to the 10-page lawsuit, the ACC said the school must pay $52,266,342, which is three times the league's annual … Read More »