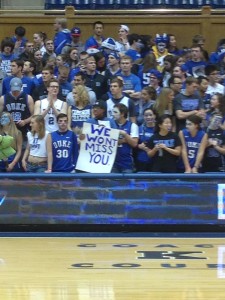 So the game is over and I have to endure the chants for 2 1/2 hours such as USA, USA at Alex, We won't miss you, Don't come back, ACC ACC, Not our rivals, and all the while Coach K … Read More »
January 27th, 2013 |
8 Comments »
THE BTN is the real deal. I enjoy watching every Terrapin team. All sports are covered on the BTN. Last night the Lady Terps game at Nebraska was on the tube.
"My last line in my interview to Kevin Anderson was, 'I'm not going to fundraise.' Well that's all I've done is fundraise since I've been here. Hopefully down the road those days are over," said Turgeon, who had to push back his team's final practice for Tuesday's home game against … Read More »
Feel free to comment all you want  on this post–This will be a No Spin Zone
Much of the reaction to the switch to the Big Ten has been mixed. This is certainly to be expected. Over the 50 plus years we have been in the ACC there have been … Read More »
It's been one night in the Big Ten and I just watched more Terrapin coverage then any ACC Network show has ever had. Of course that would be if I could find where the ACC Shows are located. 
One point continually made on the network was that the Big 10 … Read More »
from si.com
 The University of Maryland stands to make nearly $100 million more in conference revenue by 2020 with its switch from the ACC to the Big Ten, according to projected revenue information presented to the school by Big Ten commissioner Jim Delany, SI.com has learned.
The projected information … Read More »
Much more tonite. The Times They Are A Changing
This could be a monumental day for Maryland Athletics.
There are many divided on this topic but it certainly appears that we are closer to having real reason to hate Urban Meyer.
Gary Williams' support of the move means a tremendous amount to me and most Terrapin fans. For years … Read More »
Former Maryland coach Gary Williams said today that the school's proposed move to the Big Ten would be a tremendous boost for the Terps' athletic program. In a telephone interview with The Baltimore Sun today, Williams said the school's long history with ACC doesn't pay the bills. "You look around today with what's going … Read More »
This is the topic that has taken over all conversation in Terrapin nation. The handwriting is on the wall–The Reward from the Big Ten is just too big not to accept in my opinion. I keep thinking about the sadness in losing 8 teams just a few months back. The … Read More »
From my readings on the Internet.
It looks like Texas, Texas Tech, Oklahoma, and Oklahoma State might be heading to the new PAC 16. The ACC is still talking to Texas but is insisting that Kansas be the partner to come to the ACC. Swofford obviously has Mega Basketball on … Read More »
Here are my thoughts over the selection of the University of Maryland for the Military Bowl.
My disappointment begins with the fact that 2 weeks ago my sights were on the dream of playing in the Orange Bowl as the BCS representative for the ACC. After not playing in the … Read More »