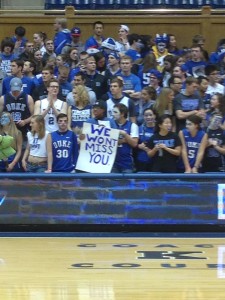 So the game is over and I have to endure the chants for 2 1/2 hours such as USA, USA at Alex, We won't miss you, Don't come back, ACC ACC, Not our rivals, and all the while Coach K is urging the crowd to continue. I hang around for the Coach K presser where the Carolina press guys lobbed softballs and then I asked very simply "Coach it seems like the fans are ecstatic to be rid of Maryland–how do you feel about it?" (The following audio should be started around the 3:40 mark to hear the question and answer). Memo-42 Obviously I must have touched a nerve. But I wonder how Coach K really feels. Maybe he is happy that the Terps will soon be gone.
At halftime I overheard two Carolina writers talking about what a bad decision it was to move to the BIG, and how Terrapin nation was solidly against the move. Needless to say, I told these guys they were clueless and how great the BIG was going to be for the Terps. They called me part of a lunatic fringe. I then brought up that Maryland was always the stepchild of the ACC and prime example was the ACC Tournament being in Greensboro 90% of the time. They called it a neutral court to which the laughter it brought to me almost made me sick.
As I left Cameron Indoor my only thought was Sayonara.


Turge was pretty content with the Terps effort and offensive performance today. No doubt Duke played excellently. Quinn Cook played as well as I have seen him play and the freshman Sulaimon was outstanding with 9-13 shooting for 25 points. Seth Curry definitely seemed to be hobbling at some points during the game.However the Terps hung with the Devils for most of the game until Mason Plumlee got hot and the rest was history.
Dez started off with 7 points and 5 bounds by the 4 minute break but quieted down afterwards. Charles Mitchell is back scoring 13 on 5-8 shooting. Alex had a quiet 8 point 10 rebound game. He was only able to get 6 shots in 34 minutes. But he did have 1 magnificent only early in the game only to be matched by a reverse dunk by Plumlee late in the game.
Seth Allen was suspended for the first half for what Turgeon referred to as a minor infraction. He was no factor in the game.
2 things were consistent with the Terps effort today: they won the rounding battle 43-34 and again were plaqued by 14 turnovers. Duke shot a high 52.% from the field including 11-22 from the 3 line.
Nick struggled a bit at the point having trouble with Quinn Cook's pressure. PeShon just cannot get a break as a couple of his layup attempts teased the bucket but fell off the rim. It breaks my heart to see him struggling with his game because he is such a good kid.
Believe it or not there were lots of purple jerseys throughout the arena. Must have been Duke fans from Baltimore.
I am about to watch the game again so I will add to the blog tomorrow if I notice anything. The Terps (15-5 overall and 3-4 in the ACC) are now desperate for a win Tuesday night at FSU.
January 27th, 2013 |
8 Comments »
THE BTN is the real deal. I enjoy watching every Terrapin team. All sports are covered on the BTN. Last night the Lady Terps game at Nebraska was on the tube.
"My last line in my interview to Kevin Anderson was, 'I'm not going to fundraise.' Well that's all I've done is fundraise since I've been here. Hopefully down the road those days are over," said Turgeon, who had to push back his team's final practice for Tuesday's home game against Lafayette in order to attend the news conference. "We're leaving one great conference and going to another one. I came to be the basketball coach at Maryland. That is a great job no matter what league we're in and we're going to do great things no matter what league we're in."
Said longtime men's soccer coach Sasho Cirovski: "It's been hard coaching at Maryland, the last six or seven years in particular. I feel like a full-time fundraiser. I feel like we've been swimming against the current for so long. It'll be nice to dedicate more time to recruiting and coaching and not have to worry as much about some of our necessities."
Feel free to comment all you want  on this post–This will be a No Spin Zone
Much of the reaction to the switch to the Big Ten has been mixed. This is certainly to be expected. Over the 50 plus years we have been in the ACC there have been tremendous moments that we will review over the next year. Yet the times are changing. I guarantee many schools in the same financial situation that Maryland has been in are reeling now. Maryland was far better to be proactive.
Some of the positive thoughts.
Many times when a business needs financial help, it has to resort to extreme measures. In this case Maryland was able to solve its financial crisis by upgrading into the Big Ten. If you don't think it is an upgrade just check out the proposed football schedule in the blog below.
The strength of the Big Ten TV Network is unreal. Just the first night, there was more talk about Maryland then I have ever heard before.
Read the words and wisdom of our HOF coach Gary Williams. He hits the reasons on the nose.
Dr Loh and Kevin Anderson stated one of the obvious causes that precipitated such a move. One of the bleakest days in Maryland's athletic history happened  few months back when Kevin Anderson had to inform 8 teams that the University could no longer fund their programs. I spoke with Kevin that night and he was devastated. Dr Loh emphasized that with this move today Maryland will never face this situation again. In fact, immediately a study will be launched to see if it is possible that any of the removed teams could be revived. 
Many people have said said only basketball and football matter. Well, nothing could be further from the truth. The student athlete on the Swimming team trains just as hard as the one on the football team. Being a swimmer means as much to him or her.
I truly believe that Maryland has had 2nd class status in the ACC for as long as I can remember. Why must we believe that Greensboro is a neutral site for the ACC Tournament?
Who are our rivals in the ACC after 50 odd years. Name one in football, and we are continually scoffed at by the Carolina teams. Well those days are over. Duke and Carolina got their wish and now they can rejoice in being 2 teams from the South again whose games become meaningless in the Baltimore Washington market.
I certainly am not shocked in seeing former players Elmore, etc being dismayed about the move. Their lives were sculptured by their days in the ACC. But if it is good for the University they should be happy. I guess time will tell. But the we are a Big 10 school now. Or next July 1st. A lame duck year might not be pretty as we have incurred the wrath of every ACC School. So be it.
I forgot to mention that maybe one day Maryland will be in the Rose Bowl. Please do not interrupt my dream.
It's been one night in the Big Ten and I just watched more Terrapin coverage then any ACC Network show has ever had. Of course that would be if I could find where the ACC Shows are located. 
One point continually made on the network was that the Big 10 was really impressed with the success Maryland has had in the non revenue sports. They anxiously await to participate with us in Lacrosse, Field hockey and soccer .
The whole show was surreal listening to every AD talk glowingly about the Terps.
from si.com
 The University of Maryland stands to make nearly $100 million more in conference revenue by 2020 with its switch from the ACC to the Big Ten, according to projected revenue information presented to the school by Big Ten commissioner Jim Delany, SI.com has learned.
The projected information shows how Maryland could afford its $50 million buyout from the ACC, a fee the school is expected to attempt to reduce through legal action.
When Maryland joins the Big Ten in 2014, it projects to make more than $12 million more than it would have in the ACC. That projected difference jumps to $19 million annually in 2017 after the Big Ten renegotiates its television contract.
According to the official, Maryland projects to make $32 million when it joins the league for the 2014-15 season, well beyond the ACC's projected payout of $20 million.
The real jump in projected revenue comes in 2017, after the Big Ten negotiates its new television contract. The Big Ten payout that year projects to $43 million, dwarfing the $24 million the ACC projects to pay out that year. During his Monday press conference, Maryland president Wallace D. Loh said the school's motivation to realign is largely financial. Delany declined comments regarding finances in a telephone interview Monday.
Here's how the financial payout per school breaks down for upcoming years, according to the information Delany relayed to Maryland officials: The school will make $32 million in 2014, $33 million in 2015, $34.5 million in 2016 and then $43 million in 2017.
Those numbers continue to steadily climb, as the Big Ten payout projects to jump to $44 million in 2018 and $45 million in 2019.
Read More: http://sportsillustrated.cnn.com/2012/writers/pete_thamel/11/19/maryland-big-ten-money/index.html#ixzz2CjkG3SDB
Much more tonite. The Times They Are A Changing
This could be a monumental day for Maryland Athletics.
There are many divided on this topic but it certainly appears that we are closer to having real reason to hate Urban Meyer.
Gary Williams' support of the move means a tremendous amount to me and most Terrapin fans. For years and years we have been treated like the stepchild of the ACC. Our presence is a necessity but our successes are distasteful for the Carolina controlled league.
But the bottom line is Maryland needs the financial help this move will bring. For whatever reasons, the buck has not stretched deeply enough into College Park. How may times can we call on our great supporters to bail us out. Kevin Plank, Steve Bishotti, Barry Gossett, etc have been called on constantly when things are tough. The entrance into the Big Ten will prevent any future loss of Terrapin teams. It was a very bleak day a few months back when hundreds of Maryland student athletes were informed their sports could no longer be funded. I hope that in my lifetime this will never have to happen again.
The first point naysayers bring up is Maryland Duke–This one way rivalry will most often be reduced to 1 game a year starting next year. Maryland West Virginia will continue. Maryland Johns Hopkins will continue . Maryland Penn State shall return. Matyland Northwestern (Women's Lax) will begin.
Tick Tock Tick Tock—there will be so much more to say over the next months. Let's just wait and see if it goes down.