In the view of most, Manny Pacquiao easily beat Timothy Bradley when they first met two years ago. In the rematch, Pacquiao did it again and this time he also got the decision he deserved yet again.
Pacquiao, who promised to return to the aggressive ways that he seemed to have abandoned in recent fights, took it to Bradley throughout the fight before 15,601 on Saturday night at the electric MGM Grand Garden Arena and was rewarded for his efforts.
All three judges had it for Pacquiao, 118-110, 116-112 and 116-112, as he regained his welterweight world title and handed Bradley his first defeat.   from espn.com
 Wladimir Klitschko stopped Tony Thompson in the sixth round to keep a comfortable hold on his WBA, IBF and WBO heavyweight titles Saturday night.Although he's running out of goals and non-familial competition, Wladimir Klitschko still can strive for greatness, Dan Rafael writes.The 36-year-old champion Klitschko, 58-3 with 51 knockouts, floored Thompson with a big right hand near the end of the fifth round at Stade de Suisse, and the 40-year-old American never recovered.
Manny dominated the fight in every way yet lost. Do you think his squabbles with mega promoter, Bob Arum, might have influenced the decision?
If you get a chance watch the final episode ot the HBO 24/7 Mayweather Ortiz Fight. Fantastic filming of a bizarre Las Vegas fight. Stop ducking Manny!!!!
What can I say –another disappointing one sided fight for the unification of the Junior Welterweight Division. Zab was never in this much anticipated battle. At least is was HBO not pay per view. Khan is now 7-0 under the tutelage of Freddy Roach. I wonder how Merriweather will duck Amir.
Fell asleep on this" fight of the year"
Bernard Hopkins won an unanimous decision over Jean Pascal for the Light Heavyweight Championship thus eclipsing George Foreman as the oldest fighter ever to win a title.
---
Football's loss may be boxing's gain.  With the NFL in labor limbo, Ravens safety Tommy Zbikowski returned to pro boxing Saturday and produced a first-round technical knockout over less-fit opponent Richard Bryant.  The 25-year-old Zbikowski pounded a left hook to the 235-pound Bryant's belly, and the big man lost his breath and slumped to the canvas. Bryant was so out of wind referee Russell Mora stopped the fight at the 1:45 mark of the first.
Zbikowski was able to strike a $10,000 deal to fight Bryant with bout promoter Top Rank as the Ravens' restricted free agent awaits signing a tender with the team.
Top Rank Chairman Bob Arum said he projects another Zbikowski event March 26 in Atlantic City, and also in late April in a casino-resort outside Dallas.
---
Manny Pacquiao may soon turn his attention from campaigning for Congress to negotiating the details on the richest fight in boxing history.  Pacquiao's trainer, Freddie Roach, toldThe Associated Presson Monday that discussions could begin as early as Tuesday for a bout against Floyd Mayweather Jr., once results are in from the Philippine elections.   The matchup involving boxing's two most high-profile fighters was discussed at length earlier this year, but negotiations fell apart when the sides could not agree on drug testing protocol.
Mayweather has the high ground on this drug testing issue. Many believe Manny has used blood doping techniques and the Money Man just wants testing to be done closer to the day of the fight to make sure both fighters are clean. There is way too much money involved for this fight not to happen.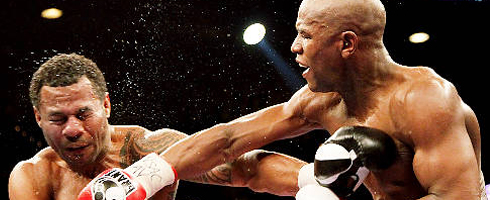 Floyd Money Mayweather survived a difficult 2nd round and went on to turn the fight in the 3rd and easily defeat a tired Mosley. Sugar Shane knocked down Floyd in the 2nd and just about finished him off. But the wily undefeated Mayweather stormed back and took control of the fight.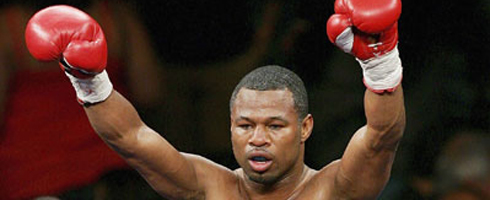 I have grown tired of watching Floyd Mayweather fight a succession of guys who were half his size. Not tonight–Sugar Shane Mosley is his opponent and there will be no walkover tonight. At least Mosley is his size but "Money " is still a big favorite.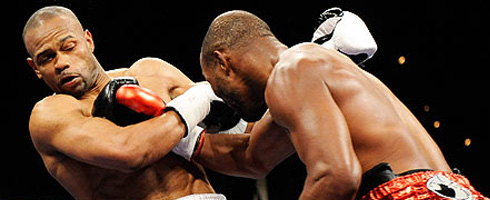 It was ugly, but at least it is over. Roy Jones Jrtook a pretty bad beating from the Executioner, who avenged his loss to RJJ 17 years ago. This was no classic!!!!