the Caps trail Columbus by 6 points and have 3 games left—not goping to happen. Get out the golf clubs Ovie.
When a puck is making its way slowly toward an empty net, threatening to stop on the snow that has accumulated in the crease before it crosses the goal line, most players would swat the puck in the cage themselves. Nicklas Backstrom isn't like most players.
Late in the Capitals … Read More »
Some comments after the Caps win their 2nd game without Ovie
The Caps are 13-8-2 in games played without #8–interesting
Nicholas Backstrom scored the clinching shootout goal
Coach Adam Oates commented on the absence of Ovie– "You're still patching the dike in a sense. You don't want to lose anybody, let … Read More »
1st Period Summary
Caps got off to a horrible start with some lackadaisical defensive play, as Brian Boyle scored 53 seconds into the game. From that point on the Caps won all the fights but the Rangers had all the scoring chances. Braden Holtby made several acrobatic saves especially on … Read More »
There's been enough said about the playoff history of the Washington Capitals. But I do believe this team is different—maybe. The Caps won the division and thus earned the home playoff advantage. Game 5 tonight hopefully will create a result that takes advantage of the home edge. Ovie and Rebeir0 … Read More »
Who would have thought it could happen when the Caps were 2-8. Putting together a 10-1 April streak did the job for Washington. As Alex Ovechkin scored his 13th goal in April the Caps finished off the Jets. The guys bought into Adam Oates' system and it totally paid off.
Braden Holtby made but one mistake tonight and it was costly. With the score knotted at 1, Holtby (who compiled 35 saves) made a bad pass from behind the net which landed right on the stick of Conacher, who easily made it 2-1 on the turnover.
"I got a little rushed … Read More »
It's hard to believe that after the sorry start for Washington, the Caps are in the catbird seat as they ready to face Toronto Tuesday night at Verizon. 4 points up over Winnipeg but the key is that one more game exists between the 2 and it will be played … Read More »
Preview of Maryland vs Johns Hopkins with Blue Jay  Coach Dave Pietramala right at 9AM
New Loyola Coach GG Smith will check in around 9:25
Adam Jones Misplays fly ball into Oriole Loss in New York
Update onthe Masters with PGA Coach  and Player Pat Coyner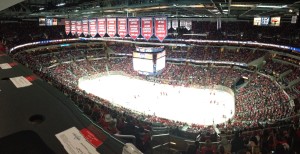 Tremendous goal keeping of Michal Neuvirth allowed the Caps to survive a late relentless assault from Mikhail Grigorenko and the Buffalo Sabres. The Caps started slow and trailed 1-0 until Joel Ward dented the nets. John Erskine scored the go … Read More »
Some of the topics on tonight's show:
Review of season and preview of 1st Round game vs Lehigh 
Preview of Saturday's game vs UMass for the Lady Terps
Review of Student Athlete Awards Night at College Park
My night with Frank Deford
Terrapin Nine Defeats FSU … Read More »