Major League Lacrosse legend Casey Powell made a spectacular season debut, totaling four points on three goals and an assist to lead the Chesapeake Bayhawks to a thrilling 13-12 overtime victory over the Boston Cannons at Navy-Marine Corps Memorial Stadium.
Attackman Drew Westervelt scored the game-winning goal at the 6:46 mark of the extra session for Chesapeake (7-4), which has won three straight games. Westervelt took a pass from midfielder Ben Hunt and whipped a sidearm shot into the net to give the Bayhawks their second straight one-goal win.  
"It was frustrating shooting tonight because I just wasn't hitting the cage," said Westervelt, a five-time All-Star selection. "Hunt gave me a great one more (pass), but the defenseman was in my shooting lane. I kind of took a step to the side and shot it right off his body."
Attackman Ben Rubeor scored three goals and assisted another for Chesapeake, which holds sole possession of third place in the MLL standings and owns the tiebreaker over second place Hamilton and fourth place Boston. AttackmanJohn Grant Jr. totaled two goals and an assist for the Bayhawks, who had suffered three overtime losses previously this season.
Powell made his Bayhawks' debut and showed he hasn't lost a step despite playing just five regular season games since 2009. Powell, the league's all-time leading scorer with 403 career points, forced the overtime period with an incredible individual move.
Trailing 12-11 with time winding down, the Bayhawks got the ball back when rookie defenseman Jesse Bernhardtintercepted a pass. Following a timeout, head coach Dave Cottle put the ball in the stick of Powell. Flags flew as Boston defensemanBrian Farrell used an illegal body check to knock Powell to the ground.
Remarkably, Powell did a barrel roll without losing possession of the ball then regained his footing and drove aggressively to the goal. A defenseman and the goalie closed on Powell, who hearkened back to his Syracuse University days by diving headlong to the front of the cage and flipping a shot into the empty net to tie the score.
"I saw out of the corner of my eye that I drew a penalty, but I knew there was under 10 seconds so we probably wouldn't be able to get a great shot off on man up," Powell said. "I was able to hang onto the ball when I rolled. When I popped up, I didn't see anyone there so I went to the goal and turned the corner. I didn't see the ball go in, but I heard that it trickled into the corner."
Cottle Post Game  Memo-66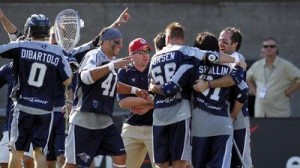 Some of my comments on this great victory for Head Coach Dave Cottle and the Chesapeake Bayhawks:
Where as I thought the Bayhawkks were too deep and strong for Denver,i never saw this one sided game as the outcome. Both of the regular season match ups were brutally tight games that could have gone either way. Not today. The Bayhawks dominated every way possible.
The key difference to me was the x position dominance of Alex Smith winning 17 of 25. The Outlaws possessions  were so limited that a comeback was almost impossible.
When Brendan Kelly named Dave Cottle as head coach, then proceeded to hire Brian Reeses as GM –all the parts of the puzzle were in place for a title. Dave was on the Sports Maven way before the season started and spoke about gathering the talent and depth from anywhere he had to –to bring in a championship calibre team. He brought in Spallina and Polanco, Drew Westerfeld while giving up some talented players. The purpose was to strengthen this team every way possible. Every home at Navy was a true family event causing the Bayhawks to average 10,000 fans. There is nothing left to say except—-MISSION ACCOMPLISHED—HAIL TO THE CHAMPIONS
from thebayhawks.com
 Midfielder Ben Hunt totaled six points on the strength of two 2-point goals as the Chesapeake Bayhawks routed the Denver Outlaws, 16-6, at Harvard Stadium to become the first franchise in Major League Lacrosse history to capture four championships. Goalkeeper Kip Turner recorded 12 saves to anchor another suffocating defensive effort as Chesapeake held Denver to its lowest goal output of the season. The Outlaws, who came into the game averaging more than 16 goals per game, were held to just one in the second half by a stingy defense led by long sticks Michael Evans, Nicky Polanco and Brian Spallina.
 "Going into today, I was very confident that we were going to play a great game. This is the first team I've ever coached that we didn't need to trick anyone to win. We had great talent, great character and great chemistry. All we had to do was execute and we would win," Chesapeake head coach Dave Cottle said. "Coming into the tournament, I thought we had the best team on paper and we proved that on the field this weekend. I'm really proud of the players for putting together two great performances on back-to-back days."
   "You join the Chesapeake Bayhawks to win championships. We don't play to just get into the playoffs, we play to win the title," said Evans, an All-MLL selection. "Brendan Kelly and Dave Cottle put together something special this season. We had great group of players who are all winners and understood what it took to win a championship."
 Attackman Ben Rubeor was named Most Valuable Player of MLL Championship Weekend after scoring eight goals in two games. "Benny is such a high character guy with tremendous intangibles. He's a great teammate who cares so much about winning and does all the little things. Those little things turned into a lot of big things this weekend."
 Turner was a brick wall in the postseason, totaling 26 saves to stymie the two top-scoring offenses in the league this season. Barney Ehrmann, Dan Hostetler andMike Simon handled long stick defensive midfielder responsibilities while Matt Abbott, Jeff Reynolds and John Orsen were the short stick defenders as Chesapeake set an MLL Championship Weekend record by allowing just 16 goals to Boston and Denver. 
     "Our goalie really stepped up in this tournament. I think from the second quarter of the semifinal on, he was the best player in the tournament," Cottle said. "Defensively, we started winning our individual matchups and that meant we didn't have to slide so much. We were able to play solid, straight-up defense because we weren't scrambling around, which was crucial. I really felt Mike Simon was a difference-maker. He gave us the final piece of the puzzle."
 "It's incredible to win the championship two out of three years. That is a great testament to everyone involved with our organization," Chesapeake owner Brendan Kellysaid. "This is what happens when you have quality people who commit to each other and commit to a goal. I'm really happy for Dave Cottle because he's one of the greatest coaches in lacrosse history. I'm thrilled that he got to taste a championship."
picture from the Sun
Some of the topics for this morning's show as Donald Saiontz sits in as CoHost:
Machado comes of age quickly with 2 dingers last night
Review of the Raven's 1st exhibition game
Tyrann Mathieu, "The Honey Badger" dismissed from LSU for drug violations
Here we go again –Tiger tied for PGA lead—Updates and predictions on PGA Championship from Pat Coyner and The Tiger Woods camp
Dwight Howard traded to the Lakers
USA Bball beats Argentina into submission—Spain next with the Gasols and Serge Ibaka
Punches to the groin part of the Olympic Spirit?
USA women keeps Uncle Sam on top of the Medal Count
How good is the 2012 USA Basketball team?
Kip Turner from the Bayhawks calls in to discuss tonight's matchup with the Denver Outlaws
Discussion of the Gambling vote on Friday
The brilliance of Buck Showalter
3 weeks until opening day for the Terrapins–why they are on the right track
Roddy Peters to visit College Park on Tuesday
Backup goaltender Mike Gabel put forth one of the finest performances of his seven-year professional career to anchor a strong defensive effort as the Rochester Rattlers knocked the Chesapeake Bayhawks from the unbeaten ranks with a 12-8 victory in front of 7,853 fans on Saturday night at Navy-Marine Corps Memorial Stadium.
 Gabel, a backup appearing in just his fourth game for Rochester, recorded 27 saves to diffuse a Chesapeake offense that scored 23 goals against Ohio last Saturday night. The Bayhawks unleashed 54 shots, but 21 were not on goal while many others were right at Gabel, who was named the Bud Light Player of the Game. "I thought the goalie beat us. He was outstanding. He was the best player on the field tonight and was definitely the difference," Chesapeake head coach Dave Cottle said.
 Adam Rand dominated the face-offs for Chesapeake (2-1), winning 16 of 20. However, the offense wasn't able to take advantage of that possession advantage and was held eight goals below its season average.
Midfielder Steven Brooks scored two goals, one of which was a 2-pointer, to lead Chesapeake. Rand and attackman Ben Rubeor both contributed a goal and an assist for the Bayhawks, who hurt themselves by committing a considerable number of turnovers.
Some of the topics on tonight's show:
Review of season and preview of 1st Round game vs Lehigh 
Preview of Saturday's game vs UMass for the Lady Terps
Review of Student Athlete Awards Night at College Park
My night with Frank Deford
Terrapin Nine Defeats FSU on National TV
Steve Blake becomes integral part of the Lakers
Tyler Steinhardt from Boys Latin will be in the house to discuss next month's Lax Marathon
Katie Schwarzmann named ACC Player of the Year in Lacrosse
Goalie Brian Phipps put forth his third straight strong performance in goal as the Chesapeake Bayhawks came from behind to beat the Hamilton Nationals, 12-11 in overtime, at Ron Joyce Stadium in Canada. Phipps, a rookie out of Maryland, continued to yield a hot stick by making 14 saves. He has now stopped a total of 51 shots in the past three games since taking over as the team's starting net minder. Midfielder Steven Brooks was the hero, taking a feed from line mate Justin Smith and firing in the game-winning goal with 2:10 elapsed in the extra session as the Bayhawks captured a showdown of teams that were tied for third place in Major League Lacrosse (MLL).  "Brian Phipps was phenomenal again tonight. He made some outstanding saves down the stretch to really give us a chance," Kelly said.
Rookie goalie Brian Phipps had a stellar performance on Saturday night by stopping 21 shots for the Bayhawks in front of a crowd of 8,410 at Navy-Marine Corps Memorial Stadium. The win over Rochester halted a two-game losing streak for Chesapeake and earned Phipps the nomination of Major League Lacrosse's (MLL) Defensive Player of the Week. The game was the second straight that Phipps had established a career-high for saves. The former University of Maryland standout had 17 saves the previous Saturday against Boston and then 21 saves against Rochester over the weekend. "Phipps was incredible on Saturday and his confidence in the cage has been unmatched this season" head coach Brendan Kelly said. "His ability to stop Rochester's shots kept us ahead in the game the entire time and his performance was outstanding."
From Bill Wagner's Column in the Annapolis capital:
The Chesapeake Bayhawks had lost three of four games and were in danger of missing the Major League Lacrosse playoffs when owner Brendan Kelly hired veteran collegiate coach Dave Cottle as a consultant.he Chesapeake Bayhawks had lost three of four games and were in danger of missing the Major League Lacrosse playoffs when owner Brendan Kelly hired veteran collegiate coach Dave Cottle as a consultant.  Cottle made an immediate and noticeable contribution through insightful scouting, creative game-plans and personnel suggestions – helping the Bayhawks close the 2010 campaign with a three-game winning streak and capture the MLL championship.Not surprisingly, Kelly was eager to tap into Cottle's expertise on a permanent basis. That is why Cottle has gone from consultant to man of charge.
At a press conference last night in Baltimore, Kelly announced that Cottle has been named president of the Chesapeake Bayhawks. The former Loyola College and University of Maryland head coach will oversee the entire organization and have a hand in everything from marketing to ticket sales to personnel decisions. "Dave is the smartest lacrosse person that I know and I am very pleased that he's agreed to apply his vast knowledge and experience towards making the Chesapeake Bayhawks a better franchise," Kelly said. "Dave understands the dynamics of the game at every level and has been an innovator throughout his career. I cannot think of a more qualified individual to lead this team into the future."