Major League Lacrosse legend Casey Powell made a spectacular season debut, totaling four points on three goals and an assist to lead the Chesapeake Bayhawks to a thrilling 13-12 overtime victory over the Boston Cannons at Navy-Marine Corps Memorial Stadium.
Attackman Drew Westervelt scored the game-winning goal at the 6:46 mark of the extra … Read More »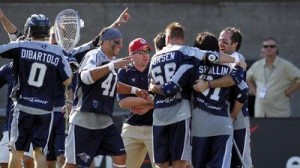 Some of my comments on this great victory for Head Coach Dave Cottle and the Chesapeake Bayhawks:
Where as I thought the Bayhawkks were too deep and strong for Denver,i never saw this one sided game as the outcome. Both … Read More »
Some of the topics for this morning's show as Donald Saiontz sits in as CoHost:
Machado comes of age quickly with 2 dingers last night
Review of the Raven's 1st exhibition game
Tyrann Mathieu, "The Honey Badger" dismissed from LSU for drug violations
Here we go again –Tiger tied for … Read More »
Backup goaltender Mike Gabel put forth one of the finest performances of his seven-year professional career to anchor a strong defensive effort as the Rochester Rattlers knocked the Chesapeake Bayhawks from the unbeaten ranks with a 12-8 victory in front of 7,853 fans on Saturday night at Navy-Marine Corps Memorial Stadium.
 Gabel, … Read More »
Some of the topics on tonight's show:
Review of season and preview of 1st Round game vs Lehigh 
Preview of Saturday's game vs UMass for the Lady Terps
Review of Student Athlete Awards Night at College Park
My night with Frank Deford
Terrapin Nine Defeats FSU … Read More »
Goalie Brian Phipps put forth his third straight strong performance in goal as the Chesapeake Bayhawks came from behind to beat the Hamilton Nationals, 12-11 in overtime, at Ron Joyce Stadium in Canada. Phipps, a rookie out of Maryland, continued to yield a hot stick by making 14 saves. He … Read More »
Rookie goalie Brian Phipps had a stellar performance on Saturday night by stopping 21 shots for the Bayhawks in front of a crowd of 8,410 at Navy-Marine Corps Memorial Stadium. The win over Rochester halted a two-game losing streak for Chesapeake and earned Phipps the nomination of Major League Lacrosse's (MLL) … Read More »
From Bill Wagner's Column in the Annapolis capital:
The Chesapeake Bayhawks had lost three of four games and were in danger of missing the Major League Lacrosse playoffs when owner Brendan Kelly hired veteran collegiate coach Dave Cottle as a consultant.he Chesapeake Bayhawks had lost three of four games and … Read More »