Last year when NC State rifled the Champs Sports Bowl away from a more deserving Terrapin squad, I kept my mouth shut not trying to provoke the obvious. when Coach Tom O'Brien ridiculed the Maryland faithful, I could take it no longer. Maryland soundly thrashed the Wolfpack yet behind the … Read More »
Some observations on a pathetic Championship game:
–The Big Guy Alex Oriakhi was the difference tonight 11 points, 11 rebounds 4 blocks and he just totally frustrated Matt Howard.
–I thought Shelvin Mack should have been given the ball way before the game was hopelessly over.
–As I predicted the … Read More »
Coach Al Mcquire when asked by his broadcasting partner Dick Enberg What is it that he would miss the most about coaching sarcastically responded: " I will miss telling 16 and 17 year old young men that their attending my school is the most important thing in my life!!!" Al … Read More »
I am not a big Virginia Tech fan. I am not a big Seth Greenberg fan. However when a team is 11-8 in conference play with a victory over Duke, it should be included in the big dance, I know if it was Maryland, I would be screaming. I wonder … Read More »
Don't miss this guy—range? offensive ability? Wait until you see Jimmer—- I will let you know his next game on ESPN.
Only Coach Calipari could lead this Kentucky team into 2nd tier status. Jim "Who me?"Calhoun at least can coach.
I would bet Jim Calhoun knows what his players had for dinner 6 nights ago. But he didn't know of any of the improprieties committed by his staff. These sanctions which are very mild do not reflect well upon the AD, Jeff Hathaway as well. We all know the shake … Read More »
Calapari?         Kentucky?        Scandal?      Shocker!!!!!!
Read the New York Times article
This is what gets me– the Coaches who oversee these violations move on elsewhere for big raises, etc. when the NCAA begins an investigation but nothing ever happens to them. Rodriquez is at Michigan. Calipari left Memphis in the dust. Pete Carroll moved to the NFL.  Who is ever accountable?
I had the pleasure of being in the company of ex Terrapin great Steve Hood from Dematha High on Tuesday.Some of the things we discussed:
—Steve was recruited by and thought the world of Lefty. When Lefty left before his freshman year, he decided to stay at Maryland with the … Read More »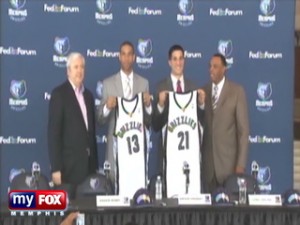 2 years ago in Kansas City it was amazing that all everyone was talking about was Greivis Vasquez.  This of course were the NCAA 1st and 2nd round games. After Memphis had to storm from behind and Maryland coasted to … Read More »
And the speculation continues.  If LeBron signs with the Knicks, going to New York would be a heckuva  good situation for Greivis.  Who wouldn't want to be part of the spectacle that will be the Knicks if LeBron does in fact go there?  Overall, it is really hard to get … Read More »