When I called Nick at the Costas Inn to make a reservation, he told me he had some humongous crabs –Biggest and Best Crab I ever had!!!
Some topics for this mornings show:
Mike Gathagan, VP of Communications for The Maryland Jockey Club checks in and reports on the Preakness
Maryland Johns Hopkins Battle for right to go to the Final Four
The O's are 26-14 and on a roll
Steve Blake manhandled … Read More »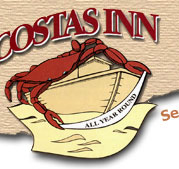 Football, crabs, and beer—thats what Maryland is all about and now the Costas Inn has virtually every NFL  game on one of its flatscreen TVs every Sunday. The Costas Inn on 4100 Northpoint Blvd—the NFL Crabs and Beer!!!!!