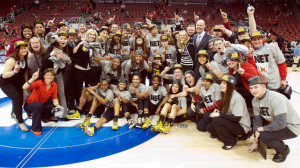 It's a great day to be a Terp. To me the odds against advancing tonight were huge. Playing at Louisville before 14,000 home fans, and the great Shoni Schimmel did not present a grand likelihood for victory. But as Brenda said post game, this Terrapin team played with tremendous heart, confidence and poise for 40 minutes and thus Maryland advances to Nashville to take on Notre Dame.
The Terps trailed at halftime by 36-32 and were really kept in the game by Katie Rutan's 4 treys. The 2nd half was all Alyssa and Lexie Brown who certainly had her career game playing before her father, Sacramento assistant coach Dee Brown. Lexie scored 20 tonight. Once again the stalwart performance belonged to Alyssa Thomas who finished with 22 points, 13 rebounds, 3 assists, and 3 steals.
Only a furious last minute rally by the Cardinals kept this game close but what a rally it was. Schimmel hit 3 moon rocket treys and actually had a chance to tie the game at the buzzer but her trey attempt clanked off the rim and it's on  to Nashville for Maryland.
It was great to see Brenda best her former assistant Jeff Walz who had little praise for her former boss in pre game interviews.  Brenda had the Terps ready to play and really believing in themselves. Hats off to our head coach for a tremendous year so far. I am anxious to see this Notre Dame rematch. I was present for the Notre Dame game earlier in the year and it was a magnificent one though the Terps lost 87-83 in the final minute.
It took me all day to gather my thoughts:
This season was cursed the day the ACC filed its $50 million lawsuit against Maryland. It was cursed when all of our Military Bowl money was left unpaid.
It was cursed every time Karl Hess stepped on the court to referee our games including today.
It was cursed when Mitchell's last second shot hung on the rim and fell out against Duke. When no one picked up the possession mistake at Cameron.
When Seth went down early in the year.
When we had 2 chances for a last second bucket against UConn at the Barclay center and failed to convert.
Today was no exception. FSU committed 19 turnovers and still won. Dez missed a layup with a minute left that he probably hadn't missed all year. Smotrycz, one of our hottest players recently, had back spasms and was unable to play.
Today's game was a microcosm of the season. Poor start. Strong 1st half close. Stayed in the game until the very end and just didn't have the guy to close the deal.
So now we are on the bubble …..for the NIT. Most Terrapin fans could care less. Another year with no ticket to the dance. The ACC karma, has left the building.
Athletic Director Kevin Anderson gave Coach Turgeon a vote of confidence tonight. Not for one second have I ever questioned Turgeon's coaching abilities. It's easy to 2nd guess when so many close games are lost. But Turgeon has won elsewhere and I do believe with all my heart that he will win here. But you will never win when your big men score a combined 6 points, when you constantly have more turnovers then assists, and when you can never hit a big shot. Hopefully the calvary arrives arrives next year. Maybe Melo will be that guy we need.
One thing is for sure, it is time we move on to the BIG and start over. It just hasn't been working for Maryland in the ACC.
Good riddance to Greensboro, Good riddance to Swofford, Good riddance to Coach K, Good riddance to Cameron Indoor, Good riddance to Littlejohn, Good riddance to empty arenas in Coral Gables, on Chesnut Hill, in Seminole country. Good riddance to the ACC.
Welcome to the BIG. Welcome to the Big Ten Network.
Post Game Comments from Coach Turgeon
COACH TURGEON: First of all, I'm really proud of my team. I thought we played unbelievably hard. We didn't always play great, but we played hard. We got down at the start, played a great first half. Dez was in foul trouble. We were up two at half. Then we got down 10, I believe, and we really played hard, and I thought we executed better.
We lost to a really good team in Florida State. But it's just hard in the way we lost. I really thought our defense was pretty good. We took Ian Miller out of the game with that play. Charles stayed long, we zoned up, got a hand on the ball, but kind of the way it's been all year, bounced right to their guy and he laid it in.
Give them credit; just another disappointing loss, but I'm not disappointed in the effort and how hard our guys tried today because they really competed. We executed, we just missed some open ones, just didn't happen. Some things just aren't meant to be, and apparently today wasn't.
Q. Evans' back spasms, how long had that been a problem and was there any thought he might be able to go today?
COACH TURGEON: Well, it happened Sunday in the game, he sat out Monday and Tuesday, did a little bit yesterday, but we all assumed he was playing. About 40 minutes before the game, my trainer told me he wasn't playing or didn't want to play, so I met with him, and he said his back was tight, so we didn't play him.
Syracuse is reeling right now. Two straight losses after an undefeated start. At this point of the season. Maryland is 15-12 and 7-7 in the conference but has 0 top 50 wins. If any hope exists at all to make the dance it must begin with a W tonight. Syracuse, a slight favorite plays the stingiest zone in the country but is definitely having its troubles offensively. So what do the Terps do to win tonight?
Offensively
After Duke scored 89 in its first game against Cuse, by getting the ball to parker in the middle and then dishing to the wings===Cuse adjusted in game 2 and closed off the shooters. Duke relied on Parker and Hood to drive and facilitate and manged to pull the victory out. Dez and Faust will have to be at the top of their games because most likely they will be at the foul line. I really figure that Dez must be on the north side of 20 for Maryland to win.
Defensively
Ennis, Cooney, Grant and City College's CJ Fair can not all be stopped. Ennis was 2-13 against Duke Saturday night and is beginning to show the effects of playing 40 plus minutes a game. Turgeon will continue to mix defenses. probably using the 1-3-1 pressure zone trap to try to take Cuse out of its game.
Summary
The Orange has not been a potent team offensively but it seems like teams have had their way with Maryland. But not tonight. Listen, many are saying Syracuse will never lose 3 in a row. Why? Cuse has not been the same since Duke game 1. Dez will have a big game tonight, and the sellout crowd will lift the Terps to its first marquis win of the season over a tired former #1 squad—- Terps 70 Cuse 69.
The Annapolis Capital reported :
 "Severn's David Jaklitsch has committed to the University of Maryland to play baseball.  The Admiral's shortstop/centerfielder was first selected All-County as a sophomore." Jaklitsch turned down a scholarship offer from the University of Tampa to fulfill a lifelong dream of playing in a Terp uniform.  Last year, Jaklitsch placed in the top ten in Anne Arundel County in almost every single hitting statistic, including batting average, on-base percentage, walks, runs, hits, RBI's(despite hitting lead off), doubles, triples, and stolen bases.
If you listened to Terp Talk last night my sentiment was "Overreaction" to the blowout loss at FSU. It happens on the road sometimes. I know that, the experts know that, that's why almost inexplicably the Terps were 4 1/2 point favorites. Everyone left Comcast feeling much better about Maryland and Coach Turgeon last night—I would hope.
Basically Maryland out-toughed Notre Dame in the 2nd half. Mitchell and Shaq were forces in the paint finishing with 17 points combined. The entire team made the Irish pay when they went inside, sending ND to the foul line where misses were aplenty.
After blanking in the first half Dez, came back with 17 including 11-13 from the foul line. Maryland managed a meager 25 points in the 1st half but closed with 49 in the 2nd.
Turgeon made a point to comment on Nick Faust's defense in the 2nd half. Faust also hit the dagger 3 to put the game away. Seth Allen went 27 minutes and scored 13 points with 5 rebounds, 4 assists, and 0 turnovers.
Turgeon abandoned his freelance substitution in the 2nd half and went more situational, even playing Dez at the point for 6 minutes or so.
Because ND was in a zone most of the game. Roddy only saw 8 quiet minutes of action. Once again jake and Evan were quiet combining for 5-19 shooting. Both however, like the team, were aggressive all night.
The Terps are now 3-2 in conference with their next game Monday night at NC State.
   Turgeon Post Game
Without question this was a different Maryland team then we have watched all year. Is it just the return of Seth Allen? I believe it is more. Basketball maturation of Shaq, much improved shooting from Nick Faust and what I have called an effective intensity across the team.  The Terps are now 2-0 in conference in a quest for what I believe is a goal of 11 wins, a task that I now believe might just be attainable.
What a great game for Nick Faust today.—16 points on 6-8 shooting including 4-6 treys. Nick has been stellar the past 3 games. Turgeon commented: "He got his release up higher, that's number one. That happened right before Christmas. Then just getting away, and having one more scorer playing takes a lot of pressure off Nick. When you look at percentages, who are you going to let shoot. You're going to let Nick shoot, but he's knocking them down right now. I'm happy for him and really defended. He's just under control. He's so much better with the ball and not forcing things. He's playing like a veteran guard should."
Shaq and Mitchell combined for 13 points and 13 rebounds and the Terps certainly had a low post presence today.
12.545 were in attendance today.
Georgia Tech certainly missed its best player , Robert Carter as the trailed by double digits most of the 2nd half.
Next up for Maryland –Pitt on Monday night on the road. Other ACC scores today:
Notre Dame 79  #7 Duke 77—–Pupil (Mike Brey) beats teacher
UVA 62   FSU 50
#2 Syracuse 49  Miami 44  
Clemson 62 BC 60
Pitt NC State  62
Yes this was a must game tonight in Chesnut Hill and the Terps were able to close the deal tonight!!!!
Dez was unstoppable tonight scoring 33 points on 12-18 shooting. Why? Because he continually drove the hoop against an extremely slow Boston College team. 
Had Maryland attacked the bucket more I do believe this would not have been such a close game. 
Coach Turgeon ignored his full court press tonight until the Terps were down by 4 with about 6 minutes left. He went into full court pressure for a few minutes, tied up the score and then abandoned it after a Timeout. I am sure we will see more of the press.
Jonathan Graham played a very strong 21 minutes tonight. He is high energy and you can just watch him run the court and see how thrilled he is to be a Terp. Jonathan had a crucial tip in down the stretch.
The crowd was announced at 3516 which even if that was the case, it's a disgraceful showing. I have been to Slivio O Conte Forum and it is nice but small arena. Parking is easy, there is never any traffic, and no one ever goes , not even the students.
Varun Ram got into the game for about 45 seconds, committed a stupid foul right in front of Turgeon and was immediately yanked from the game. 
Boston College is now 3-7 but as we all figured they were a tough out at home. The Terps held Eddie Odio scoreless. If you remember last year at BC Odio had 8 points and 11 rebounds.
Next up Florida Atlantic currently 3-7 and Coached by Mike Jarvis on Saturday at 2PM. FAU is located in Boca Raton.
So here is the bad news, Maryland lost its 4th non conference game albeit to a pretty good GW team
Maryland got off to another weak start trailing 41-29 at halftime.
Smotrycz missed a few key shots down the wire and finished with 2-9 from the field
The  Terps finished with 18 turnovers and only 6 assists
Jake was 1-4 from the 3 point line–as a team Maryland was 5-19
Once again a slow start did the Terps in
And the good news
Though Turgeon refused to confirm we will see much more full court pressing, I believe that this is not the case. Last year the team turned on when it instituted a full court press for parts of the Game. Today the pressure ignited the entire team. Perhaps what this type needs is a chaotic, brand of basketball. It seems like Maryland does its best when the pressure is applied. I saw a lot more life in this team during the pressing period of time.
Post game Turgeon spoke of the energy Jonathan Graham brought with him tonight: "Jonathan Graham gave us great minutes, played as hard as he could, and most importantly raised the intensity level of the squad." I also though Nick Faust might have given us his best minutes of the year in the final 10 minutes.
Maryland Head Coach Mark Turgeon
Opening Statement:
"It was a great college basketball game. GW is a really good basketball team. Their big guys just gave us fits all day and really played well. Of course [Maurice] Creek is a great player and now he's healthy and playing like it. He made the shot of the game. They made free throws when they had to make them. I was really proud of my team. We tried hard. We don't have a lot of things going our way right now. Balls are going in-and-out. Guys are making tough shots against us. We never quit and had a chance to win it. When we had the ball with the score tied I thought we got fouled. It ended up being a foul on us. That was a big play in the game. There's a lot of basketball left and hopefully we can get better.
On coming back from down 14 points without Dez Wells:
"It was nice to do it without Dez. I gained a lot of confidence. I thought Jonathan Graham gave us great minutes. He played hard and we raised our intensity up a level because of him. Dez was in and out of foul trouble the whole second half and he was starting to get it going. It was good to see. We're just missing some shots that we need to make. In the first half I thought we took a lot of bad shots. When we made the game chaotic, we were pretty good. We got outrebounded and that was one of our emphases. But to do that without Dez was a good sign."
On Roddy Peters' performance:
"I thought he just played. He made some nice plays. They went zone, so we had one less shooter out on the floor. They didn't guard Roddy, so he kept trying to make plays. He did some nice things. Defensively, he had the big steal there at halfcourt and had the steal on the press. I thought our whole team was more aggressive. I've got to get our guys playing at the start of the game better without pressing. We can't rely on that, but I was proud of Roddy."
No one is questioning the heart and effort of this team. But the wins must come in the conference.c
Friday December 27th in Annapolis at 2:30
A quick look at how the Thundering Herd faired this year:
vs. Miami (Oh) 
Huntington, W.Va.
W, 52-14
09/07/13
vs. Gardner-Webb (Hall of Fame Weekend)
Huntington, W.Va.
W, 55-0
09/14/13
at Ohio 
Athens, Ohio
L, 34-31
09/21/13
at Virginia Tech 
Blacksburg, Va.
L, 29-21 (3OT)
10/05/13
vs. UTSA* (Homecoming Weekend) * 
Huntington, W.Va.
W, 34-10
10/12/13
at FAU* * 
Boca Raton, Fla.
W, 24-23
10/24/13
at Middle Tennessee* * 
Murfreesboro, Tenn.
L, 51-49
11/02/13
vs. Southern Miss* * 
Huntington, W.Va.
W, 61-13
11/09/13
vs. UAB* * 
Huntington, W.Va.
W, 56-14
11/14/13
at Tulsa* * 
Tulsa, Okla.
W, 45-34
11/23/13
at FIU* * 
Miami, Fla.
W, 48-10
11/29/13
vs. East Carolina* * 
Huntington, W.Va.
W, 59-28
12/07/13
at Rice
Houston, Texas
L, 41-24
Former Ravens wide receiver LaQuan Williams has found work again in the NFL.
He signed with the New England Patriots yesterday, the team announced, after agreeing to an injury settlement (hamstring) with the Ravens and getting cut from the squad in September.
Williams was popular among Ravens fans after the former University of Maryland and Poly High School player made the team as a rookie free agent in 2011.
 The University of Maryland athletic department announced the NCAA has approved the request for a legislative release waiver allowing Jonathan Graham to be immediately eligible for competition for the 2013-14 season.
"We're excited for Jonathan that he is immediately eligible for the upcoming season," said head coach Mark Turgeon. "Our administration did an outstanding job working diligently on Jonathan's behalf."
Graham played in 57 career games (25 starts) over the course of two seasons at Penn State, averaging 2.8 points, 3.2 rebounds and 17.2 minutes. The Baltimore, Md. native was a 2010 graduate of Calvert Hall College High School.
 My take: It's a great day for the Graham family and for the University. A job well done by Mark Turgeon.
The heavy-hitters gathered in College Park on Tuesday night for the annual Shirley Povich Symposium, a panel forum inside the University of Maryland Stamp Student Union, to discuss the school's conference switch to the Big Ten.
ESPN's Scott Van Pelt, former Maryland all-American and Board of Regents chair Tom McMillen, sports journalist Bonnie Bernstein, Athletic Director Kevin Anderson and Big Ten commissioner Jim Delany all talked on the panel. Povich's son Maury, the popular television host, moderated.
Nearly one year ago, on Nov. 19, 2012, Delany, Anderson and University President Wallace Loh gathered inside the same building to announce the move, formally approved by the Board of Regents and the conference's presidents. "On this first anniversary, I'm reminded of the wisdom of that great American philosopher Yogi Berra, who said, 'The future ain't what it used to be,'" Loh said Tuesday.
The talking points trended mostly toward the familiar. It felt like a State of the Union Address, a packed house clapping after the conclusion of almost every sentence. The administrators Anderson and Delany talked about global footprints and academic benefits, as well as integrating Maryland into the conference starting on July 1, 2014.
"I'm not thinking 2013 or 2012," Delany told the crowd. "I'm thinking assets and capacity. I think Maryland has the assets and the capacity to fully compete in the Big Ten, not only with the sports they have but the sports they're going to add someday."
Maryland cut seven sports on July 2, 2012, but Anderson said an anticipated budget balance by 2018 or 2019 should allow Maryland to "look at restoring some of the sports we no longer had."
The alumni McMillen, Bernstein and Van Pelt discussed mixed emotions when the move was announced, but how all have since come around. McMillen was the only Board of Regents member to vote against the switch, though he did so primarily in opposition to a "hastily called-in" process that happened mostly in secret.
"We don't have to speed this up." he said. "We don't have to make this decision with one piece of paper. It's like Lockheed and Northrup making a merger with one piece of paper …  When you're in business with someone for 60 years, and you can't pick up the phone for a confidentiality agreement, I don't think that's the way it should work."
Other items of note:
>> On the travel differences between the ACC and Big Ten, Anderson said: "We looked at the travel, and the travel will not be much more than what we were experiencing in the ACC. Instead of buses we'll be on airplanes, and the longest trip will be four hours."
>> Delany said the Big Ten is currently looking at New York for new conference offices, anticipating "some space early in 2014." He also speculated the conference might open a satellite office in Washington, and projected some Big Ten championships moving to the East Coast.
"I think we'll have championships in the East," he said. "I think we'll have basketball championships in the East and other championships. We're in two regions of the country and we expect to have championships in both regions of the country."
>> Delany reiterated the comments he made during an interview last November about Maryland's ongoing legal battle with the ACC over its roughly $52 million exit fee. Asked whether the Big Ten would help cover costs, Delany simply replied, "No."
>> The very next question brought another one-word answer from Delany. Asked whether he would encourage a Maryland-Duke matchup in the ACC/Big Ten Challenge, he said, "Yes."
"I think the fans of both schools would like to do it," Delany said in an interview after the event's conclusion. "To be honest with you, a lot of people like to play Duke. There are a lot of people in the Big Ten who would like to play Duke and North Carolina. And there are probably a lot of people in the ACC that would like to play Michigan, Ohio State and Indiana. The answer is an easy yes, but ESPN decides the matchup after consultation with the conferences and we live with what they do."
Duke Coach Mike Krzyzewski has said the Blue Devils will not schedule Maryland for a nonconference matchup unless forced to do so.
>> Van Pelt drew a rousing applause when answering an audience-submitted question about the Maryland basketball teams not hosting Duke, North Carolina or North Carolina State for the first time since the ACC's inception. "It's garbage," he said. "It's complete garbage. It's an embarrassment that they did this."