The second-ranked Maryland field hockey team fell to No. 10 Northwestern, 3-1, in the Big Ten Tournament final Sunday in Ann Arbor.
Junior Sarah Sprink scored to tie the game in the first half, then the Terrapins (18-3) threatened throughout the second half. Redshirt senior Brooke Cabrera picked up seven saves.
"Certainly, a disappointing outcome," head coach Missy Meharg said. "Northwestern played with a vengeance and at a championship level. In debriefing with the players, there's no real excuses, other than that you've got to play every second of every half."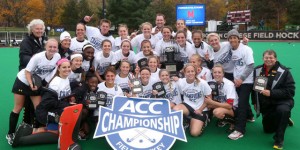 The top-ranked Maryland field hockey team scored twice in the second half Sunday to win its 10thAtlantic Coast Conference championship. Tournament MVPJill Witmer scored four minutes into the second half, then with 26 minutes to go, Anna Dessoye sent in a shot off a rebound for the two-goal lead.
Maryland (20-1) won its 10th ACC title, all of which have come under head coach Missy Meharg. The Terps last won three straight in 2008, 2009 and 2010. Witmer was joined on the All-ACC Team by Hayley Turner, Ali McEvoy and Sarah Sprink.
Due to a yellow card assessed to the Terrapins in the final 10 minutes of the game and the Tar Heels (15-5) pulling their keeper for an extra field player, the Terrapin defense dug deep and completely shut down the Heels' threatening offense.
"In the beginning of the game, we fell away a lot, so the momentum went toward North Carolina," Meharg said. "When we settled in and really started passing, it was evident that we were in control of the game. There are 10 field players for each team and Maryland used all 10 all the time. We're just so proud of our team. Their patience, their footwork around the ball, their communication to protect each other was outstanding."
Head coach Missy Meharg announced the signing of midfielder Lein Hoelsboer (Hilversum, Netherlands) Wednesday, who will come to the Maryland field hockey program for the fall of 2013.
 Hoelsboer will join the Terrapins as one of the premier midfielders in Holland. At the young age of 14, she was scouted for MHC Laren, one of the most competitive hockey clubs in Holland. She is a mid-field captain for the Under-18 team and has been selected to train Laren's Senior Women's squad, which touts several 2012 London Olympic Champions. 
 "Marjolein is strong, hardworking, intelligent and possesses a winning character," Meharg said. "Lein's receiving techniques are world-class, which enable her to consistently distribute the play for her team. She is very bright and looks to start in the Smith School of Business as a freshman."
My take: Guarantee Lein is fabulous!!!!!! 
Former All-American, national champion, Olympian and third-year head coach Dina Rizzo was promoted to Associate Head Coach, head coach Missy Mehargannounced Wednesday.
Rizzo was hired by Meharg as an assistant coach at the beginning of the 2010 season. In those three seasons, she has helped the Terrapins to two NCAA titles, three Final Fours, an ACC title and a record of 60-11 (.845).
"Dina naturally teaches the game as she played at NCAA and Olympic level," Meharg said. "Heart, unmatched daily work rate, details to high performance and love for the game are her coaching trademarks. It has been an honor having her back in College Park for the last three years."
Rizzo played for the Terrapins from 1998-2001 and played in three Final Fours, two NCAA title games and was a member of the 1999 national champion team. She helped bring home four straight ACC titles. As a senior, she was named a First Team All-American and to the All-ACC and NCAA All-Tournament Teams.  from umterps.com
No. 6 Maryland was edged by No. 2 Princeton, 3-2, Friday night in the NCAA Semifinals off a penalty stroke awarded to the Tigers in the sixth minute of overtime. The Terrapins' defense held the nation's No. 1 offense at bay for most of the game. After trailing 2-1 late, Maryland tied it up off a stroke with 14 minutes to play.
"We're just very proud of the Maryland team," head coach Missy Meharg said. "They played a tremendous game, stuck to the plans. Princeton is such a fast team and they're counterattack is probably the best in the NCAA that I've ever seen. This is just really a tribute to Ali McEvoyand our deep defense for being able to control that speed for most of the game."
Jill Witmer and Ali McEvoy scored for the Terps
Senior Megan Frazer scored with 2:10 left to send No. 6 Maryland to its fifth straight Final Four with a 2-1 win at No. 4 Connecticut Sunday. Maryland (18-5) earned a spot in its 15th Final Four under head coach Missy Meharg.
"UConn is a tremendously well-coached team and they're highly technical in terms of their individual players," head coach Missy Meharg said. "I thought we sat back in first half and tried to figure out what they were going to be like. The quality of the match picked up in the second half and it was an advantage for us. Megan Frazer is just a winner. She's done it since her freshman year. I'm just so proud of the Maryland women for finding a way to win and get back to the Final Four."
 My Take: Megan Frazer has done it time and time again. Even though the Terps were #6 seed, they willed they way back into the final four and will meet Princeton on Friday at 4:30. Princeton came from behind at home to defeat the Teps 3-2. But I am sure the Tigers are having nightmares about the semi after they got the word Maryland would be their opponent.
The sixth-ranked Maryland field hockey team will head north to Storrs, Conn. this weekend for the NCAA Tournament First and Second Rounds. The Terrapins (16-5) will take on Patriot League champion Lafayette College (17-2) Saturday afternoon.
Saturday's matchup will be at 2 p.m. Broadcast information will be available later on UMTerps.com. The winner of the Terps-Leopards game will take on either No. 3 Connecticut (18-2) or Northeastern (14-6), who play at 11:30 a.m. Saturday. The two winners Saturday will play at 2 p.m. Sunday.
"Getting into the tournament is such an honor," head coach Missy Meharg said. "Coming off of such a battle with North Carolina Sunday, training today was very top-level and very high performance. They're focused and excited. It's unique to go to a new place." from umterps.com
#7 seeded Maryland past second-seeded Virginia, 5-1, Friday in the ACC Semifinals in Chapel Hill, N.C.
The Terrapins took an early 1-0 lead in the 11th minute and never looked back. The defensive effort, led by senior Janessa Pope, held Virginia's two Olympians, Michelle Vittese and Paige Selenski, to just two shots combined.
"Our team has been looking for a breakout game all season, to be honest," head coach Missy Meharg said. "We're a team that's still evolving. We're kind of just evolving and getting really good.
"With Virginia, you need to keep the ball away from those two players and if you put it in the belly of the field, you're probably going to lose the game. We were able to watch our first game in detail. With good teams, it's Michelle Vittese, it's Paige Selenski, it's Elly Buckley and if you can quiet them with incredible doubling down laterally and north-south, you can be very dominant. Maryland's attention to detail and execution was stellar." from umterps.com
Terrapin field hockey All-ACC players Megan Frazer, Harriet Tibble and Jill Witmer all notched a point to lead third-seeded Maryland past sixth-seeded Duke, 2-1, Thursday in the ACC Tournament Quarterfinals at the University of North Carolina.
Frazer and Witmer each scored in the win, as Tibble notched an assist on Witmer's game-winning goal.
Maryland (15-4, 3-2 ACC) will play second-seeded Virginia (15-4, 4-1) Friday at 3:30 p.m. in the ACC Semifinals in Chapel Hill, N.C. In the regular season meeting Sept. 28, Maryland led late, then fell 3-2 at Virginia.from umterps.com
Senior co-captains Megan Frazer and Janessa Pope combined to score all three of No. 6 Maryland's goals in a 3-1 win over Rutgers on Senior Night Friday.
Maryland (14-4) honored its eight seniors in Kirstie Dennig, Megan Frazer, Colleen Gulick, Danielle Kauffman, Janessa Pope, Lindsey Puckett, Harriet Tibble and Tara Zollinger prior to the matchup.
The Terrapins held the Scarlet Knights (8-10) to just two shots through nearly 60 minutes of play, until Rutgers scored late to make it a one-goal game. Rutgers head coach Meredith Long played at Maryland for Missy Meharg and was a member of the 2005 NCAA Championship team. from umterps.com
After 45 minutes of scoreless play, the offense of No. 6 Maryland prevailed for three second half goals and 3-0 victory over local opponent American Monday night.
After a defensive battle of a first half, the teams were scoreless. The Terps (13-4) outshot the Eagles (8-9), 10-3, in the first stanza.
"American played a very good press against us and they were able to come up with the ball," head coach Missy Meharg said. "Defensively, they double-teamed very quickly. At halftime, we talked about finishing and getting in front of their cover player. We talked about how to get around her and get shots, and I think we did a very good job of that." from umterps.com