The second-ranked Maryland field hockey team fell to No. 10 Northwestern, 3-1, in the Big Ten Tournament final Sunday in Ann Arbor.
Junior Sarah Sprink scored to tie the game in the first half, then the Terrapins (18-3) threatened throughout the second half. Redshirt senior Brooke Cabrera picked up seven … Read More »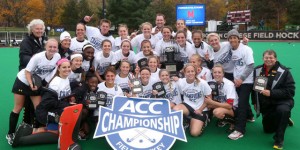 The top-ranked Maryland field hockey team scored twice in the second half Sunday to win its 10thAtlantic Coast Conference championship. Tournament MVPJill Witmer scored four minutes into the second half, then with 26 minutes to go, Read More »
Head coach Missy Meharg announced the signing of midfielder Lein Hoelsboer (Hilversum, Netherlands) Wednesday, who will come to the Maryland field hockey program for the fall of 2013.
 Hoelsboer will join the Terrapins as one of the premier midfielders in Holland. At the young age of 14, she was scouted … Read More »
Former All-American, national champion, Olympian and third-year head coach Dina Rizzo was promoted to Associate Head Coach, head coach Missy Mehargannounced Wednesday.
Rizzo was hired by Meharg as an assistant coach at the beginning of the 2010 season. In those three seasons, she has helped the Terrapins to two NCAA titles, … Read More »
No. 6 Maryland was edged by No. 2 Princeton, 3-2, Friday night in the NCAA Semifinals off a penalty stroke awarded to the Tigers in the sixth minute of overtime. The Terrapins' defense held the nation's No. 1 offense at bay for most of the game. After trailing 2-1 late, … Read More »
Senior Megan Frazer scored with 2:10 left to send No. 6 Maryland to its fifth straight Final Four with a 2-1 win at No. 4 Connecticut Sunday. Maryland (18-5) earned a spot in its 15th Final Four under head coach Missy Meharg.
"UConn is a tremendously well-coached team and they're highly … Read More »
The sixth-ranked Maryland field hockey team will head north to Storrs, Conn. this weekend for the NCAA Tournament First and Second Rounds. The Terrapins (16-5) will take on Patriot League champion Lafayette College (17-2) Saturday afternoon.
Saturday's matchup will be at 2 p.m. Broadcast information will be available later on … Read More »
#7 seeded Maryland past second-seeded Virginia, 5-1, Friday in the ACC Semifinals in Chapel Hill, N.C.
The Terrapins took an early 1-0 lead in the 11th minute and never looked back. The defensive effort, led by senior Janessa Pope, held Virginia's two Olympians, Michelle Vittese and Paige Selenski, to just … Read More »
Terrapin field hockey All-ACC players Megan Frazer, Harriet Tibble and Jill Witmer all notched a point to lead third-seeded Maryland past sixth-seeded Duke, 2-1, Thursday in the ACC Tournament Quarterfinals at the University of North Carolina.
Frazer and Witmer each scored in the win, as Tibble notched an assist … Read More »
Senior co-captains Megan Frazer and Janessa Pope combined to score all three of No. 6 Maryland's goals in a 3-1 win over Rutgers on Senior Night Friday.
Maryland (14-4) honored its eight seniors in Kirstie Dennig, Megan Frazer, Colleen Gulick, Read More »
After 45 minutes of scoreless play, the offense of No. 6 Maryland prevailed for three second half goals and 3-0 victory over local opponent American Monday night.
After a defensive battle of a first half, the teams were scoreless. The Terps (13-4) outshot the Eagles (8-9), 10-3, in the first … Read More »