Looking at the Ravens from a far.
To those who thought the Ravens were going to have a big year following last year's Super Bowl win the question to you would be why?  Few teams play really well after a Super Bowl win and the Ravens lost 12 starters off last year's team.  Many thought the team would be better by replacing older players like Lewis and Reed with younger, more athletic players.  But most of you didn't consider the fact that most of the players on this year's team who are replacing the missing starters have never been quality starters in the NFL and some as in the rookies have zero professional football experience. Just because a guy is young and athletic doesn't mean he can play in the NFL or be a good starting player.  And, none of these young guns provide real leadership which Lewis and Reed did.
Joe Flacco is a part of the problem.  His ego told him he should be the highest paid q.b. in football, which he became for about 3 weeks. It's easy to tell someone what to do with his money and no one can be surprised that Joe went for every dime on the table.  Joe should not have been hurting financially going into contract negotiations though none of us know how he invested his millions from his first contract.  If Joe did what Labron James and D Wade did in Miami he could have taken less, still made a boatload of money and gave the Ravens a better chance of re-signing someone like Anquan Bouldin, who was Joe's favorite receiver and go to guy on third downs.  Bouldin took a lot of pressure off other receivers.
The offensive line is offensive.  The big reason the Ravens made it all the way last year was the vastly improved play of the o-line in the playoffs.  The loss of Birk at center, Yanda coming back from surgery and being banged up, Mckinnie not playing well and being replaced with an average player, and now Osemele's injury has resulted in a below average offensive line.  A line who has trouble run blocking and trouble pass protecting.  In other words, they ain't doin' nothin'.  Don't blame the running backs.  You can't run too far without some sort of hole to run through.
The receivers are below average.  They rarely can get separation from the d-backs which tells me these guys have no real idea how to run a tight, pass pattern.  And as of yet the coaching staff hasn't come up with new pass plays to try to get guys open.  Torrey Smith may have a lot of yards receiving but understand the Ravens throw deep far more than most teams but Torrey like most Raven receivers are rarely open.  At times Joe under throws guys.  That can be blamed on Joe but more than likely it's because Joe is being pressured and needs to get rid of the ball quickly and sometimes can't get his whole body into the throw.  Let's be real, Joe has a very strong arm so when he under throws someone it's not on him that often, though yes sometimes it is.
The defensive line has trouble stopping the run, particularly late in games.  You can't win games when you are allowing the opposition 6-8 minute drives late in the game.  The defensive backfield is playing poorly.  Only the line backers seem to be playing well.
Coaching decisions late in the first half and late in games have a lot of fans scratching their heads.  The team starts games off very flat week after week.  That's on both the coaching staff who have to find a way to get guys ready from the get go and on the players who have to be accountable.  Maybe they need to play a video of Ray Lewis before they come out of locker room.
When you lose 12 starters plus Dennis Pitta, replace those starters with mostly unproven players who lack experience and are unproven as starters, bring in some free agents who didn't get the job done, lose your team leaders and have a hangover after winning the Super Bowl the result is the 2013 Ravens.  As Dodger fans used to say and are saying this year….Wait til next year!
 Blog from Freddy from Boca
November 4th, 2013 |
0 Comments »
April 18th, 2013 |
1 Comment »
Some of the topics for the show:
Could a left tackle take the Ravens to the promise land
Ray Lewis on Joe Flacco
Ravens –Titans Preview
Maryland —WVU preview—Stop Tavon Austin
Edsall suspends Ronnie Tyler and Quintin McCree
Texas to the ACC
Tedy Bruschi Criticizes Ochocinco
Derek Fisher — Class of the NBA Labor Strife
Who is Metta World Peace
FSU — Oklahoma. ACC rep is on the line
Jack still thinks Tiger will get to 18 Majors
NFL putdowns reach to the ankles now
Preview of Great Prostate Walk with Dr Sanford Siegel
Terrapin UMBC Soccer Match– Classic
Warren Sapp says the Steelers are "Old, Slow, and Done!!!
September 16th, 2011 |
0 Comments »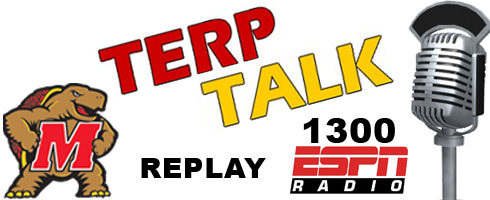 Terp Talk Thursday Night 07-15-10
Host–Bruce Posner Guests–Dino, Freddy
Subjects–Terps in NBA Summer league, New Lax Recruits, Deaths of Joe Gardi, Steinbreener, Terp News
2011 Basketball Recruits
,
Athletic Director Search
,
Dave Cottle
,
Debbie Yow
,
Directors Cup
,
Freddy from Boca
,
Greivis Vasquez
,
Hall of Fame
,
John Tillman
,
Lance Stephenson
,
Men's Lacrosse
,
Radio Shows
July 17th, 2010 |
0 Comments »
The Terps opponent today is Florida Atlantic University, located in Boca Raton, Fl.   F.A.U. is 5-6 this year, 1-1 in the Sun Belt after going 6-26 last season.  The Owls are led in scoring by 5'6″ freshman guard Raymond Taylor averaging 17.6 a game, 6'2″ freshman guard Gregg Gantt at 13.5 pts a game and 6'3″ soph guard Shavar Richardson chipping in 9.9 a game. 6'8″ 235lb. jr. forward Brett Royster delivers 9.4 pts and 6.5 rebounds a game and set a school record for most blocked shots last year with 74.
Look for Dino to bounce back with a strong effort today.
Blog from Freddy from Boca
December 26th, 2009 |
1 Comment »
This year's backcourt will need to play at consistently high level considering the teams lack of experience and depth in the low post. 6-6 senior Greivis Vasquez will run the point for the Red and White. Vasquez, who worked-out for a number of NBA teams before last summer's pro draft is the leader of the team. Vasquez has terrific court sense and plays with a flair. The Venezuelan needs to be more consistent with his outside shot which should be easier to produce  with the the addition of Jordan Williams  If Greivis can take his game to the next level he will be rewarded with millions in the NBA draft next summer. Sean Mosley, the solidly built 6-4 guard from Baltimore begins his sophomore year as the Vasquez's running mate in the backcourt. Mosley plays tough defense, goes hard after loose balls, hits the boards well for a guard, and possesses tremendous court sense.. As a freshman, Mosley had trouble shooting the outside shot as well as finishing on drives, though he was a key ingredient in many of the Terrapin wins. Sean always seems to be in the right place defensively which is why he earns so many minutes from Gary. Hopefully as a sophomore he is more comfortable with his offense  as the Terps must have  points from him this year. Eric Hayes, the heady 6-4 guard from Woodbridge will more than likely be the Terps 6th man. An excellent ball handler with probably the best 3 point shot on the team, Hayes has been slowed this summer with turf toe, which is a tough injury to play b'ball with. Hayes showed in the Duke game at Durham last year he is capable of scoring points in bunches and it is imperative that he be healthy or the Terps will lose a great asset. I am greatly concerned that Eric has been basically shut down for the last 2 months.. His experience, handle and outside shooting are needed.  Another Stu Vetter disciple (along with Greivis), Adrian Bowie is back for his junior year. The 6-2 former Terrapin ball boy is Maryland's most athletic guard who is very good driving to the hole. Bowie spent time in Houston this summer with former Terrapins All-American John Lucas to hone his point guard skills. If Bowie can utilize dribble penetration and improve his outside shot his 3rd year will be a charm for the Terps.
Blog from Freddy from Boca
October 14th, 2009 |
2 Comments »