from realgm.com   analysis of the Harrison Twins
6) Andrew Harrison
One half of one of the more polarizing guard tandems in the recent history of NCAA basketball, Andrew elected to declare for the draft despite shooting 38% from the field. At 6'5 210 with a 6'8 wingspan, his main … Read More »
Interesting analysis of last night's loss to Notre Dame –6-5 in OT
Women advance to ACC Lacrosse Championship game
Turgeon hires new Director of Operations, Cliff Warren
A look at the 2014-15 Terps in Basketball
Wizards lose but remain up 2-1 in series
How Calipari failed … Read More »
This is starting to become routine. 
Another ESPNU news conference, another NBA-bound basketball recruit — or, in this case, two top-rated recruits — another briefly tense moment for fans, another recruiting victory for John Calipari. It's practically clockwork. 
Aaron and Andrew Harrison — twins, backcourt mates, the top-rated shooting guard and … Read More »
I will never sugarcoat it. It's plain and simple–Mark Turgeon and Bino Ranson have done everything humanly possible to land the twins. Why? Because Turgeon knows that added to the existing players that will be at Maryland next year, the addition of Andrew and Aaron will elevate this team into … Read More »
Come Thursday night, either Kentucky or Maryland will have the No. 1-ranked recruiting class in the country.
That is the day the Andrew and Aaron Harrison will announce their college decision. Rumors had surfaced throughout Monday that a decision could be coming this week, but Andrew seemed to confirm … Read More »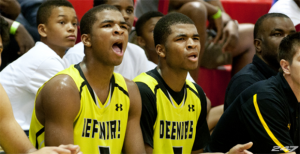 From zagsblog.com
Andrew and Aaron Harrison have a different opinion than their father on where they should go to college, a Division 1 source close to the recruitment told SNY.tv. "The boys want to go to Kentucky, the dad wants … Read More »
BY ADAM ZAGORIA ON SEPTEMBER 08, 2012, 10:42PM
Aaron and Andrew Harrison will host all five of their suitors during in-home visits beginning Sunday, according to Reggie Rankin of ESPN.com.
The twins will host Kentucky, Maryland, Baylor, Villanova and … Read More »
But Turgeon didn't sign Xavier's top returning scorer to have him for this season. It would be a nice bonus, but it's not a necessity.
Turgeon said he has tried to balance the classes at his previous stops at Wichita State and Texas A&M, adding four-year transfers along the way.
from NOC TV on youtube
from zagsblog.com
The Harrison Twins will announce Oct. 29 at Fort Bend (Texas) High School,Andrew Harrisonconfirmed to SNY.tv Monday night. The news was first reported via Twitter by Nick Jones. Aaron and Andrew Harrison are considering Baylor, Kentucky, Maryland, Villanova and SMU and recently told SNY.tv they are hearing the most from three of … Read More »
NEW YORK – The Harrison Twins are moving closer and closer to ending the suspense about their college choice, and they say three schools are contacting them the most at this point.
"Baylor, Kentucky and Maryland, they pretty much contact us on a weekly basis,"Aaron Harrison Jr. told SNY.tv in the above video interview … Read More »
Kelly Kline/GETTY IMAGES – Aaron and Andrew Harrison during a portrait session at the National Basketball Players Association camp last month in Charlottesville. The Harrisons are considered two of the top prospects in the class of 2013, and say they will go to college as a package … Read More »