Rapid Redux tied a North American Thoroughbred record for most victories in a calendar year, winning his 19th consecutive race Tuesday to match the mark set by Citation in 1948.
Rapid Redux, with jockey J.D. Acosta, won for the 19th time in as many starts this year to tie a North American record held by the great Citation in 1948.
Rapid Redux, with jockey J.D. Acosta, won for the 19th time in as many starts this year to tie a North American record held by the great Citation in 1948. It may also have been Rapid Redux's last race. His trainer would like to retire the 5-year-old gelding at the end of the year.
Rapid Redux, ridden by J.D. Acosta, led the 11/16 mile starter allowance race at Laurel Park from the outset and held off Awesome Rhythm to win by a half-length.
Rapid Redux has won 21 consecutive races dating to 2010. He broke the record for consecutive wins last month at Mountaineer Park with his 20th victory in a row. Citation had 19 wins in 20 starts in 1948, the year he won the Triple Crown.
Can you imagine that this horse was claimed October 13, 2010 for 6250 and today goes for his 19th straight win in 2011 at Laurel.
from the Daily Racing Form:
Three weeks after breaking one modern-day United States record, the remarkable 5-year-old gelding Rapid Redux is targeting another in Tuesday's sixth race at Laurel Park.
As a follow-up to his 20th consecutive win last month at Mountaineer Racetrack, Rapid Redux will attempt to tie the modern-day U.S. record for victories in a calendar year, currently shared by Triple Crown winner Citation (1948) and Hall of Famer Roseben (1905) at 19.
Rapid Redux, 18 for 18 this season, will break from the rail under J.D. Acosta while facing six rivals in a 1 1/16-mile starter allowance for horses who have started for a claiming price of $5,000 or less the past two seasons.
"It is typical about what we have been running against," said owner Robert Cole. "We have to go out and win one more. It is not going to last forever. We just hope Tuesday isn't our day to get beat. I know it can happen at any time."
The biggest threat to Rapid Redux appears to be deep closer No Brakes, a 6-year-old who has won 6 of 15 starts this season and is taking a sharp class drop following back-to-back good efforts against second-level optional $25,000 claiming company. In his last appearance in the starter allowance ranks, No Brakes romped by 8 1/2 lengths at Charles Town, earning an 85 Beyer Speed Figure that resembles the consistent numbers Rapid Redux has posted in his last five starts (83-85-89-87-85).
"We have to go with the game plan, which is going to the lead," said Acosta, who has been aboard six times during the streak.
Winner's Circle 5 owned this horse and Avi Pelta (from the James Pharmacy) is one of the partners. It's utterly amazing the similarity of Charlestown to a Vegas casino. Had a great time with Dr Berg, David Abramoff, and Avi. Congratulation guys on a big stakes win!
I have said it many times –my favorite track is the little harness track in Oxen Hill. It's quiet–too quiet unfortunately, easy to access and the chalks always seem to win. Peter Angelos believes that if you can combine the races with slots it will be athriving part of the community. Probably if you combine slots with a pizza palace it will thrive. But the location is great, parking is easy, and I am sure it would be a success. lets make it happen.
What a race!!! Garrett Gomez had Blame in the clear lead when he looked to his left and saw kenyatta chaging from hehind. But not today so the streak ends at 19.
Cooler heads must prevail. After losing the battle for slots to the Cordish group, the Maryland Jockey Club immediately threatened to shut down Laurel and reduce Maryland racing to a 40 day meet at Pimlico surrounding the Preakness. Governor O'Malley needs to step in and help solve this dilemma.
Every Saturday night before Fathers Day, my wife and I would journey to Rosecroft for a night of Harness Racing. For me the "Sulkys" go all the way back to Laurel Harness Racing on Route 1. Also known as Free State Raceway, there was nothing like watching the horse you bet go off stride or get parked. Every race seemed to have a horse named Hanover. Alvin and Winston Lineaweaver were the leading drivers for years. All of that tradition and history is now gone as the last harness track in the area Rosecroft, shut the doors Saturday night.
As if that wasn't bad enough, last Tuesday ended a 12 year run for ESPN Zone. Citing a downturn in business resulting from the economy, the home for so many local sports events shut its doors as well. Wow not a great week.

Unhappy with the ride of Garrett Gomez in the Derby, Bob Baffert switched jockeys to Martin Garcia and it sure seemed like the move paid off!!!!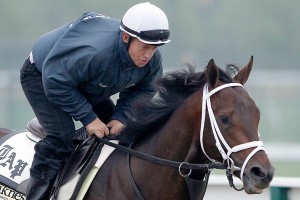 Just my opinion. $8 to win on Jackson Bend
6-7-8-9  $1 trifecta Box $24
$3 Exacta Box 6-7-8  $18
Total Bet     $50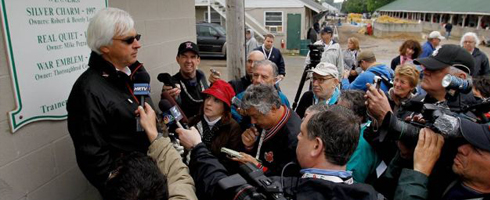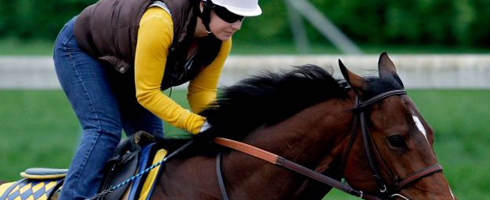 Trainer Bob Baffert can't be happy about drawing the inside post position at the Derby. with a 20 horse field, Baffert cannot allow Lucky to get trapped at the rail. 2-1—–forget it.