"Jordan Williams is a banger, a rebounder," said Nets' coach Avery Johnson on the Nets' Web site. "Rebounding is a big part of finishing your defense, and we were around 15 in defensive rebounding last year, and that's not good enough. So we feel we've addressed some needs."
Some topics for tonight:
—Interview with Keith Stevens Coach of Team takeover
—Interview with Jordan Williams
—Review of entire John Tillman / Navy / Maryland Story
—Much More Terp News
Apparently Jordan had requested incompletes from his teachers, and he lingered on the decision for months. I tend to believe his story because Coach Williams always seemed to be waiting for the decision.
It makes sense. Shaq is just about finished and within 2 years the Celts will have to pay Big Baby big money. Thus, 1 million per year or so for Jordan to develop into a NBA rebounder is nothing. Pierce, Ray Allen, and KG each make in the $20 million … Read More »
The Washington Post is reporting that Jordan Williams has opted to hire an agent and will definitely enter the NBA Draft. Keith Cavanaugh had said on Terp talk last month that it was a "fait accompli" whether Jordan would be a first round pick or not. With the return of … Read More »
from Jeff Barker's article in the Sun:
Smith: "He is rolling the dice to leave his name in, as not every scout we speak with projects him in the first round. He would benefit from (another) year at Maryland, but he appears to be prepared to attempt the jump to … Read More »
Quote from Gary Williams :"I fully expect Jordan to come back because of the lockout possibility," Gary Williams said. "No one knows anything about the draft right now except the NBA. They're the guys that are going to draft their players. With a lockout as a possibility, it'll be interesting … Read More »
It's almost like no one can believe it.  If JW was going to be a clear cut first round pick nobody could blame him for leaving. But there is even some doubt as to whether he will be drafted at all. Remember the NBA draft is only a 2 round … Read More »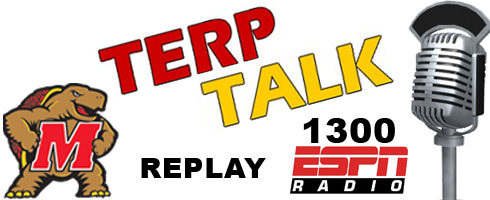 Terp Talk Thursday Night 03-24-11
Host–Bruce Posner Guest Torrey Smith, Keith Cavanaugh
Subjects–Status of Jordan Williams, Hoops, Lacrosse Review, Terp News
Bruce,
I wanted to call in this morning but you only mentioned the phone number one time and I didn't catch the number at that time.
Wanted to tell you that Zibby said he is either wearing purple nad black or purple and white trunks.
Wanted to … Read More »
I guess I should have seen it coming but this hit me like a ton of bricks. Keith Cavanaugh was on the show last night for his monthly appearance and when I asked him about the future of Jordan Williams,without hesitation he said Jordan has decided that most likely even … Read More »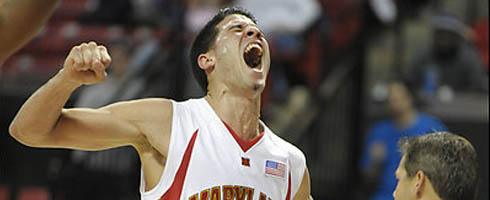 Maryland made a clean sweep of this week's Atlantic Coast Conference basketball honors. Greivis Vasquez was named ACC Player of the Week and Jordan Williams earned rookie of the week honors. Vasquez was a unanimous selection … Read More »