"Jordan Williams is a banger, a rebounder," said Nets' coach Avery Johnson on the Nets' Web site. "Rebounding is a big part of finishing your defense, and we were around 15 in defensive rebounding last year, and that's not good enough. So we feel we've addressed some needs."
Some topics for tonight:
—Interview with Keith Stevens Coach of Team takeover
—Interview with Jordan Williams
—Review of entire John Tillman / Navy / Maryland Story
—Much More Terp News
Apparently Jordan had requested incompletes from his teachers, and he lingered on the decision for months. I tend to believe his story because Coach Williams always seemed to be waiting for the decision.
It makes sense. Shaq is just about finished and within 2 years the Celts will have to pay Big Baby big money. Thus, 1 million per year or so for Jordan to develop into a NBA rebounder is nothing. Pierce, Ray Allen, and KG each make in the $20 million area per year. At this point look for Jordan to be a late first round pick.
The Washington Post is reporting that Jordan Williams has opted to hire an agent and will definitely enter the NBA Draft. Keith Cavanaugh had said on Terp talk last month that it was a "fait accompli" whether Jordan would be a first round pick or not. With the return of the 3 Carolina potential first picks the likelihood of Jordan being selected in the late 1st greatly incresed. Much more tomorrow and saturday on Terp Talk –Baltimore and Terp Talk –DC.
from Jeff Barker's article in the Sun:
Smith: "He is rolling the dice to leave his name in, as not every scout we speak with projects him in the first round. He would benefit from (another) year at Maryland, but he appears to be prepared to attempt the jump to the next level. Williams impressed this year with his offensive development and dominant interior play. He shows a solid shooting form and developing post skills. He also shows the dedication to improve as seen in his body transformation between his sophomore and junior seasons. He still needs to continue to trim down and tone his body and improve his cardio. Dropping an additional 10-15 pounds would make him lighter on his feet and give him better mobility defensively. He also should be shooting at a much higher rate from the line considering his solid form."
Quote from Gary Williams :"I fully expect Jordan to come back because of the lockout possibility," Gary Williams said. "No one knows anything about the draft right now except the NBA. They're the guys that are going to draft their players. With a lockout as a possibility, it'll be interesting to see how the process of the draft takes place. I know the NFL is going ahead with their draft, but the NBA, all sources I have are saying this could be a hockey-type situation [when the NHL wiped out the 2004-05 season with a lockout]."
It's almost like no one can believe it.  If JW was going to be a clear cut first round pick nobody could blame him for leaving. But there is even some doubt as to whether he will be drafted at all. Remember the NBA draft is only a 2 round affair. A second round pick or a coplete blank would probably lead JW across the ocean to play in Europe. Thereis nothing wrong with that but………….A return to a much improved Terrapin team and a chance for real March Madness exposure would surely place Jordan in the top 15 or 20 players selected. No need to learn Italian. I just don't see it.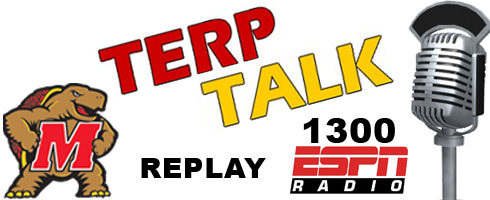 Terp Talk Thursday Night 03-24-11
Host–Bruce Posner Guest Torrey Smith, Keith Cavanaugh
Subjects–Status of Jordan Williams, Hoops, Lacrosse Review, Terp News
Bruce,
I wanted to call in this morning but you only mentioned the phone number one time and I didn't catch the number at that time.
Wanted to tell you that Zibby said he is either wearing purple nad black or purple and white trunks.
Wanted to tell you that on the talk shows this week Gary has really been subdued and not his usual feisty self. That led me to believe that bad news was forthcoming on Jordan Williams. Gary also made a trip to Houston to look at a big man telling me that he knows he needs to find a replacement for Jordan. You say that he isn't going to hire an agent so  guess there is still hope. I am crushed !!!
Wanted to say that Coach K outcoached himself on this one. Nolan Smith led the ACC in scoring, over 20 points a game, he is the MVP of the ACC, 1st team ACC and 1st Team All American. Nolan Smith needs the ball in his hands to be effective. Kyrie Erving needs the ball in his hands to be effective. Smith was neutralized when Erving was in the game in my opinion. Erving is truly a great player but also is Nolan Smith who led the Duke team through the toughest part of Duke's schedule. I can only imagine how Smith felt when earlier this week Coach K announced that Erving would be seeing extensive playing time from here on out. During the last 10 minutes of the game when Duke was self destructing EVERY time Erving got the ball he went to the hoop trying to do it all on his own while other Mac All Americans stood around and watched. Yes he scored 28 points but at the end they were stuffing it back in his face. The looks on the faces of Smith and Singler spoke volumes to me.
Coach K said his usual pregame prayer, we all know that God answers prayers in his own way and own time. Coach K had his clones Eenie, Meenie and Minnie sitting beside him, his Mac All Americans on the floor and on the bench but as the meltdown continued none of that helped, not even the phantom foul calls by the Zebras could get this game close at the end.
I respect Coach K, he is the best with the best players in America but on this night he was beaten by a bright young rising star, Sean Miller.
John, Terpman 2    Unedited blog from Taters John
I guess I should have seen it coming but this hit me like a ton of bricks. Keith Cavanaugh was on the show last night for his monthly appearance and when I asked him about the future of Jordan Williams,without hesitation he said Jordan has decided that most likely even if he is a 2nd round pick he will be leaving College Park for the pros. It just seems to me to not make sense. If he was projected as a lottery pick or even a top 20. I certainly could understand. But with the possibility of being selected in the 2nd round there is the realization that one could never even play in the NBA. There is no roster guarantee, no guaranteed pay, nothing. another with Gary  and perhaps big improvement in the team would elevate his status in the draft. The consensus mock draft in nbadraft.net has Jordan going 54th in the 2nd round to Cleveland.
Jordan—DON"T HIRE AN AGENT!!!!!!!!. Test the wters –Get your feelers–1st do what you have to do. but PLEASE Don't hire an agent!!!!!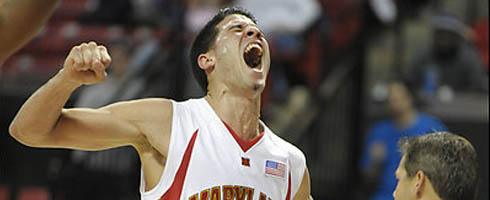 Maryland made a clean sweep of this week's Atlantic Coast Conference basketball honors. Greivis Vasquez was named ACC Player of the Week and Jordan Williams earned rookie of the week honors. Vasquez was a unanimous selection after averaging 28.0 points, 9.5 assists and 4.5 rebounds as Maryland extended its win streak to five in a row with victories over Clemson and Virginia Tech. He won the award for the second straight week, fourth time this season and eighth in his career.  Williams averaged 13.5 points and 10.0 rebounds in Maryland's two games. He won the award for the second time this season. The freshman had 18 points on 8 of 12 field-goal attempts vs. Clemson, and pulled down a career-high 15 rebounds, scored nine points and blocked two shots against Virginia Tech.