Randy Edsall calls in to discuss Spring football and Friday night's Spring Game
Faust, Peters, and Shaq granted releases–What does this mean for 2014-15 season
Maryland returns to #1 in Lacrosse
Maryland vs Johns Hopkins analysis
Gary Williams to be inducted into Naismith Hall of Fame
Notre Dame Controls the Boards and Ends Maryland's Season in the National Semi Finals
Everyone at Koons just makes buying a car an extremely pleasurable experience!!!! Thank you Dennis, Alona, and Steve for your tremendous assistance. This Escape might just be the best car I have ever owned.
Some of the topics for tonight's show:
Turgeon's relentless recruiting continues
Terps move to 12-1 defeating IUPUI 81-63 at Comcast
Audio fr0m Coach Turgeon
Report on St Frances — Mount St Joe Game
Terps prepare to face Virginia Tech Saturday at Noon at Comcast
Lady Terps journey to North Carolina tonight
Dina Rizzo named Associate Head Field Hockey Coach
Ray Lewis retires
The Terrapins welcomed volleyball player Caitlin Adams to the roster earlier this week Adams, a 6-3 forward from Leawood, Kan., played for the Terrapins' volleyball team the last two seasons after transferring from Texas A&M.
Cathy Reese announces 2013 Lacrosse Recruiting Class
Some of the topics on tonight's show:
Review of season and preview of 1st Round game vs Lehigh 
Preview of Saturday's game vs UMass for the Lady Terps
Review of Student Athlete Awards Night at College Park
My night with Frank Deford
Terrapin Nine Defeats FSU on National TV
Steve Blake becomes integral part of the Lakers
Tyler Steinhardt from Boys Latin will be in the house to discuss next month's Lax Marathon
Katie Schwarzmann named ACC Player of the Year in Lacrosse
Some topics for this morning
Baylor 50 TCU 48—football returns
Oklahoma leaving the Big 12—Texas TV effect
Kyle Boller, Chris Redman still playing
Josh Portis will be 3rd QB for Seattle
Colts hire Jim Tressel as replay consultant
Roddick moves on at US Open—Sharapova out
Joe Platania will be on to discuss Ravens cuts
Torrey much better this week
Exhibition farce continues
McCourt offered 1.2 Billion for the Dodgers
1week later—electricity returns
Miami-Maryland game sold out
Forget the Prince Reynolds is our First Baseman
Orioles attendance is embarrassing
Danica is in the house
LSU—Oregon Tonight
Oscar de la Hoya admits to drug addiction
Some topics tonight:
Update from Keith on the recruiting circuit
Analysis of the Houston Defenders AAU Title Game
Update on Free Agent Terrapins
Josh Wison now a Redskin
Preview of August 1 Meet and Greet with Coach Edsall at the Museum
NC State fires Butch Davis
Joe Flacco—ready for a Ring?
Terp news
You have to take a few minutes to read the incredible ratings the public has given Koons Ford of Security. As I have said repeatedly there is no better guy in the area to buy your next new or used from then Dealer operator Dennis Koulatsos. In an atempt to enlarge his sales tremendous sales force, Dennis has wooed David Solow on to the Koons team. Dave was the first starting QB for Northwestern High back in 1966 beating out yours truly for the position. A lot of my terptalk.com readers know Dave — and I encourage everyone to get to Koons and purchase their next car from from my backcourt running mate!!!
Thanks to Dennis, Rick and all the guys at Koons Ford of Security Blvd for assisting in the sale of a new Ford Fiesta to my executive assistant , Marleen. As always Koons Ford is great to deal with!!!!!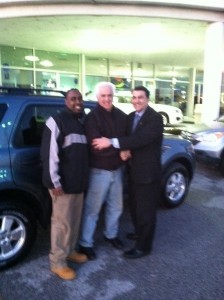 What a pleasurable experience I had buying my new 2011 Ford Escape. Dennis Koulatsossearched the Eastern seaboard to find the color I wnated and wound up going to the Poconos to get it. The price and deal were excellent and Dennis' staff could not have been more accomodating. The entire experience was more then pleasurable but I knew this would be the case having bought many vehicles from Dennis. Tremendous inventory, tremendous rebates, 0% financing, and a truly caring staff makes buying a car at Koons a no brainer!!! (That's me in the middle, Dennis on the right and Pete Dixon on the left)