Redshirt senior Laurin Mincy helped lead the eighth-ranked Maryland women's basketball team to its fifth straight victory with a 65-43 win over Loyola (Md.) on Monday night.
Mincy scored 13 points and sophomore Brionna Jones added a season-high 12 points with seven rebounds for the Terrapins (5-0). Lexie Brown finished … Read More »
The Maryland women's basketball team was selected to win the Big Ten title in its first year in the conference by both the league's head coaches and the Big Ten media voting panel. Sophomore Lexie Brown was named to the Preseason All-Big Ten Team Thursday.
Michigan State was picked to … Read More »
COACH BRENDA FRESE: Obviously, the better team won tonight. And I thought Notre Dame just did a terrific job, really took advantage, especially I thought they set the tone from the first possession with the offensive rebounding, being dominant on the glass.
Obviously, we really struggled to be able to … Read More »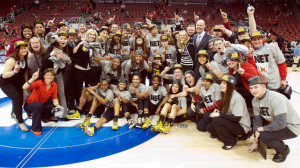 Read More »
April 1st, 2014 |
0 Comments »
You saw Alyssa Thomas score 33 in such a big game yesterday. You see how she's been able to perform. She had 32 against Wake Forest in the ACC Tournament, these big games of her career. It's another big stage for her. What's the plan to make sure she doesn't go … Read More »
My take—Sorry I can't call this an upset. The Terps dominated from the opening whistle. The Volunteers had no answer for ACC POY Alyssa Thomas. Kudos to Brenda who guides the Terps to an Elite 8 game against Louisville Tuesday night. Unfortunately the game is in Louisville, but the X … Read More »
The fourth-seeded Maryland women's basketball team advanced to its third straight Sweet Sixteen Tuesday with a 69-64 win over fifth-seeded Texas at Comcast Center.
The Terrapins (26-6) have been to six Sweet Sixteens in head coach Brenda Frese's 12 years at Maryland and 11 overall. With the win, they … Read More »
The Maryland women's basketball team earned a No. 4 seed in the 2014 NCAA Women's Basketball Tournament. The Terps will play 13th-seeded Army Sunday at 12:30 p.m. in Comcast Center in the First Round.
Maryland will also welcome fifth-seeded Texas (21-11) and Ivy league champion Penn (22-6) to College Park, … Read More »
Senior Alyssa Thomas of the fifth-ranked Maryland women's basketball team was named Atlantic Coast Conference Player of the Year for the third consecutive year by the Blue Ribbon Panel Wednesday. Thomas is just the second player in history to earn the ACC's top individual honor three times.
Thomas was named ACC … Read More »
Two-time ACC Player of the yearAlyssa Thomas scored 20 points with 12 rebounds to lead No. 7 Maryland to an 87-48 win over Virginia Tech on Senior Day Sunday. The Terrapins honored their five seniors inSequoia Austin, Alicia DeVaughn, Katie Rutan, Thomas andEssence Townsend prior to tipoff.
It … Read More »
National Player of the Year candidate Alyssa Thomas scored 26 and Katie Rutan hit 1,000 career points to lead a strong offensive effort as No. 7 Maryland won at Boston College, 92-66, Thursday night.
With two of her three three-pointers in the first minutes of the game, redshirt … Read More »
The eighth-ranked Maryland women's basketball team dominated the inside game with 60 points in the paint in a 79-62 win at Georgia Tech Sunday. The win was head coach Brenda Frese's 300th win at Maryland.
Senior Alyssa Thomas picked up her 60th career double-double with 15 points … Read More »