Redshirt senior Laurin Mincy helped lead the eighth-ranked Maryland women's basketball team to its fifth straight victory with a 65-43 win over Loyola (Md.) on Monday night.
Mincy scored 13 points and sophomore Brionna Jones added a season-high 12 points with seven rebounds for the Terrapins (5-0). Lexie Brown finished with 11 points and has scored in double figures in every game this season for Maryland.
The Maryland women's basketball team was selected to win the Big Ten title in its first year in the conference by both the league's head coaches and the Big Ten media voting panel. Sophomore Lexie Brown was named to the Preseason All-Big Ten Team Thursday.
Michigan State was picked to finish second in the league by both the 14 head coaches and the media voting panel. The head coaches selected Iowa to finish third and the media selected Nebraska. Both groups selected Minnesota's Rachel Banham as the league's Preseason Player of the Year.
Brown was one of six players named to the media's Preseason All-Big Ten team, along with Samantha Logic (Iowa), Rachel Banham (Minnesota), Amanda Zahui B. (Minnesota), Rachel Theriot (Nebraska) and Ameryst Alston (Ohio State).
COACH BRENDA FRESE: Obviously, the better team won tonight. And I thought Notre Dame just did a terrific job, really took advantage, especially I thought they set the tone from the first possession with the offensive rebounding, being dominant on the glass.
Obviously, we really struggled to be able to have an answer for Loyd and McBride. And they showed their experience, I thought, throughout this game.
But like I told the kids in the locker room, you know, we're one of the last four teams to be able to play. When this tournament started, nobody counted on us being able to make it to the Final Four, and really when the season ends, only one team gets to end with a win.
So, I couldn't be more proud of the ride that this team took us on to be able to go to the Final Four. And anything and everything that Alyssa has meant to our team and our program and to be able to bring her to the Final Four was a dream come true.
Obviously, we're sad because we wanted to continue on playing for her, but you couldn't coach a better person with everything that she's meant to our team and our program.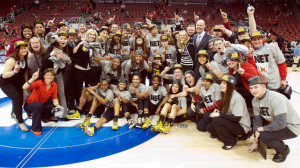 It's a great day to be a Terp. To me the odds against advancing tonight were huge. Playing at Louisville before 14,000 home fans, and the great Shoni Schimmel did not present a grand likelihood for victory. But as Brenda said post game, this Terrapin team played with tremendous heart, confidence and poise for 40 minutes and thus Maryland advances to Nashville to take on Notre Dame.
The Terps trailed at halftime by 36-32 and were really kept in the game by Katie Rutan's 4 treys. The 2nd half was all Alyssa and Lexie Brown who certainly had her career game playing before her father, Sacramento assistant coach Dee Brown. Lexie scored 20 tonight. Once again the stalwart performance belonged to Alyssa Thomas who finished with 22 points, 13 rebounds, 3 assists, and 3 steals.
Only a furious last minute rally by the Cardinals kept this game close but what a rally it was. Schimmel hit 3 moon rocket treys and actually had a chance to tie the game at the buzzer but her trey attempt clanked off the rim and it's on  to Nashville for Maryland.
It was great to see Brenda best her former assistant Jeff Walz who had little praise for her former boss in pre game interviews.  Brenda had the Terps ready to play and really believing in themselves. Hats off to our head coach for a tremendous year so far. I am anxious to see this Notre Dame rematch. I was present for the Notre Dame game earlier in the year and it was a magnificent one though the Terps lost 87-83 in the final minute.
April 1st, 2014 |
0 Comments »
You saw Alyssa Thomas score 33 in such a big game yesterday. You see how she's been able to perform. She had 32 against Wake Forest in the ACC Tournament, these big games of her career. It's another big stage for her. What's the plan to make sure she doesn't go 30?
JEFF WALZ: I'm hoping she misses the bus, which would be great. So we're going to change the arrows down there where their bus is supposed to be before they come to the arena, first off.
She's not a kid that you're going to shut down. It's just not going to happen. What you have to do is just try to make it difficult for her to score. You can't give her easy looks. She doesn't miss the easy shots, and she makes a lot of the tough ones.
So for us we have to make sure we're making it as difficult as we can for her to score the basketball, and then we have to do a good job on everybody else. I think at times you get caught up on the star player, and all of a sudden you're giving wide-open shots to other ones that start going in, and now all of a sudden you've got five or six players that you're really out there trying to defend, and now you really can't focus that attention on her, and she goes for 30, which is what I thought she did last night.
Laurin Mincy stepped in, came in off the bench and hit two big shots for them. Lexie Brown was playing very well. And now Alyssa Thomas is one-on-one, and you can't stop that kid one-on-one; it's about impossible.
What she did last night, I've seen her do it before on film, and now that I've had the opportunity to watch some film, she's pretty impressive.
My take—Sorry I can't call this an upset. The Terps dominated from the opening whistle. The Volunteers had no answer for ACC POY Alyssa Thomas. Kudos to Brenda who guides the Terps to an Elite 8 game against Louisville Tuesday night. Unfortunately the game is in Louisville, but the X factor is definitely Alyssa.
from umterps.com
Maryland coach Brenda Frese wanted her Terrapins to send a reminder that they're still playing, too. They did just that by sending home an eight-time national champion and putting themselves a win away from a Final Four.
Alyssa Thomas scored a career-high 33 points and grabbed 13 rebounds as fourth-seeded Maryland upset No. 1 seed Tennessee 73-62 on Sunday in the Louisville Region semifinal at the KFC Yum! Center.
"Maybe people will start talking about Maryland and what Maryland's accomplished," Frese said. "We have a story too. We have tradition. I'm so proud of how these kids fought."
The fourth-seeded Maryland women's basketball team advanced to its third straight Sweet Sixteen Tuesday with a 69-64 win over fifth-seeded Texas at Comcast Center.
The Terrapins (26-6) have been to six Sweet Sixteens in head coach Brenda Frese's 12 years at Maryland and 11 overall. With the win, they advance to play top-seeded Tennessee (29-5) Sunday in Louisville, Ky.
Senior Alyssa Thomas led the Terrapins with her 26thdouble-double of the year with 16 points, all in the second half, and 11 rebounds. Alicia DeVaughn added 12 points, while Laurin Mincy and Lexie Brown each had 10.
"I'm really happy for our seniors to be able to go out with a win on their home court," Frese said. "But like I told them in the locker room, we're not finished. I'm excited to be able to go, and we're going to make a run for the roses."
The Maryland women's basketball team earned a No. 4 seed in the 2014 NCAA Women's Basketball Tournament. The Terps will play 13th-seeded Army Sunday at 12:30 p.m. in Comcast Center in the First Round.
Maryland will also welcome fifth-seeded Texas (21-11) and Ivy league champion Penn (22-6) to College Park, who will play at approximately 3 p.m. Sunday. The winners of Sunday's games will advance to Tuesday's 7 p.m. Second Round contest in College Park as well. All three games will be shown on the ESPN networks.
Senior Alyssa Thomas of the fifth-ranked Maryland women's basketball team was named Atlantic Coast Conference Player of the Year for the third consecutive year by the Blue Ribbon Panel Wednesday. Thomas is just the second player in history to earn the ACC's top individual honor three times.
Thomas was named ACC Freshman of the Year in 2011, then was named Player of the Year in 2012, 2013 and 2014. Duke's Alana Beard was named ACC Player of the Year in her sophomore, junior and senior seasons, from 2002 to 2004, after being named Freshman of the Year in 2001. They are the only players in ACC women's basketball history with four straight individual honors.
"This is amazing to be honored for the third time in a really tough conference," Thomas said. "It's an honor to be in the same company as the people and players I am. I'm just really proud to represent Maryland and want to thank my teammates and coaches over the years. No success comes without them."  from umterps.com
Two-time ACC Player of the yearAlyssa Thomas scored 20 points with 12 rebounds to lead No. 7 Maryland to an 87-48 win over Virginia Tech on Senior Day Sunday. The Terrapins honored their five seniors inSequoia Austin, Alicia DeVaughn, Katie Rutan, Thomas andEssence Townsend prior to tipoff.
It was Thomas' nation-leading 23rd double-double of the season, coming before a crowd of 7,164 that came largely to honor the five seniors and see the Thomas' No. 25 raised into the rafters after the game.
"I think I tried to hold it in all day I guess," said Thomas, who grew tearful while addressing the crowd after a video montage of the forward's highlights and a speech from coach Brenda Frese. "Everything just came out right there. Just a huge honor to see my name out there, especially with the greats that started all this." from umterps.com
National Player of the Year candidate Alyssa Thomas scored 26 and Katie Rutan hit 1,000 career points to lead a strong offensive effort as No. 7 Maryland won at Boston College, 92-66, Thursday night.
With two of her three three-pointers in the first minutes of the game, redshirt senior Katie Rutan hit 1,000 career points between her time at Maryland and at Xavier.
from umterps.com
The eighth-ranked Maryland women's basketball team dominated the inside game with 60 points in the paint in a 79-62 win at Georgia Tech Sunday. The win was head coach Brenda Frese's 300th win at Maryland.
Senior Alyssa Thomas picked up her 60th career double-double with 15 points and 10 rebounds with five assists. She broke Crystal Langhorne's school record of 59 career double-doubles.Thomas also passed Marissa Coleman on the all-time rebounding list, moving into No. 2 with 1,146 career rebounds.