I watched games there before —similar to ESPN 3.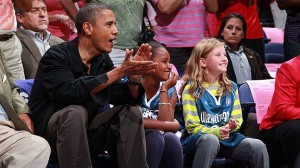 It's great to see Marissa Coleman coming into her own as a Mystic. Marissa scored 14 in a route of Tulsa today at the Verizon Center.
On the same day she was awarded the WNBA's Most Improved Player award, former Maryland great Crystal Langhorne led the Washington Mystics with 18 points and 10 rebounds in her homecoming to Maryland, as the Mystics fell to the Indiana Fever, 88-79, Thursday evening at Comcast Center in the first game of their playoff series.
Marissa Coleman, Langhorne's Maryland teammate from 2006-08, also put up big numbers in her return to Comcast Center, pouring in 16 points and eight rebounds for the Mystics, making a couple big 3-pointers late in the game.
The Baltimore Sun is reporting that if the Washington Mystics reach the WNBA playoffs, then their first round home games would be played at the Comcast Center instead of their normal home, the Verizon Center.
The Mystics include former Maryland stars Crystal Langhorne and Marissa Coleman.  Langhorne is a starter that is the team's leading rebounder and Coleman is three-point shooter off the bench.
Maybe Mystics fans should be bummed that any first round games would not be in Washington, but what a home court advantage the Mystics could get!  Being in the middle of the University of Maryland with two former Terps on your team?  Perfect!  Maybe students won't come in droves, but you have to think Maryland supporters who know these two would love the chance to see them in the Comcast Center again.  And Maryland would promote this event very well, especially with Crystal Langhorne being such an important player to the team.
Obviously Washington will need to make the playoffs first.  Right now they are in a three-way tie for fourth place in the Eastern Conference with Chicago and Connecticut, all with a 15-17 record.  To get in they must be fourth place or higher among the six teams in the conference.  But it would be great seeing Langhorne and Coleman play at Comcast one more time.
But also, the University of Maryland should be praised for getting these games; it could not have been an easy call for them with scheduling and all.  I sure hope it pays off for them.
Blog from Dave Vatz–09 Maryland Graduate
Washington Mystics 82 Conn 70. Marissa Coleman 6-9 from the field, scored 16 points with 5 rebounds. Bravo!
Daron Park, who will always be remembered for taking over the Lady Terps head coaching chores on the road while Brenda was pregnant, is leaving Maryland to take over the Associate Head Coaching  job at La Tech, according to terrapintimes.com. The great news is that his rumored replacement is former Montrose and Dematha assistant , David Atkins. Some of the athletes David has trained include Kevin Durant, Linus Kleiza, Greivis Vasquez and Marissa Coleman. Again this is a terrapin times.com report, nothing is official yet.
As a sopomore Marah Strickland averaged 28 minutes per game. With Kristi and Marissa leaving it obvious her role would increase. But she just didn't accept the facts and is moving on. Best of luck to both ladies. I am sure Brenda is working on replacements as I write. By the way, I had a chance to chat with Marissa at the Wizards game last night. She is ecstatic at staying at home and playing for the Mystics.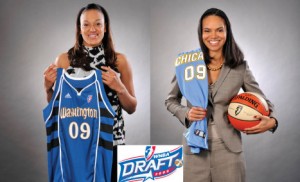 Four years of dedicated team play paid off on Thursday, as 2 Terrapin superstars, Mariisa Coleman and Kristi Tolliver were selected 2nd and 3rd in the WNBA draft. Marissa joins former Maryland teammate, Crystal Langhorne, who was also a 1st round pick for the Mystics last year. Coach Brenda Frese was on hand for the festivities. Baltimore's Angel McCoughtry was selected 1st in the draft by Atlanta.
Fifteen of the top women's basketball prospects have been invited to the 2009 WNBA Draft on Thursday, April 9 at the NBA Entertainment studios in Secaucus, N.J., with coverage beginning at 3 p.m. on ESPN2. The Maryland Terrapins will be represented by a pair of senior standouts in guard/forward Marissa Coleman and point guard Kristi Toliver. 
I expect both Terrapins to be in the top five picks with Kristi Tolliver going to Phoenix with pick #5.
There was an empty feeling in the pit of my stomach tonight as "the recruiter" Jeff Walz frustrated his 2 prized pupils, Kristi and Marissa. Marissa Coleman was double teamed every time she made a move and Kristi had to resort to shooting NBA 3's in order to get her shot off. The other pieces of the Terp puzzle played adequately but not well enough to to jolt the Terps into the Final Four.  Louisville. realizing that the Terps were vastly superior in talent did what Michigan State did to the Louisville men—slow the game down and use most of the time clock before shooting.Like the Louisville men, Maryland's zone fell into the hands of the Cardinals. How ironic. Finally when the Lady Terps went to a man to man the Terps sort of got back into the game. But tonight belonged to Louisville, thus ending the terrific careers of Kristi and Marissa. I must applaud the tremendous year the Lady Terps had-ACC Regular and Tournament Champions, another trip to the Elite Eight of the big dance and a final record of 31-5. Now we will see if jeff can figure out UConn after his losses of 28 points and 39 points to the Huskies this year. Enjoy cutting down the nets tonight , Cardinal fans, disappointment awaits.
Everywhere in Baltimore today, Terrapin fans were talking about 2 things: the travesty inflicted upon the Men's lacrosse team in Charlottesville and the incredible 42 point record setting performance of Marissa Coleman in the Sweet Sixteen game against Vandy.
Well tonight all the marbles are on the table as Maryland battles Louisville on ESPN at 7PM-the prize a trip to the Final four. It is unbelievable that only 2900 fans showed up for the Regional semis in Raleigh. At this point in time, these tournaments should go to the highest seeds  home court to avoid such an embarassment. Maryland drew over 20,000 for the first 2 round. Let the teams that support their their programs be rewarded. I will be blogging on Twitter throughout tomorrow night's game.
Marissa Coleman scored a school-record 42 points, including the go-ahead basket with 27.9 seconds left, as Maryland rallied from 18 down to beat Vanderbilt 78-74 on Saturday.
"I just didn't want my career to end," Coleman said. "I love playing with this team, and I love wearing a Maryland uniform. That's just what I told myself, that every time I walked onto the floor, I was going to defend, rebound, do whatever I needed to do to keep my career going."
What else is there to say. Coleman the backbone of this team all year personally outscored Vandy 18-14 in the last 10 minutes , scoring on every kind of shot you can imagine. Kristi Tolliver score just enough 17 to both help the comeback and win the game. But in the end even Kristi was awestruck by Marissa's incredible performance. "She put on a show,"  Kristi Toliver said. "She definitely took advantage of a 5-9 post player and she dominated from start to finish." 
So Next up for the Lady Terps is Louisville, coached by former Frese assistant, Jeff Walz, on Monday night at 7PM. A win would send the lone remaining ACC team in the dance to the Final Four, exactly where 2 winners like Tolliver and Coleman belong.