I hope Alex Len was watching. Dieng had 9 rebounds and 7 blocks and too many altered shots to mention. Though the TNT experts including Shaka Smart picked Florida to defeat Louisville, I don't see it that way. Louisville's defense is just way too strong. The return of Peyton Siva (9assists) is the factor for me.
Has there ever been a worse coach down the wire then John Calipari. A 25 ft 3 point shot was the best play he could design with a berth in the National Championship at stake? He overplayed Brandon Kinight to the point of exhaustion and finally his clock management was horrendous. when all was said and done it was the best player on each team that let UConn and Butler to a shot at the promised land. when it mattered Shelvin Mack and Kemba Walker took care of business. Though I believe UConn at this point is unbeatable, I will only be rooting for Butler on Monday night.
Guess who I am not rooting for. Let the VCU -Butler winner be declared the NCAA Champion because that's where the equal playing field ends. Some more comments:
1400 improper phone calls and 1000 improper text messages to recruits is what the UConn coaching staff were found to be responsible for. The damages–a 3 game suspension next year for Calhoun in 3 conference games and the loss of 1 scholarship.
Wouls someone please ask John Wall how he feels watching Kentucky go to the final four while he is a part of the Wizards. Pay attention Jordan, at least Wall got millions.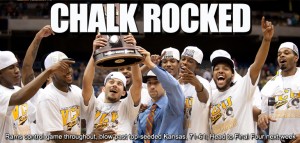 VCU lost to South Florida, Richmond, UAB, Georgia State, Northeastern, Old Dominion, Drexel, James Madison. Think Shaka can coach? By the way, every time Gary loses to one of these teams Terp Nation goes crazy.
It's funny how the 3 best point guards in the tourney are in the final four–#1 Kemba walker  #2 Shelvin Mack, and #3 Brandon Knight. Of course VCU is just about all guards.
Someone on terrapintimes.com made a comment that when Carolina had a few guys in foul trouble, Roy was going to reach down and put in MacDonald All American #8. By the way do yopu think gary could win with Zeller, Henson, and Barnes as his front line? It's obvious Roy can't.
Jordan Williams is not in the first 2 rounds of nbadraft.net 2011 Mock NBA draft.
All in all one of the NCAA tournaments I remember minus the presence of the Terps.
Kansas over VCU–It's midnight Shaka–Kansas just has too many weapons–This game will not be close–Maybe
Tar Heels over Kentucky–Carolina's pros are better then Calipari's. Josh Harrelson had his birthday againsst OSU but Tyler Zeller and Ohn Henson and Harrison Barnes are way too much for him
So far in the tourney:
Best one game performance–Derrick Williams vs Duke
Best performance overall by a guard–Kemba Walker slightly over Shelvin Mack
Guttiest guy on the court–Matt Howard from Butler
Coach of the Tournament–Runaway winner Shaka Smart–VCU
Best prognosticator–Charles Barkley–what he forgot Dickie V, Doug Gottlieb, jason williams, will never know
North Carolina is back and put the whole package — offense, defense and toughness — on display while dismantling Marquette. Just a year after missing the NCAA party, the kids from Chapel Hill stole the show at their East Regional semifinal. Tyler Zeller had 27 points and 15 rebounds, and North Carolina took control early for a change, rolling to an 81-63 victory on Friday night at the Prudential Center. John Henson added 14 points and 12 rebounds, and Harrison Barnes added 20 points and six rebounds as the second-seeded Tar Heels (29-7) moved to within a game of reaching the Final Four for the third time in four years.
I was not impressed by the way Butler wilted Thursday night. Shelvin Mack has been great so far but Florida's pedigree is stronger, and the Gators will run Butler into the ground. Chandler Parsons can do it all and Florida will need a super game from him to move on.I think this will happen.
It's hard to pick against Arizona after the Wildcats effort Thursday night but Kemba Walker is on such a roll. Derrick Williams can not play as well as he did 2 nights ago. UConn is more battle tested then any team remaining. Zona though great against Duke, but lucky against Texas.
Here We Go: Florida Over BYU—Kenny Boynton will frustrate Jimmer Fredette. remember I said frustrate not shut out. Chandler Parsons will shine for the Gators tonight.
Butler over Wisconsin—I am a believer in the Indiana guys. Sheldon Mack was simply awesome against Pitt. Jon Leuer and 6'8 Keaton Nankvil have shot lights out for the badgers but….not tonight.
Uconn over San Diego State—UConn is on a roll and has the best player in the tournament. Kemba Walker has been incredible. Uconn might have to use its 7 footer Okwandu to combat San Diego State's giants. Stay with the hot team on this one.
Duke easily over Arizona—Derrick Williams is great for the Wildcats but Derrick is also foul prone. Coach K has been plotting against him for a week. Stop or slow Williams and this game isn't even close. Watch Kyrie pick up his play tonight. ACC moves to 8-1 after this one.