Syracuse is reeling right now. Two straight losses after an undefeated start. At this point of the season. Maryland is 15-12 and 7-7 in the conference but has 0 top 50 wins. If any hope exists at all to make the dance it must begin with a W tonight. Syracuse, a slight favorite plays the stingiest zone in the country but is definitely having its troubles offensively. So what do the Terps do to win tonight?
Offensively
After Duke scored 89 in its first game against Cuse, by getting the ball to parker in the middle and then dishing to the wings===Cuse adjusted in game 2 and closed off the shooters. Duke relied on Parker and Hood to drive and facilitate and manged to pull the victory out. Dez and Faust will have to be at the top of their games because most likely they will be at the foul line. I really figure that Dez must be on the north side of 20 for Maryland to win.
Defensively
Ennis, Cooney, Grant and City College's CJ Fair can not all be stopped. Ennis was 2-13 against Duke Saturday night and is beginning to show the effects of playing 40 plus minutes a game. Turgeon will continue to mix defenses. probably using the 1-3-1 pressure zone trap to try to take Cuse out of its game.
Summary
The Orange has not been a potent team offensively but it seems like teams have had their way with Maryland. But not tonight. Listen, many are saying Syracuse will never lose 3 in a row. Why? Cuse has not been the same since Duke game 1. Dez will have a big game tonight, and the sellout crowd will lift the Terps to its first marquis win of the season over a tired former #1 squad—- Terps 70 Cuse 69.
I have been staring at the computer wondering what to say. It's 12:15, the game has been over for an hour and I still don't know what to say. Here goes:
The second the fans stormed the court on Saturday, my thoughts went to a possible Chesnut Hill disaster on Tuesday. Why? The Silvio O Conte arena and BC is just a terrible home for college basketball. I went there 2 years ago on a Saturday afternoon and my guess is that 100 students attended. It reminds me so much of playing in Coral Gables before arenas that are less then half filled. No juice in the place —just a dead house. Maryland has never done well in these settings. Last night seem worse. They announced 4338 but I bet there weren't 3000 people there. It was like a scrimmage.  
Logan Aronhalt needs to start on this team in my opinion. It just seems like he is our only shooting option. Layman has had his moments but his first 3 trey attempts were bricks. I am not sure if Dez even hit the rim on any of his treys. Logan has the most guard experience on this team and down the stretch strong guard play becomes even more critical.
Who is Eddie Odio? 8 points 11 rebounds and 6 blocks from a guy who is on BC's bench–that's the same BC that is 12-14 and 4-9 in the ACC. Believe me BC plays its share of cupcakes too except they always find a way to lose to 3 or 4 of them. On the other hand, Miami and the Evil Empire both struggled at BC, so I guess we should have figured it was no walk in the park.
Alex is just not ready to be the 1 big guy in a 4 guard set. Sometimes he just looks lost out there. Perhaps Mitchell or Cleare need to join the small lineup.
Everyone should get off Turgeon's back. Obviously the team is struggling but believe me this guy can coach. Perhaps his players are  just not ready yet. Turgeon really takes these losses hard and last night he didn't come out for the post game interview with Chris Knoche. Before you criticize just think–what in the world could he say.
Some good news—announcer Kevin Sheehan said during the post game that Johnnie Holliday will return Saturday afternoon to do the Clemson game. I really miss hearing the broadcasting legend and can't wait for his return. By the way, it is like water torture listening to Mike Gminski. He hates Maryland with 90% of his heart and it clearly shows in his comments. Please anyone other then him. 
That's it I'm done for the night. But don't give up hope. Tomorrow is another day!!!!!
Schillo Tshuma and Patrick Mullins each netted goals for Maryland (12-0-1, 5-0-0 ACC). This game was never in doubt although the Terps were held scoreless in the 1st half.  The Terps outshot Colgate 17-2 and the game was even more dominant then that. It was virtually an offensive practice for the #1 Terps. Friday night #2 North Carolina comes to Ludwig at 6PM on ESPNU.
THE SPORTS MAVEN REPLAY

Sports Maven Saturday Morning 12-03-11
Host–Bruce Guests Freddy
Subjects– Terps Football Review, Loyola Basketball, NBA labor Struggle,Boudreau Fired,Ravens Browns Preview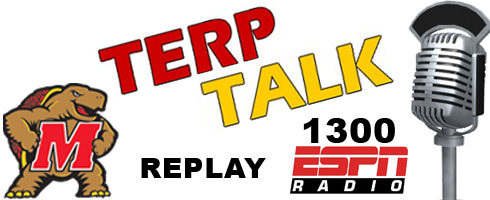 Terp Talk Thursday Night 11-10-11
Some topics for the show today:
Great closing for the Orioles —Do we have a bullpen now?
Do the O's need Prince Fielder?
The common goal of Danny and Joe Flacco this week– use all of your receivers
Ravens Rams Preview–Judgment Day for the purple
Terps Temple preview
Sports Boosters event with Mark Turgeon
Kobe offered 6.7 million to play in Italy
Collapse of the Red Sox?
Millions on the line for final PGA Tournament
Owning a race horse
Gridiron grunts—communicate directly with NFL players
September 23rd, 2011 |
0 Comments »
Release from Montrose Christian—I promise this ends the Justin Anderson story for Terptalk.com. Let's see how it plays out.
"The Cavaliers were always my second choice behind Maryland," said Anderson in a statement released by Montrose Christian this morning. "Also, my family lives in Virginia. After the departure of Coach [Gary] Williams and Coach [Robert] Ehsan it just feels like the right fit."
During a junior campaign averaging 14 points, 7.2 rebounds, 3.4 assists, 2 steals, and 2.1 blocks per game, Justin led his team to victory over six nationally ranked opponents, including a 63-37 rout of pre-season number one ranked Findlay Prep.
According to Montrose Head Coach Stu Vetter in the school's statement, "Justin decided to revisit his options after Gary [Williams] retired. He has been heavily recruited since the 8th grade and it has been an exhausting and distracting process for a teenager. Although Mark Turgeon wanted to begin recruiting him, Justin and his family decided to conclude the process. We look forward to developing a relationship with the new coaching staff at the University of Maryland. We are very pleased that Justin will continue his education and basketball career at the University of Virginia. UVA is a tremendous institution and recent Montrose graduates Tunji Soroye and Doug Browman have had great experiences there as student-athletes."
The Terps are 9-3 in this pre season event, including a 3-0 record against the Illini.