Former Maryland men's basketball head coach Gary Williams was enshrined in the National Collegiate Basketball Hall of Fame as a member of the Class of 2014 on Sunday.
Williams, who was inducted into the Naismith Memorial Hall of Fame in August, is the first coach to be inducted in both … Read More »
Former Maryland head coach Gary Williams will be one of 13 members of the 2013 Atlantic Coast Conference Men's Basketball Legends Class, league commissioner John Swofford announced Thursday.
Williams, who led the Terrapins to the 2002 National Championships and to 14 NCAA Tournament appearances in his 22 seasons at College Park, … Read More »
Maryland Coach Mark Turgeon
On the transition over the last five months:
"The most difficult thing was getting my family here. Traffic can be a pain in this area. Everything has been great. The people have really accepted me. I'm on a honeymoon with the media since I haven't … Read More »
I was sitting with Nathan Pine, Kevin Anderson's Deputy Director of Athletics, and was told of the change in plans to move the naming of the floor at Comcast from Dec 9 to a National TV spot of January 25 just prior to the Duke Terrapin game. What a night … Read More »
Some topics for this morning:
Mark Turgeon at the Sports Boosters
Turgeon adds 4 walk ons–PG Arnold Richmond (Suitland, Crossland HS) and 6-4 2/3 man Jake Susskind (West Orange, NJ) have been officially added as walk-ons, along with the first two (bigs Barks and Auslander), AND he will add two … Read More »
COLLEGE PARK, Md. – The floor of the basketball court at Comcast Center will be named in honor of Gary Williams, former head men's basketball coach. The dedication will take place in a formal ceremony on December 9, 2011.
The recommendation was made by University of Maryland President Wallace D. … Read More »
Now the Ravens are ready to make a move. Michael Oher returns to the right tackle position where he was so successful and Ozzie again comes up strong getting Bryant McKinnie from the Vikings to start at left tackle. Ray Rice and Ricky Williams are happy Ravens tonight!
Sorry it's late:
THE SPORTS MAVEN REPLAY

Sports Maven Saturday Morning 05-07-11
Host–Bruce Guests Scotty Crouse,Dennis, Mike Gathagan
Subjects–Tribute to Gary, Kentucky Derby, Pacquiao-Moseley
Click here for The Sports Maven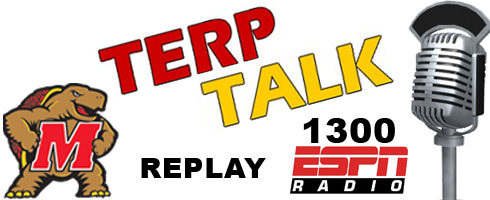 Terp Talk Thursday Night 05-05-11
Host–Bruce Posner Guests Keith Cavanaugh, Dino
Subjects–Gary retires suddenly, Possible coaching candidates, Lax news, Terp news,
MARK TURGEON'S resume , demeanor, basketball accumen, recruiting ethic and attitude, and his overall leadership capabilities have absolutely astounded me. And I barely have had time to study him. But I will. This brings me to East Coast Bias especially in basketball.A Clemson-Virginia game has had more appeal to me … Read More »
The hunt goes on. I guess when you try to hire someone who is already making 1-2 million a year, you better have 3 or 4 guys ready as backups. At this moment -that is 1AM Monday morning perhaps the field looks like the following:
John Lucas– a late entry … Read More »