Former Maryland men's basketball head coach Gary Williams was enshrined in the National Collegiate Basketball Hall of Fame as a member of the Class of 2014 on Sunday.
Williams, who was inducted into the Naismith Memorial Hall of Fame in August, is the first coach to be inducted in both hall of fames in the same year.
Williams and the Class of 2014 were inducted into the Hall of Fame at the Arvest Bank Theatre at the Midland in Kansas City as part of a three-day celebration of college basketball.
Former Maryland head coach Gary Williams will be one of 13 members of the 2013 Atlantic Coast Conference Men's Basketball Legends Class, league commissioner John Swofford announced Thursday.
Williams, who led the Terrapins to the 2002 National Championships and to 14 NCAA Tournament appearances in his 22 seasons at College Park, is one of two coaches in the class, joining former Wake Forest coach Carl Tracy.
Also included on the team is a member of the ACC's 50th Anniversary basketball team, six former All-Americas, three former All-ACC selections, six former NBA Draft selections and four players who led their teams to five ACC Championships. from umterps.com
Maryland Coach Mark Turgeon
On the transition over the last five months:
"The most difficult thing was getting my family here. Traffic can be a pain in this area. Everything has been great. The people have really accepted me. I'm on a honeymoon with the media since I haven't lost a game yet. The players have been working hard for me. If there have been any surprises they have been pleasant. I knew everything wasn't going to be perfect and I'm not naive enough to think that it is going to be perfect. Since I have moved before both as an assistant and a [head] coach I am used to getting a lot thrown at me."
On the leadership of Sean Mosley:
"Sean is a great kid. He is one of the best I have been around even in the short time I have known him. From day one in our first team meeting, I made him speak. I have been very impressed by him. It's his senior year so he wants to do well. He has shown great leadership. He knows his teammates better than I do so he can help me out a lot. I had him in my office earlier and I was asking him some questions about the players that were here last year. He is a leader as well as a coach and player right now. I am going to lean on Sean a lot. Everything that I have seen so far in his leadership skills has been great. Sean has two great parents so that helps. I have been able to sit down with his mom and dad and have been very impressed with them. I see why Sean is the person that he is. He was raised the right way. That helps me as a coach and him as a leader."
On the importance of midnight madness:
"This is huge for me. Troy Wainwright did a tremendous job and took it off of my hands. Hopefully word spreads quickly as we have added Greivis Vasquez and Steve Francis to the list of alumni players. I'm not sure the last time that Steve (Francis) was back but to have everyone in the building is special. I think four of the five starters from the national championship team will be on the floor. All except Lonny Baxter who is overseas or he would be here as well. Hopefully that will create a huge buzz. That night should always be about the players. This first year it will be a little about me. They may introduce me differently this year and put a microphone in my hand. After that it's about the team, the former players and the fans. Hopefully we have a great student turnout. I have been on the phone with Lefty (Driesell) and Gary (Williams) and it's exciting for me to be where it (midnight madness) started. We want to create a buzz but I would rather create a buzz in January or February."
On how much freedom Terrell Stoglin will have:
"If Terrell is making shots he will have some more freedom. Terrell is buying in on the defensive end and is being a good teammate. We need Terrell to score. You're definition of freedom is different from my definition of freedom. I'm not going to do anything to hurt the team. I have to get the most out of the team and that's what I am paid to do. At this point I think that I am getting a lot out of the team. The thing that I have talked to Terrell about is that he can't just be a scorer. He has to do everything. He has to learn how to play without the ball in his hands. Terrell is great with the ball in his hands. I was fortunate enough to watch Larry Brown coach Allen Iverson, and I'm not comparing Terrell to Allen Iverson. I watched him and he took Allen off the ball to get pressure off of him but Allen was still a part of every possession. Hopefully I can take some pressure off Terrell but still have him be part of every possession. When the kid buys into that he will be a much better player. Once everyone figures everything out and lets me coach we will be okay."
On Ashton Pankey:
"The most we have had is an hour of practice so I haven't seen a lot of our players yet. I will say that he is pain free when he plays. He hasn't been pain free in a long time. From what I see he is by far our best rebounder. He played for a great high school coach in Bob Hurley. I imagine he will be great on defense, especially team defense. Whenever we do shell or defensive drills he has stood out a little bit. I think he has been a pleasant surprise. He has played with some confidence. Ashton isn't a guy who you can throw the ball to on the block and expect him to score. We have to have a guy who can rebound the ball and I think he will do a lot of that this year."
I was sitting with Nathan Pine, Kevin Anderson's Deputy Director of Athletics, and was told of the change in plans to move the naming of the floor at Comcast from Dec 9 to a National TV spot of January 25 just prior to the Duke Terrapin game. What a night that will be, Turgeon's first game at home against the Blue Devils and honoring the legend he followed. Mark it on your calendars!!!
Some topics for this morning:
Mark Turgeon at the Sports Boosters
Turgeon adds 4 walk ons–PG Arnold Richmond (Suitland, Crossland HS) and 6-4 2/3 man Jake Susskind (West Orange, NJ) have been officially added as walk-ons, along with the first two (bigs Barks and Auslander), AND he will add two more walk-on guards this month….
Christian Sanders Commits to Stanford—Push for Torian Graham picks up
Review of last Saturday's loss to WVU
Valiant comeback effort by Danny and Davin Meggett
Extensive talk about Conference realignment and the addition of Syracuse and Pitt to the ACC
Tremendous work of John Swofford in strengthening the ACC
Preview of Terps Temple game on Saturday
News on Men's soccer, Field Hockey
Basketball recruiting update on Torian Graham and Christian Sanders
Verbal commitment of Clarksburg LB Stefan Houston
Voice of Terrapin pre game Gary Stein previews Temple game
COLLEGE PARK, Md. – The floor of the basketball court at Comcast Center will be named in honor of Gary Williams, former head men's basketball coach. The dedication will take place in a formal ceremony on December 9, 2011.
The recommendation was made by University of Maryland President Wallace D. Loh, and unanimously approved by the university's Facilities Naming Committee, the Chair of the Alumni Association Board of Governors and Chair of the Board of the University of Maryland College Park Foundation. The recommendation was then approved by University System of Maryland Chancellor William "Brit" Kirwan.
"Gary has been a faithful alumnus, a highly successful and iconic figure in men's college basketball across the nation, a fierce competitor, and a tireless fundraiser on behalf of student scholarships," said Loh. "He has been the face of Maryland men's basketball for more than 22 years. Gary led the Terps out of historic Cole Field House into the Comcast Center. I can think of no better way to recognize his success and his contributions to the University of Maryland than by naming the floor of the basketball court in Comcast Center in his honor."
"I'm honored and humbled to receive this recognition," said Williams, who announced his retirement in May. "It's important to remember that the success we achieved at Maryland was a team effort and all the coaches, student-athletes and staff who were here are a big part of this. I'm very appreciative of the effort by Kevin Anderson, President Loh, Chancellor Kirwan and everyone else who has been a part of making this happen."
From umterps.com
Now the Ravens are ready to make a move. Michael Oher returns to the right tackle position where he was so successful and Ozzie again comes up strong getting Bryant McKinnie from the Vikings to start at left tackle. Ray Rice and Ricky Williams are happy Ravens tonight!
Sorry it's late:
THE SPORTS MAVEN REPLAY

Sports Maven Saturday Morning 05-07-11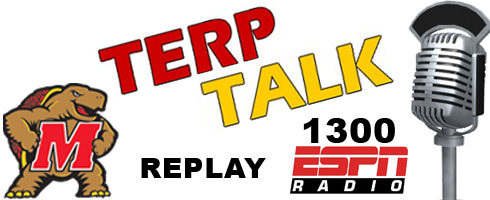 Terp Talk Thursday Night 05-05-11
MARK TURGEON'S resume , demeanor, basketball accumen, recruiting ethic and attitude, and his overall leadership capabilities have absolutely astounded me. And I barely have had time to study him. But I will. This brings me to East Coast Bias especially in basketball.A Clemson-Virginia game has had more appeal to me then a Texas A&M –Kansas State game. Untile the NCAA tournament I knew Derrick Williams was good but not a #1 NBA pick. Teams West of the Mississippi are barely in our radar. Of course we watch UCLA and Coach Ben Howland, and Texas and Rick barnes (ACC guy), maybe a little Kansas State because of Coach Frank Martin, Texas Tech for a while w\when Bobby Knight was there, Gonzaga and Mark Few, and a few more. But I really missed the boat with Frank Turgeon. Fortunately our great Athletic Director, Kevin Anderson was fully aware of Turgeon. What impresses me most about Turgeon's background–his relationship with maybe one of the greatest coaches ever-Larry Brown. Mark was Larry's point guard as Kansas. Larry Brown as well as Roy Williams serve as Turgeon's mentors. Forget Roy, Turgeon revealed today that Gary Williams was one of the main reasons he came to Maryland!!!. Just look at Turgeon's record:
Head coaching record
The hunt goes on. I guess when you try to hire someone who is already making 1-2 million a year, you better have 3 or 4 guys ready as backups. At this moment -that is 1AM Monday morning perhaps the field looks like the following:
John Lucas– a late entry who has coached on many levels and of course is the accomplished point guard for the Terps under Lefty—longshot
Mike Brey -Coach of the Regular season Big East champion Notre Dame–defeated UConn twice, Villanova , Pitt–#2 seed in NCAA
Mark Turgeon–Texas A&M coach—still don't know much about him—successful in Big 12—ties to BW area?
Rob Ehsan–Asst to the Maestro Gary Williams, hasn't beeen a head Coach yet–great recruiter–Rob and Bino have made a great recruiting team
Rick Barnes–great reegular season success at Texas—knows the ACC—doesn't seem like the Terps want him
Todd Bozman–great job at Morgan State—haven't heard his name yet