It's great to see Greivis coming through in clutch situations. Today he hit the key shot of the game, a trey to put Toronto up by 4 down the wire.
Interesting analysis of last night's loss to Notre Dame –6-5 in OT
Women advance to ACC Lacrosse Championship game
Turgeon hires new Director of Operations, Cliff Warren
A look at the 2014-15 Terps in Basketball
Wizards lose but remain up 2-1 in series
How Calipari failed to advance the Harrisons to the NBA Draft
Redskin schedule released
As the dust settles from the 2013 NBA Draft, the season of trade speculation is officially upon us. The adherence to "the best player available" draft philosophy invariably results in an assortment of roster logjams. The Sacramento Kings and New Orleans Pelicans find themselves in just such a predicament. The Kings have a surplus of shooting guards, while the Pelicans have issues at the point. These two teams are in an ideal position to swap. 
 After a draft night trade with the Sixers that sent Nerlens Noel to Philly in return for point guard Jrue Holiday, the Pelicans may now have a malcontent on their hands. Greivis Vasquez, last year's starter, is coming off a breakout season where he averaged 14 points, 9 assists, and 4 rebounds per game.
  While nobody is claiming that Vasquez is an all-star, guys who can average 9 assists in 34 minutes per game don't exactly grow on trees. In fact, Vasquez's 12.6 assists per 48 minutes ranked him third in the league last year, behind only Rajon Rondo and Chris Paul, and above Holiday, who was fourth at 10.3. Taking all this into account, you can hardly blame Vasquez if he balks at the notion that he should be happy as a backup.
 Vasquez would give the Kings a major upgrade at the point and allow them the flexibility to move Isaiah Thomas to a bench role, where he could be a great change-of-pace option. Most importantly, Vasquez offers the kind of leadership and intangibles that the Kings so desperately need, and which they passed on when they took McLemore instead of Trey Burke or CJ McCollum.
 Finding the exact mix of assets that would entice both the Kings and the Pelicans to do a deal might be difficult, but a trade headlined by Tyreke Evans and Greivis Vasquez makes a lot of sense for both sides.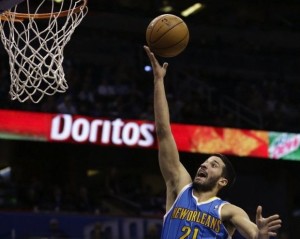 Last season, New Orleans Pelicans point guard Greivis Vasquez averaged a career-high 13.9 points and finished third in the NBA with a 9.0 assists average.
Those statistics indicate Vasquez had a breakout season.
So why would the New Orleans Pelicans have any interest in possibly selecting Michigan point guard Trey Burke with their sixth overall pick in Thursday night's NBA draft?
Despite already having Vasquez, Austin Rivers and Brian Roberts, though he could become a free agent if the Pelicans don't pick up his option next month, Burke is a rare talent. He was the national player of the year after averaging 18.6 points and 6.7 assists leading Michigan to the Final Four this past season.
 Burke is capable of stepping in immediately and making a substantial contribution for the Pelicans, who finished 27-55 last season and 11-30 on the road. In a majority of games last season, the Pelicans didn't push the pace quickly enough. They got into their halfcourt sets deep into the 24-second shot clock and opposing defenses  were often able take away the Pelicans' first, second and occasionally third options that forced plenty of rushed shots.
from the New Orleans Times Picayune
from Slam magazine article by Tzvi Twersky
When Greivis Vasquez emerged out of Washington, DC-area's Reagan National Airport on September 25, 2004, the teenage native of Caracas, Venezuela, did not know what sort of greeting to expect. He knew why he had left his homeland on his mother's birthday: to finish high school at basketball powerhouse Montrose Christian in Rockville, MD. He knew how hard that was to make happen; initially, his request for an I-20 visa, which allows foreign students to study in the US, was declined. But he had not envisioned the actual moment of his arrival. Nor could he have.
"The first thing I said to him," says David Adkins, "was, 'You're not effing 6-8!'" Now a member of the Lady Terps' staff at the University of Maryland, Adkins was then an assistant under Montrose's head coach Stu Vetter. He was also the man responsible for handling Vasquez' recruitment—a DI coach made the initial recommendation, and Masai Ujiri, a vaunted scout and the current GM of the Denver Nuggets, seconded it—and on that day, in charge of picking the smaller-than-advertised guard up.
The duo proceeded to laugh, hesitantly and harmoniously, for very different reasons. Adkins, a long-time coach who had dealt with international players before, assumed the player stepping off the tarmac wouldn't be a 6-8 forward, even if his scouting report said so. As for Vasquez, he laughed out of a nervousness that only a stranger in a strange land for the first time could feel. He laughed because, well, that was really the only way for the two to communicate.
"He thought I was going to be 6-8, and I was 6-3 and skinnier than I am now," Vasquez says. "And I couldn't understand anything else."
After they loaded up Adkins' late model white Range Rover, where they were joined by a Spanish-speaking woman who worked at Montrose and rode along to help translate, they shifted into gear and embarked on Vasquez's new life. The first stop would serve the wide-eyed Vasquez—who barely spoke any English—a small taste of Americana, and would reassure Adkins, who spoke even less Spanish, that, no matter his size, Montrose had recruited the right guy.
"I would've taken him anywhere, but he wanted to go to McDonald's," Adkins remembers, fondly. "This is mid-afternoon, and we sit down to eat. He took a bite, maybe two, then he looks at me and says, 'When do we train?' I'm like, 'OK.' We usually give a guy a day to settle in before we see what he has, but we went right to the gym and worked out and he's been working out ever since."
When he confirms Adkins' recollection of that day, it's March 20, 2013, nearly nine years after he first touched down in DC, and Vasquez, now a full-grown 6-6 point guard who commands the English language like he does his play on the court, couldn't be further from the Golden Arches. Dressed in a loud, light-colored sports coat and dark skinny tie that brings a Kobe Bryant ensemble to mind, the 26-year-old is folded into a booth at Root, an opulent restaurant with a menu that could confuse a fifth-generation American, in New Orleans' Warehouse District. His toddler, Greivis Jr, who attends nearly every Hornets home game, runs around the otherwise adults-only establishment in childish delight. At the table in front of Vasquez sits an intermezzo sorbet, to cleanse his palate, and a medium-well steak is on the way, complete with housemade ketchup and strawberry mustard.
Less than an hour before sitting down for this gourmet dinner, Vasquez was on the court at New Orleans Arena when a flu-ish Anthony Davis tipped in a walk-off winner against the Boston Celtics. The 87-86 W ticked the Hornets record up to a meager 23-46, but it brought a fired-up Tom Benson, the owner of the Hornets and NFL Saints, down to the locker room for an impromptu celebratory speech. Benson, who purchased the team from the NBA last year, exuberantly expressed excitement about what he perceives as the now-Pelicans bright future. While Vasquez isn't especially pleased with his performance—13 points, 7 rebounds, 6 assists, as compared to his season averages of 14.1, 4.4 and 9.2—he considers himself an integral part of Benson's long-term plans in New  Orleans, and "loves" the owner's passion.
The game is behind Greivis now though, at least until he cues up a tape of it tomorrow. At the moment, as the thimble-thin Vasquez slowly operates on his steak, he's content to regale a guest with tales of a childhood spent on the often unfriendly and unsafe streets of Caracas; tales of a childhood that would shock most of his teammates; tales of a childhood that cultivated a man and culminated in the fulfillment of that man's dreams.
***
Up until 2010, Venezuela had produced two NBA players, Oscar Torres, who played a total of 82 games over the span of two seasons in the early Aughts, and Carl Herrera, who won two NBA titles with the Houston Rockets in the '90s. Otherwise, baseball was and is the pastime. When he was about 7, Greivis—whose unique first name is a mashup of Gregario, his father's name, and Ivis, his mother's—did his national duty and joined a local baseball league. But by the time he was 9, the antsy centerfielder realized he was ready to try another, faster-paced sport.
"When you play little league, ain't nobody hitting it in centerfield," says Vasquez, "so I was always bored."
At the same time, whether by luck or by some prescient fatherly instinct, Gregario had begun taking Greivis to see Cocodrilos de Caracas, the local professional basketball team, play. The younger Vasquez was immediately smitten by the up-and-down, non-stop nature of the action. Before going home after games, while his father would unwind with homies, Greivis would reenact what he had just seen take place on the hardwood. By the time he was 11, his dad signed him up for a local team, and his mom, who was by then separated from his father, let him put up a miniature basket on the back of his door in their two-room apartment.
"See how I have a little space between my two teeth up front?" points out Vasquez. "I used to play one-on-one in the basket in my room with my older brother. One time he was going to take a shower, and he told me not to play there by myself. But I did, and I thought I was Michael Jordan and went up for a dunk and the net got mixed up with my teeth. I lost a permanent tooth—since then my parents spent so much money taking me to the dentist [laughs]."
Vasquez didn't really have a special knack for basketball, but at 13 years old, he didn't care. He wasn't playing with the hopes of becoming a pro; he was playing, often until 2 a.m. or his dad got mad, out of pure love of the game.
Says Monty Williams, the Hornets' head coach, "Most of the guys from overseas, especially South Americans, they have that. I was with Manu Ginobili in San Antonio and just watching him, he and Greivis have some of the same mannerisms when it comes to the game. Those guys will play any time, anywhere—they just like playing basketball. In the rec center, on the weekends, streetball—they'll just go play."
The truth is, if at any point Vasquez didn't feel a certain way about basketball, he would've given it up. After all, it would've made his childhood easier.
"Basketball was only in the hood," says Vasquez. Consider for a second that "the hood" in Caracas, a city where more than 100 police officers alone were killed in 2012, can make the streets of inner-city Chicago look like an idyllic suburb. "I would tell my mom I was playing at this arena where the pro team used to play, in order for her to let me play, and I would go to the hood, Pinto Salinas, to play against the best players out there."
Vasquez wasn't just at risk while he was in a variety of impoverished neighborhoods working on his game. On his way to a 6 p.m. practice every day—the route required him to walk 12 blocks to the nearest Metro station where he would then ride a bus—he had to traverse a minefield of muggers and murderers to merely get to the gym. As Vasquez, a devout Christian, tells it, the fact that he never met any real harm is thanks to an act of Divine providence—and a whole lot of sprinting.
"At nighttime, when I would be going from the Metro station to my house, I'd be running," says Vasquez. "I never walked anywhere. I used to run all those blocks and get home sweaty. A couple times I was on the bus when a thief came on with a gun and stole stuff, cell phones, money. But I was a young kid, so I never had anything."
Not content with offering up generalizations of the distances he'd go for basketball, Vasquez provides another example. When Greivis was a teenager, he went to school in the San Martin section of Caracas, which is located right down the way from Guarataro, one of the roughest areas in the tougher-than-teflon city. One day, some of his friends who lived there challenged him to stay and play. When Vasquez hesitated, they started questioning his manhood.
"I was afraid—there were people with guns out watching us play—but I'll play anywhere," says Vasquez. "Once I stepped on that court, they said, 'Who is that white boy? He can play!' I gained respect in that hood, not only for coming to play but playing well."
Fear, or lack thereof, served Vasquez well when he came to America. It's why he felt comfortable playing in any environment while making a name for himself at Montrose.
"That Caracas toughness was part of why he never felt entitled," says Adkins, who worked diligently with the teenager he called "Flashy Freddy" on fixing his jumper and knowledge of the fundamentals in their time together at Montrose. "He would fight [in drills] 'til he couldn't breathe. His work ethic was insatiable. And then he had the flair."
"He has no fear," says Stu Vetter. During Vasquez' two-year stay at Montrose, which ultimately culminated in a full scholarship to Maryland, Vetter developed a father-son relationship with him. To this day, Vetter keeps a room for Vasquez in his house. "He doesn't fear anyone, and he accepts challenges. And he'll work as hard as he wants to to get to where he wants to be."
Even though Montrose boasts a great basketball program, it's not Maryland and it's not in the ACC. But the leap in nightly  competition for the lightly recruited guard only helped serve as a reminder of how far he'd already come. "Why wasn't I afraid  in college?" asks Vasquez, who made  Second-Team All-American as a senior. "I've seen mufuckers getting killed, people stealing stuff back home. That's tough. Seeing that, it ain't nothing playing at Duke."
It's that borderline irreverent attitude when it comes to the game—what some in Nola describe as a cocky humbleness—that helped Vasquez, as Vetter terms it, "bring energy for four years that has not been duplicated. It's also that attitude that, after spending most of his rookie year on the pine after being drafted 28th overall by the Memphis Grizzlies in the '10 Draft, allowed Vasquez to slide seamlessly into Playoff action against the San Antonio Spurs and Oklahoma City Thunder.
"I watched him in the Playoffs when he was with Memphis, and I saw a kid who wasn't afraid of the moment," says Williams, the youngest head coach in the NBA when the Hornets hired him in June of 2010, nearly 18 months before they traded Quincy Pondexter for Vasquez. "He just had a reckless abandon about him, a belief in himself that was pretty contagious."
***
Last season, in his first campaign as a Hornet, Vasquez showed strides, improving his averages across the board while splitting time at the 1 with Jarrett Jack. This season, with Jack gone, GV led the League in total assists and has earned praise from Chris Paul for his play. So, toughness aside, what's the Venezuelan hero's key to success? Ironically enough, it's his height.
"When he's around the basket, he can get shots off that most guys can't," says Williams. "He's real crafty about getting you on his hip, and once he gets you on his hip he can finish with the best of 'em as a point guard. He's not Rod Strickland or Tony Parker, but there aren't many big guards that can play the way Greivis plays around the basket."
Says Vasquez, "A guy like Russell Westbrook is 50 to 70 percent more athletic than myself so he can do things I'm not gonna be able to do. But I can do things he's not able to do. I'm not afraid of any other point guard."
Without question  the best Terrapin Victory since Grievis' last game at home. Turgeon had this team perfectly prepared and once again out coached the King of the Evil Empire into the ground. HATS OFF TO COACH TURGEON!!!!!!!!!!!
When I was submitting my vote for ALL ACC–I just could not leave out Dez Wells despite the Terps 8-10 record. Look we all saw it –there were games when he was fantastic. Minus his plethora of turnovers, he really was great all season. Out of 77 votes only 4 writers picked him for any of the 3 teams as ALL ACC. I am proud that I was one of them.
Without question Duke was baffled by the press. though there weren't many steals, it took Duke 10 seconds or so to break and through their offense off kilter. At some point of the 1st half Duke was playing racehorse bball just like Maryland. 
Duke could never adjust to Maryland's 4 guard set that virtually ruled Ryan Kelly useless. By the way this was the first loss Duke had with Kelly in uniform. Coach Turgeon virtually went with a 8 man lineup —Padge didn't play and Logan got 2 minutes PT. The guys who did play just seemed more in rhythm all night. PeShon had 7 points but more important 5 assists and 0 turnovers.
So next up is Carolina. I have said all along that the magic number was 3 wins not 4. If by some way the Terps upset Carolina on the "Neutral" Greensboro court, to me it seems like the Terps will be in. But you know what, winning the ACC Championship in one of our final years in this dreadful conference would be dynamite. But the best thing about tonight was watching Coach K squirm.
 The NBA announced today that New Orleans Hornets guard Greivis Vasquez was named the Western Conference Player of Week for games played Monday, December 24, through Sunday, December 30. This is the first time in Vasquez's career that he has won a Player of the Week honor.

Vasquez led the Hornets to a 2-1 record, averaging 21.0 points, 10.0 assists, 6.3 rebounds and 1.7 steals while shooting 53.1 percent from the field. The Hornets guard recorded a career-high 27 points to go along with eight assists and six rebounds in a win over the Orlando Magic on 12/26. In the following contest, Vasquez narrowly missed recording his first career triple-double with 20 points, 14 assists and a career-high nine rebounds. In his final contest of the week, Greivis recorded 16 points, eight assists, four rebounds and four steals while guiding the Hornets to a win over the Charlotte Bobcats on 12/29 despite being down as many as 21 points. Through the end of the week, Vasquez ranked fourth in the NBA in assists per game (8.8)
The majority of Maryland fans are most passionate for men's basketball followed by football which is a distant second. Since Lefty brought big time college basketball to College Park and The DC. area, Maryland has experienced "rivalries" with North Carolina, N.C. St., and Duke. Since the 70's, Carolina has always been a big game for Md. because the Tar Heels are always a top 10 team and many of Maryland's teams have been exceptional which elevated those games to another level of intensity and importance. I remember Elmore, McMillen, Mo Howard (the guard from philly , not one of the stooges) and Lucas beating an N.C. team in overtime that had Bob McAdoo, Bobby Jones, Dennis Wuycik , George Karl, Darrel Elston and Bill Chamberlain. Bias' highlight night at the DeanDome with the basket and then the steal and reverse dunk, on my birthday no less. Jim O'Brien scoring 38 against N.C. at Cole. Super Bowl Sunday and seeing the greatest college player I have ever seen, David Thompson score the winning basket by following a shot or the 103-100 overtime loss in the ACC Final. That game still hurts. Or Md down by 17-2 and Steve Shepard, who wasn't in the line up because of a groin injury comes of the bench and leads Md to a big win on the road. I even remmber Brain Magid making a 25 footer at the buzzer to send a game into o.t. Never seen a more pure shot than from Magid. Or Ernie Graham and his school record 44 vs State. Buck Williams being run out by Dennard in an ACC final or Steve Blake's steal right before the end of the half. Since the early 2000's, the Duke game is always big for Md. fans. Duke is always good and we had some great teams in the early 2000's. There was the stall game vs. #2 S.C.. It was the most exciting game I'v ever been to at Cole. And the score was 4-3 at half. Hard to believe. And the excitment and fever pitch of the crowd was off the charts. Or 6-6 Albert King jamming over 7-4 Ralph Sampson. Or Buck Williams out-playing Sampson in every game against the Cavs. Old memories from an old ACC. There wasn't going to be a home and home every year with Duke and Carolina after realignment. That's what the fans want most..those Duke and NC games. You don't hear a lot of talk for Md BC or MD Miami. If Turgeon does what I think he's going to do, Maryland Indiana, Maryland Ohio State, Maryland Michigan St., Md Mich….Those are going to be great great games. Because those schools are consistently good and Maryland is going to be a top 15 program for years to come with Turgeon . It will get to a point where it will be a big game, if for no other reason, because Maryland's playing. Like it used to be.
blog from Freddy from Boca