Amazing how fast a tournament can turn. Jordan Spieth was unable to hold a 2 shot lead over Bubba but held on for a 2nd place tie with FSU's Jonas Blixt. Jordan won $792,000–not bad for his 1st Masters.
Top Ten Predictions In no order after Sergio
Angel Cabrera—almost a certainty
Rory —2nd Choice to Sergio
Adam Scott—too obvious a selection–back to back is tough
Lefty–too erratic to predict a victory but……
Ernie Els–the Big Easy
Matt Kuchar—in every Sunday top 4 groups
Jason Day—been close —maybe due
Graham McDowell—cool as a cucumber
Justin Rose—a Sean Foley disciple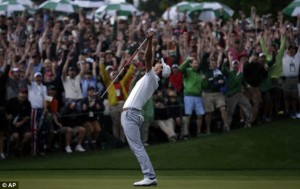 'But there was one guy that inspired a nation of golfers and that's Greg Norman. He's been incredible to me and all the young golfers in Australia and part of this definitely belongs to him.'
It just seemed like Adam had to win the the Masters twice to get this victory. An utterly classic win!!!
Key story however–Rory finishes 2nd 2 shots back
I can't believe Bubba is 33. Why do I think of him as a young gun?
Will the tournament be remembered for Louis' albatross or Bubba's Sudden Death shot?
I thought it was grew that so many of Bubba's fellow pros were there to congratulate him.
Phil's attempt to hit out of a bush is just another chapter in the knuclehead decisions of a great golfer and great guy. 
All hyped sporting events should wind up like the Masters usually does. This was a riveting classic. Ups for the class showed by Louis in defeat.
Tiger finished 5 over –15 shots out of the lead–Rory about the same.
Moving day meant the wrong direction for my first choice Rory McElroy who jovially carded a 77 to assure himself an early exit from Augusta. Tiger—never showed up–only his temper  and foolishness did.Lefty was unbelievable scoring a 30 on the back nine. Lookout for Hunter Mahan and Bubba tomorrow.
Eight Terps Earn Preseason Conference Honors: Eight Maryland football players were placed on preseason All-Atlantic Coast Conference teams this summer in a variety of publications. Danny O'Brien, Kenny Tate, Joe Vellano and Tony Logan highlight the list as all four were consensus first-team choices. In addition to being a first team All-ACC selection, Lindy's also had O'Brien as the league's MVP in 2011. Other Terps receiving preseason All-ACC consideration were Cameron Chism, A.J. Francis, Demetrius Hartsfield and Davin Meggett. The Atlantic Coast Sports Media Association (ACSMA) preseason all-league team will be announced during the ACC Football Kickoff (July 24-25).
Remember back to September when Rory McElroy said he wanted a piece of Tiger in the Ryder Cup. Well the trash talker might soon have to live up to his wish. TIGER IS ON THE PROWL. There is no love lost between these 2 golfers. I hope its head to head on Sunday!!!!
Dustin Johnson                            Ernie Els
Bubba Watson                               Martin Kaymer
Phil Mikkelson                              Angel Cabrera
Tiger                                                   Rio Ishikawa
Rickie Fowler                                Luke Donald
Who I would like to see win—Hunter Mahan
My winner Bubba Watson