I never saw it coming. Most of the everyday columnists I talked to were picking Loyola but none saw the total domination that happened. I said last week that just getting to the final four was a tremendous achievement for this team. But then we destroyed Duke and I really thought that just maybe the 37 year drought would end. Just some comments about the weekend and the game.
Over 30,000 attended the game today which was a surprise showing for what was the Maryland State Championship. Foxboro is a great venue albeit it is in the middle of nowhere 40 minutes from Boston. This morning I grabbed the Boston Globe and was shocked to see not one article about the game. 2o articles complaining about Valentine and the Red Sox. 20 articles about the Celtics. Not one line about lacrosse.
It's amazing the great relationship between the 2 schools. That's why I toned down my preview of the game. Just about everyone I knew from Loyola came over to me post game (joe Boylan, Ryan Eigenbrode, and other members of the PR expressed feelings for Maryland. However, most of the other press and media guys were rooting for Loyola. What they have against Maryland I will never understand. But really, who cares.
Charley Toomey and John Tillman are truly close friends. Tillman sometimes spends the Christmas holidays with the Toomeys. They travel together often when recruiting. One had to lose and I really believe Toomey when he said he was heartsick for Tillman though ecstatic for Loyola. I asked John about playing Loyola in the future  Memo-26
By light years, Loyola was the best team Maryland saw this year. It's incredible that we won 12 of 15 face-offs, won the groundball wars yet could only dent the nets 3 times. Runkel stopped everything he had to, but it was the interior defense that did us in. Even at 5-3 at halftime I was big time worried.
My heart went out for the Terrapin Seniors led by Joe Cummings and Drew Snyder. These guys were just crushed. Sometimes you think it is better to lose a game like we lost today but I will take a 1 goal heartbreaker loss anytime.   Post game press conference with Cummings, Drew Snyder, Landon Carr Memo-25
I am at a loss for words but there is just no way I will ever forget the great wins of this year. How this unranked, underappreciated team banded together and made a run to the title game that no one ever expected, is a tribute to each and every player and certainly the entire coaching staff. The 2 wins over Johns Hopkins were memorable, toss in 2 more victories over Duke, and the thrilling come from behind win over Lehigh.
Finally, a message to the Seniors—Joe Cummings, Drew Snyder, MJ Leonard, Michael Shakespeare, Pat Morrison, Tim Shaeffer—-2 quarterfinals, 2 final fours, 2 Championship games, —you have represented Terrapin nation ina terrific way–Best of luck moving forward.
See everyone in Philly in next year. Maybe we will be ranked!!!!!
The first midfield of Drew Snider, John Haus and Mike Chanenchuk were terrific and played like warriors.
Snider played like a guy who wasn't ready for his collegiate career to be over. The fifth-year senior scored two of his three goals in the fourth quarter to help the Terps erase an 8-6 deficit at the end of the third. But the goals were only part of the story as it is the "1" in the stat line under the heading "GB" that really stands out. When Owen Blye's shot with 1:29 left was turned away by Lehigh goalie Matthew Poillon (who stood on his head in this one, giving his team a chance to win) the ball was loose on the right side of the crease. Four Mountain Hawks had a crack at the groundball, but it was Snider, who knifed through the scrum and came up with it to retain possession for the Terps and eventually led to the final possession.
Comments—Drew Snider started excelling his Junior year around playoff time. There rarely have been wins in the past 2 years without scoring from Drew. In the MLL he is labeled as can't miss due to his rep as purse offense. Look for Drew to step up big time on Saturday.
Chanenchuk has been on fire since going through a four-game goal-less streak and his effort on Sunday did nothing to cool him off. The redshirt sophomore had two assists, both coming on goals by Snider, including the first of his two goals in the fourth quarter, and a goal. That goal was exactly what we expected when Chanenchuk agreed to become a Terp. The original play looked to be going nowhere and he made a quick move down the right alley to get enough space for him to rip a shot around his defender and inside the left pipe where Poillon had no chance of stopping it.
Comments–The Hopkins defensive way is to rely on Pierce Bassett to stop the direct 12-15 yard shots. That might work with some of the Terps but it won't work with Chanecnchuck. His shot seems as deadly as Grant Catalino's. I'll take my chances. Mike had a bit of a dry spell earlier in the year but he is back!!!!
Haus' stat line isn't one that would stand out to anyone, but stats often don't tell the whole story. Haus was a threat the entire game and that eventually wore down the Lehigh defensive midfielders. Twice he broke through the Mountain Hawk defense and got off two great shots only to be victimized by equally great saves by Poillon. If you watch the replay the early slides Lehigh used in the first three quarters were not as quick to get there in the fourth and that could be because of the effort Haus showed throughout the games, wearing down Mountain Hawk defenders.
Comments—There never was a Haus who wasn't a big time player. When Carolina released john's father several years back, Maryland and dave Cottle received a true warrior. Now in his junior year, I really don't believe the recent successes of Maryland would have occurred without #26. Unfortunately we lost his brother will to Duke. A run to the final four will include huge plays by John. This  first midfield is special, even though you will hear much more about the opposition.
Analysis by Patrick Fischer—Comments from yours truly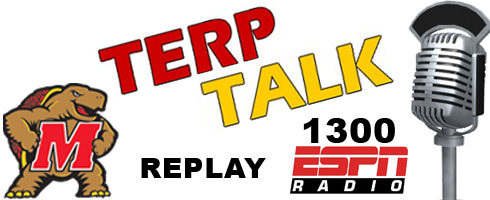 Terp Talk Thursday Night 06-02-11
THE SPORTS MAVEN REPLAY

Sports Maven Saturday Morning 05-28-11
When all is said and done folks "Nothing means nothing." Saturday night we were all pretty upset about the incredible loss to the Blue Jays. But then Sunday came around and the heart and spiritual leader of the Terps, Ryan Young lost his mom, Maria to pancreatic cancer.
In my  5 year tenure as host of Terp Talk, I have often talked of the family atmosphere of this team win or lose. The Big Man, Dick Edell fostered it and turned the reigns over to Dave Cottle. I watched these guys in tears when a shot hit the pipe against UVA in the quarters a few years back. Last year only 5 of 50 shots found the nets against Notre Dame, the team was devastated because many realized that unfairly it could mean the end for their leader.  Now Coach Tillman has picked up the reigns and I could see his emotions coming through for the regrets his guys were feeling. 50 some coaches and players will band together for Ryan and I am sure he feels the strength of his 2nd family.
The Terps play North Carolina Friday at 5 as they begin their march toward the final four.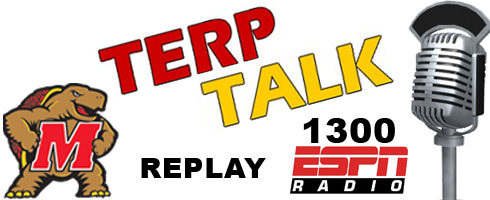 Terp Talk Thursday Night 07-15-10
Apparently it's down to the final part of the selection process. The AD wants Dave to be the new coach, but there a few other nominees. Dave — if you are reading this blog as I know you sometimes do—take the job!!!!!!!!  It's never easy to uproot the family but it would be a tremendous ooportunity!!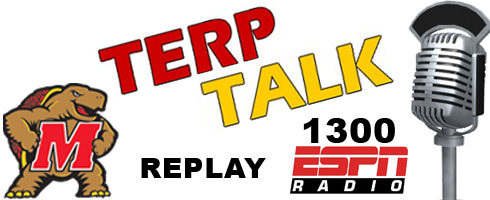 Terp Talk Thursday Night 06-24-10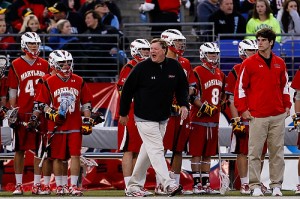 University of Maryland men's lacrosse coach Dave Cottle stepped down today after nine seasons leading the Terrapins.  Cottle led Maryland to eight-consecutive NCAA tournament appearances, including three Final Fours, the last of which came in 2006. Maryland won two ACC championships during his tenure in College Park, but did not advance to the NCAA title game. Cottle leaves with an overall mark of 99-45 (.688). The 99 victories are the sixth most of any Division I men's lacrosse program during that time.
"I have decided to step down as head coach at the University of Maryland," said Cottle. "I would like to thank Dr. Mote and Dr. Yow for the opportunity to coach at Maryland and in the Atlantic Coast Conference. I have enjoyed my nine years at Maryland. This season, I enjoyed coaching this team as much as any team I have ever been around. I have developed tremendous relationships with many Terp alumni, former coaches and have had some of the finest parents any lacrosse program has had. "Coach Cottle handled his duties as head coach with class and dignity," said director of athletics Deborah A. Yow. "We are appreciative of that and wish him the best in whatever he pursues professionally. We are grateful for his efforts over the last nine years."  from umterps.com
Bruce Weighs in:  This is a sad day for my good friend Dave Cottle and Maryland Lacrosse.  Yesterday's loss was an excruciating disappointment for Dave and Terrapin nation. Let's be clear however that the effort was there, it just wasn't their day.  It's really a shame that the under Dave's reign, the Terps never could gain that coveted title that so many Terrapins yearn for. But one thing everyone associated with Maryland will agree with is Dave ran a class show, the graduation rate and demeanor of his players was exemplary, the effort his teams put out was never questioned. His knowledge of the game is unquestioned.  Dave will land at another university quickly and all of Maryland wish him and his family only the best!!!!
And now the search for one of the most coveted jobs in NCAA lacrosse begins. Over the next few days I will detail many of the eligible candidates. Who ever comes to College park will have a preseason top 3 ranked program to inherit. Only Brian Phipps and Bryn Holmes will be missing from the starting lineup.  One thing for sure, the search is in great hands. Senior Associate Athletic Director Michael Lipitz is a devoted follower of Terrapin lacrosse has tremendous passion for the program.  I am fully confident Mike and the selection committee will select the best candidate to take Maryland back to the promised land!!!!!
Most of you reading this blog are my loyal followers. Most of you know my great fondness for the Men's Lacrosse program. Maybe it started in 1973 when I drove to Franklin Field to watch Frank Urso–still Maryland's greatest lacrosse player–lead Maryland to an overtime victory over Dr Les Matthews and Johns Hopkins. Maybe it continued when my good friend Casey Connor had to endure 2 Final game losses to Princeton in 97 and 98. Maybe my heart was broken in 2003 when Tillman Johnson made acrobatic saves to defeat a heavily favored Maryland team—then in 2005 after Andrew Schwartzmann's incredible OT goal to put the Terps in the Final four, Duke ended the dream–the next year it was Doc Schneider from UMass who came up huge in the Semifinal game.
But certainly it grew the most when I started the show 4 years ago and was at Maryland looking for a high profile Coach to help me open up the show. Dave Cottle overheard my request and immediately volunteered his services. It's easy to get to know the lacrosse kids as Cottle and Media rep Patrick fischer have an extremely open access policy. THESE ARE SOME GREAT KIDS ON THIS TEAM and they are a true family always supporting fighting and willing to go to battle for each other.  2 years ago after an overtime loss to UVA  in the NCAA quarterfinals,  I witnessed a team that was crushed, in tears but together more then you can imagine.
Well that's why today is so important to every Terrapin lacrosse fan. As for me, there is a definite emotional tie to Cottle and this team. Cottle has done a great job using the entire squad. practices are spirited. Everyone loves being part of this family. Terrapins it's your day today–make the most of it!!!!!!!
Last year, the Terps were faced with an Irish team that ran its offense mostly through its attack, but this year is a different story. Notre Dame likes to initiate things with its midfield and the Irish's top three goal scorers are all midfielders. Zach Brenneman leads the way with 35 points on 23 goals and 12 assists, but the other two middies, Grant Krebs and David Earl, each have 20 or more goals. That's a stark contrast with the Terps', who's top three scorers are attackmen and don't have even one middie with 20 or more goals. The depth of the teams' scoring is also a contrast. Maryland has had 22 different players score goals this season, while Notre Dame has had only 12.
Both teams are good defensively, especially in the cage. Notre Dame boasts preseason All-American Scott Rodgers, who has a goals-against average of 7.99 and has a save percentage of 58.4. Maryland also starts a senior in Brian Phipps, who has a season goals-against average of 8.27 and a save percentage of 54.9. But if you look at the Terps' last seven games, Phipps has been phenomenal with a 7.45 GAA and a save percentage of 57.1.
• This game could come down to special teams and it will be strength vs. strength. Maryland has the No. 2 man-up unit in the country, converting on 54.3% of its extra-man opportunities. Of the eight teams left in the tournament, Notre Dame has the best man-down unit, allowing teams to score on the EMO just 25.8% of the time. One thing that helps Notre Dame's man-down defense is that the Irish do not commit a lot of penalties. Notre Dame has only had 31 penalties called on it in 14 games (2.2 penalties per game). blog from Patrick Fischer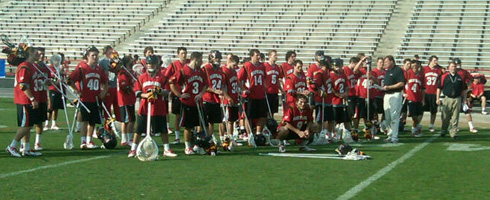 One down 3 to go. A stubborn Hofstra Pride team's prolific offense was thoroughly throttled by tenacious defense, faceoff and groundball domination, and stellar goalkeeping from Brian Phipps.
Maryland had goal scoring from 10 different players indicating Coach Cottle's strategy of using almost the entire team.  Ryan Young and Will Yeatman stood out offensively for the Terps. I have to admit when Hofstra took the lead at 5-4, I had a few moments of fear creep in. But this Terrapin team believes in itself and from trailing at 5-4, the Terps outscored the Pride 7-2 until Hofstra and its leader Jay Card scored 2 meaningless goals in the final minutes.  Some interesting stats: Groundballs– Maryland 41 Hofstra 21            Saves    Maryland 14 Tribe 14
Next up for the Terps –the winner of Army —Princeton next Saturday at Princeton
Audio from Cottle, Young, Phipps, Holmes—Terps Post Hofstra