It's time to enter the no spin zone of Maryland lacrosse:
Charlie Raffa opened the game up thoroughly dominating Drew Kennedy by actually winning the first 5 face offs. But then 2 things happen. Enter Hunter Moreland (Fr from Boys Latin) and suddenly the face off battle was equalized. I … Read More »
Here my thoughts on the significance of the Penn State victory  and the Controversial hand shaking incident
What lies ahead for Terrapin football after epic win
Recorded interviews with Melo Trimble, Richaud Pack, and Dion Wiley after Saturday's scrimmage
Field Hockey Clinches Outright Regular season title … Read More »
The No. 7 Maryland (9-2) men's lacrosse team looks to win the ACC regular season title on Saturday, April 19 when it plays at No. 8 Notre Dame (6-4) at Arlotta Stadium. Faceoff between the Terps and the Fighting Irish is scheduled for noon.
• Maryland will look to … Read More »
Lacrosse's Greatest Rivalry renews for the 111th time as No. 3 Maryland (9-1) heads to Homewood
Field to face No. 8 Johns Hopkins (6-3) on Saturday, April 12. Faceoff is scheduled for 2 p.m. The Maryland-Hopkins game will be broadcast live on ESPNU and streamed on the WatchESPN app. Eamon … Read More »
Once again it only matters to be #1 after Memorial Day. The Coaches poll has Maryland #3.
Maryland is in sole possession of first place in the league, which would seem to be a perfect rebuttal of a ACC preseason poll that had picked the team to finish last. Tillman, however, chose to accentuate the positive rather than the negative.
"We thought we had potential," he said. … Read More »
Maryland is coming off of its first loss of the season last Saturday, 11-8, at then-No. 6 North Carolina. Freshmen Connor Cannizzaro and Colin Heacock scored two goals apiece to pace the offense, while junior Charlie Raffa dominated possession, winning 16-of-23 faceoffs with eight groundballs. Senior Mike Chanenchuk leads the … Read More »
Junior Jay Carlson netted a hat trick in the first half and had four goals in total to lead the No. 1 University of Maryland men's lacrosse team to a 13-5 win over Michigan on Tuesday afternoon at Michigan Stadium.
The Terrapins improve to 7-0 overall on the season with the … Read More »
Alexander Tumminello, a 2015 middie for St. Thomas Aquinas, has committed to the University of Maryland. Tumminello had a great Hot Beds tournament with Team Florida last summer making the All-Star roster.
Tumminello plays for Florida X-Treme and said, "I want to thank my coaches and, most of … Read More »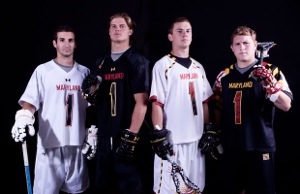 From left to right—Conor Cannizzaro, Colin Heacock, Tim Rotanz, Matt Rambo
The 2014 season can't start soon enough for me.