Bayhawks Game
A brilliant assist from Casey Powell to Michael Kimmel with 1:25 left closed a late comeback effort by Cottle's troops as Chesapeake will attempt to go back to back after Defeating Hamilton 13-12. Jesse Bernhardt was sensational down the wire grabbing loose balls.
from inside lacrosse.com The Chesapeake Bayhawks edged the Hamilton Nationals 13-12 Saturday at PPL Park in Chester, Pa., in a back-and-forth slugfest that saw five lead changes. The second of two semifinals, the contest was capped by Mike Kimmel's goal on a feed from Casey Powell with 1:25 left in the fourth quarter to lift the Bayhawks to victory and send the franchise to its second consecutive Steinfeld Cup appearance. 
Kimmel led the Bayhawks with four points on three goals, including a two-pointer that was Chesapeake's first goal of the game. John Grant Jr. and Ben Hunt each contributed two goals and assist in the win. In the cage, Kip Turner registered 14 saves for the Bayhawks. 
Hamilton was led by Joe Walters, who finished with two goals and three assists, while league MVP Kevin Crowley and Martin Cahill each contributed two goals and an assist in the loss. Brett Queener made 13 stops in the cage for Hamilton. 
Outlaws vs Hounds
There is just too much pressure on undefeated teams as Denver looked uptight from the start of the game quickly falling behind 8-2 after the 1st quarter and never actually catching up. This has to be a tremendous disappointment to Drew Snider, Jeremy Sieverts, Lee Zink and probably most of all Jess Schwartzman and Brendan Mundorf.
In one of the biggest upsets in playoff history, the Charlotte Hounds defeated the Denver Outlaws 17-14 at PPL Park in the first semi-final of Major League Lacrosse's Championship Weekend. The result developed as a result of an eight-goal first quarter from the Hounds — an offensive explosion that put Denver so far behind that they never recovered.
The Outlaws were stifled at the face-off X all afternoon by Geoff Snider and Tim Fallon. Snider and Fallon combined to win six of the nine face-offs in the first quarter and the Hounds repaid their effort by scoring several opportunistic goals — the most important of which was a two-pointer from Matt Danowski just over nine minutes into the game. An errant pass rolled to the opposite side of the two-point arc right to Danowski's feet. The Hounds attackman made the most of it and stuck it nearside on a turning Schwartzman to make the score 6-2. Two consecutive goals from Sawyer followed and the Hounds were up 8-2 at the end of the first. What's more, only one of those first-quarter Hounds goals were assisted.
 Six former University of Maryland men's lacrosse players were selected to participate in the 2013 Major League Lacrosse All-Star Game, the league announced on June 24.
Three Terps from the Denver Outlaws made the All-Star team with 2012 MLL Defensive Player of the Year Lee Zink ('04) leading the way with his seventh all-star selection. Jeremy Sieverts ('09), the MLL's Most Improved Player in 2012, is making his second all-star appearance, while Drew Snider ('12) will be making his all-star game debut. Snider is fourth in the league in scoring so far in 2013 with 30 points on 21 goals (one two-pointer) and eight assists.
Joe Walters ('06), the Terps' all-time leader in points and goals, of the Hamilton Nationals will be making his sixth all-star appearance. He is currently tied for sixth in the league in scoring with 25 points on 12 goals and 13 assists in just six games after helping the Rochester Knighthawks claim its second-straight NLL Championship.
A pair of Terps from the Charlotte Hounds will be playing in their first all-star game on their home field. Ryan Young ('11) is in his first season with the Hounds after being traded by the New York Lizards and is tied for eighth in the league in scoring with 24 points on 19 goals and five assists. Brett Schmidt ('11) will also be making his all-star game debut after being tied for fourth in the league with 26 groundballs through eight games to go along with a goal and an assist.
Some of the topics for Saturday morning's show:
The Ravens are going to the Super Bowl—-thorough review of Patriots game
What a difference a 4 weeks made for the Ravens
Key game of the season—redskins defeat the Ravens—then the dominoes fellinto place
Pat Joe Flacco his money already
Anquan–sign him or let him go
Scramble for Super Bowl tickets
Revis island leaving New York?
Tremendous crowd at fan fest
NFL fines Brady $10K for sliding kick ar Ed Reed
Anna "Miss Hooters International" apologizes to Ray Lewis
Ray's last game –the legacy he leaves
Why does everyone in the country dislike the Ravens?
Tribute to Earl Weaver
Did Dwight Howard ruin the lakers?
How has Monte Te'os status for the draft been effected
Orioles ticket sales through the roof
Synergy of O's, Ravens Michael Phelps
January 25th, 2013 |
1 Comment »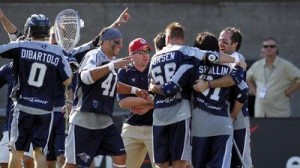 Some of my comments on this great victory for Head Coach Dave Cottle and the Chesapeake Bayhawks:
Where as I thought the Bayhawkks were too deep and strong for Denver,i never saw this one sided game as the outcome. Both of the regular season match ups were brutally tight games that could have gone either way. Not today. The Bayhawks dominated every way possible.
The key difference to me was the x position dominance of Alex Smith winning 17 of 25. The Outlaws possessions  were so limited that a comeback was almost impossible.
When Brendan Kelly named Dave Cottle as head coach, then proceeded to hire Brian Reeses as GM –all the parts of the puzzle were in place for a title. Dave was on the Sports Maven way before the season started and spoke about gathering the talent and depth from anywhere he had to –to bring in a championship calibre team. He brought in Spallina and Polanco, Drew Westerfeld while giving up some talented players. The purpose was to strengthen this team every way possible. Every home at Navy was a true family event causing the Bayhawks to average 10,000 fans. There is nothing left to say except—-MISSION ACCOMPLISHED—HAIL TO THE CHAMPIONS
from thebayhawks.com
 Midfielder Ben Hunt totaled six points on the strength of two 2-point goals as the Chesapeake Bayhawks routed the Denver Outlaws, 16-6, at Harvard Stadium to become the first franchise in Major League Lacrosse history to capture four championships. Goalkeeper Kip Turner recorded 12 saves to anchor another suffocating defensive effort as Chesapeake held Denver to its lowest goal output of the season. The Outlaws, who came into the game averaging more than 16 goals per game, were held to just one in the second half by a stingy defense led by long sticks Michael Evans, Nicky Polanco and Brian Spallina.
 "Going into today, I was very confident that we were going to play a great game. This is the first team I've ever coached that we didn't need to trick anyone to win. We had great talent, great character and great chemistry. All we had to do was execute and we would win," Chesapeake head coach Dave Cottle said. "Coming into the tournament, I thought we had the best team on paper and we proved that on the field this weekend. I'm really proud of the players for putting together two great performances on back-to-back days."
   "You join the Chesapeake Bayhawks to win championships. We don't play to just get into the playoffs, we play to win the title," said Evans, an All-MLL selection. "Brendan Kelly and Dave Cottle put together something special this season. We had great group of players who are all winners and understood what it took to win a championship."
 Attackman Ben Rubeor was named Most Valuable Player of MLL Championship Weekend after scoring eight goals in two games. "Benny is such a high character guy with tremendous intangibles. He's a great teammate who cares so much about winning and does all the little things. Those little things turned into a lot of big things this weekend."
 Turner was a brick wall in the postseason, totaling 26 saves to stymie the two top-scoring offenses in the league this season. Barney Ehrmann, Dan Hostetler andMike Simon handled long stick defensive midfielder responsibilities while Matt Abbott, Jeff Reynolds and John Orsen were the short stick defenders as Chesapeake set an MLL Championship Weekend record by allowing just 16 goals to Boston and Denver. 
     "Our goalie really stepped up in this tournament. I think from the second quarter of the semifinal on, he was the best player in the tournament," Cottle said. "Defensively, we started winning our individual matchups and that meant we didn't have to slide so much. We were able to play solid, straight-up defense because we weren't scrambling around, which was crucial. I really felt Mike Simon was a difference-maker. He gave us the final piece of the puzzle."
 "It's incredible to win the championship two out of three years. That is a great testament to everyone involved with our organization," Chesapeake owner Brendan Kellysaid. "This is what happens when you have quality people who commit to each other and commit to a goal. I'm really happy for Dave Cottle because he's one of the greatest coaches in lacrosse history. I'm thrilled that he got to taste a championship."
picture from the Sun
Just some random thoughts while waiting to watch the MLL title game tomorrow at 3PM:
The Outlaws spotted Long Island a 12-3 before storming to a 1 goal win. Jeremy Sieverts scored the winner for Denver. Denver was greatly effected by the injury to Brendan Mundorf, the MLL MVP. 
After a slow start the Bayhawks grabbed the lead at halftime and eventually coasted to an easy win over the defending champions , the Boston Cannon. 
Coach Dave Cottle was on the Sports Maven Saturday morning and said there would no sliding to Rabil and the Bayhawks led by the defense of Michael Evans on Ryan Boyle  and Michael Simon on Rabil executed the plan to the utmost. 
From the bay hawks.com:
 Attackman Ben Rubeor fired in a season-high six goals while goalkeeper Kip Turner anchored a dominating defensive effort with 14 saves as the second-seeded Chesapeake Bayhawks beat the Boston Cannons, 16-10, in Major League Lacrosse semifinals before a crowd of 8,090 at Harvard Stadium. Rubeor netted five of his goals in the second half as the Bayhawks broke open a back-and-forth affair by outscoring the host team 7-2. Turner got hot and made 10 of his saves after intermission for Chesapeake, which completely shut down a potent Boston offense.
 "Today was a total team effort. We had a game plan that we thought would slow them down and we executed it really well," All-MLL defenseman Michael Evans said. "The coaching staff emphasized winning our individual matchups and I thought we were able to do that. Kip Turner is the backbone of our defense and he was awesome today."  "Last time against Boston, we didn't win any of the individual matchups. This time, Michael Evans won the Ryan Boyle matchup, Michael Simon fought off Paul Rabil, Jeff Reynolds won some matchups with Kevin Buchanan," Chesapeake head coach Dave Cottle said. "We didn't have to slide as much as we did in the last game and I thought that was the difference."
To suggest the Chesapeake Bayhawks and Boston Cannons have some postseason history would be an understatement. In 2010, Boston came to Annapolis riding high after capturing the regular season championship and was promptly upset by a Chesapeake club that had to win its final game to get into the playoffs. The host Bayhawks would go on to beat the Long Island Lizards to garner their third title, marking the first time in Major League Lacrosse history that a No. 4 seed accomplished that feat.
 It was a similar story in 2011, but this time top-seeded Boston beat fourth-seeded Chesapeake, rallying from a big early deficit to earn a thrilling 14-13 victory on a last-second goal by attackman Max Quinzani. The Cannons then captured the first MLL championship in franchise history by defeating Hamilton at Navy-Marine Corps Memorial Stadium.
"We've had a great rivalry with Boston over the years and our two games this season were certainly very competitive. I expect another intense, hard-fought game," Chesapeake head coach Dave Cottle said. "We're playing on the road against the defending champions so this is going to be a stiff challenge. Boston absolutely has the home-field advantage, but that is not insurmountable. We have a very veteran team so I'm not really worried about how our players will react to a hostile environment. Nothing would be better than making sure that crowd is quiet in the fourth quarter."
My picks:
Denver will roll to victory over the Lizards who have been in a downward spiral. Jeremy Sieverts has become a leading midfield force for Denver. Keep an eye on Drew Snider doing the intangibles.
The Bayhawks will squeeze by Boston –Why ? Because they have the best talent. Kip Turner must slow down Paul Rabil. Former Terrapin Brian Farrell seeks his 2nd MLL title.
Great start of the season for the Bayhawks tonight!!! Dave Cottle said after the game that Mt St Mary's Goalie, TC DiBartolo had earned the start with his efforts in practice and he certainly came through.  Formet Terrapin Grant catalino opened up the game with 2 howitzer shots giving the Lizards a 2-0 lead but Coach Cottle moved Spallina over to cover Grant and from that point on the Bayhawks dominated. The Bayhawks were missing fogo specialist Alex Smith, as well as John Grant Jr, and Drew Westervelt yet the new faces blended together for victory. The Bayhawks return to Annapolis next Saturday night to the expansion Ohio Machine and Brian Phipps.
Midfielder Ben Hunt led the way with five points as the Chesapeake Bayhawks rallied from an early deficit to defeat the Long Island Lizards, 13-11, on Saturday night at James M. Shuart Stadium in New York in the Major League Lacrosse (MLL) season opener for both teams. Hunt scored three goals, one of which was a 2-pointer, and dished off an assist as Chesapeake won its opener for the third straight season. Hunt was the leader of a tremendous performance from the offensive midfield unit as running mates Michael Kimmel and Steven Brooks also scored two goals. from Bayhawks.com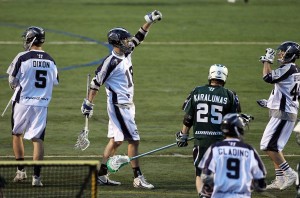 Brian Phipps had 13 saves substituting for Garrity in the 2nd half.
I was there for the first game between the Bayhawks and Regular Season Champs–the Boston Cannons. It was no contest as Chris Garrity was stellar in the nets, the Bayhawks shut down Paul Rabil, and Alex Smith controlled the game at faceoff to such a point that the Cannons could never get in the game. In the other half of the draw the Long Island Lizards upset Jesse and The Outlaws 16-12 to set up the title game on Sunday at 1PM on the Deuce. On a side note the Bayhawks did have their just hired "Consultant" Dave Cottle on the sidelines in an advisory role. HMMMMMM