Bayhawks Game
A brilliant assist from Casey Powell to Michael Kimmel with 1:25 left closed a late comeback effort by Cottle's troops as Chesapeake will attempt to go back to back after Defeating Hamilton 13-12. Jesse Bernhardt was sensational down the wire grabbing loose balls.
from inside lacrosse.com The Chesapeake … Read More »
 Six former University of Maryland men's lacrosse players were selected to participate in the 2013 Major League Lacrosse All-Star Game, the league announced on June 24.
Three Terps from the Denver Outlaws made the All-Star team with 2012 MLL Defensive Player of the Year Lee Zink ('04) leading the way with … Read More »
Some of the topics for Saturday morning's show:
The Ravens are going to the Super Bowl—-thorough review of Patriots game
What a difference a 4 weeks made for the Ravens
Key game of the season—redskins defeat the Ravens—then the dominoes fellinto place
Pat Joe Flacco his money already
Anquan–sign him … Read More »
January 25th, 2013 |
1 Comment »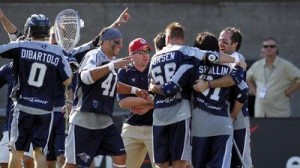 Some of my comments on this great victory for Head Coach Dave Cottle and the Chesapeake Bayhawks:
Where as I thought the Bayhawkks were too deep and strong for Denver,i never saw this one sided game as the outcome. Both … Read More »
Just some random thoughts while waiting to watch the MLL title game tomorrow at 3PM:
The Outlaws spotted Long Island a 12-3 before storming to a 1 goal win. Jeremy Sieverts scored the winner for Denver. Denver was greatly effected by the injury to Brendan Mundorf, the MLL MVP. 
After … Read More »
To suggest the Chesapeake Bayhawks and Boston Cannons have some postseason history would be an understatement. In 2010, Boston came to Annapolis riding high after capturing the regular season championship and was promptly upset by a Chesapeake club that had to win its final game to get into the playoffs. The … Read More »
Great start of the season for the Bayhawks tonight!!! Dave Cottle said after the game that Mt St Mary's Goalie, TC DiBartolo had earned the start with his efforts in practice and he certainly came through.  Formet Terrapin Grant catalino opened up the game with 2 howitzer shots giving the … Read More »
Brian Phipps had 13 saves substituting for Garrity in the 2nd half.
I was there for the first game between the Bayhawks and Regular Season Champs–the Boston Cannons. It was no contest as Chris Garrity was stellar in the nets, the Bayhawks shut down Paul Rabil, and Alex Smith controlled the game at faceoff to such a point that the Cannons could … Read More »