Bruce Posner is the Sports Maven with Wayne Viener
It's worth watching again – Click on this post to watch the AJ homerun
— Baltimore Orioles (@Orioles) March 29, 2018
Hope springs eternal on Opening Day. Dylan Bundy takes the mound today and hopefully starts the O's off with a winning performance. Vegas has the over/under on wins at 71 1/2  I am much more optimistic then that.
12 runs on 20 hits will usually get you a W—O's 12 A's 5—Tim Beckham 4 hits–no Home Runs
Buck not using Britton much
Bryce Harper injured his knee running strongly to 1B
"Minor League Box Office Sensation" Tim Tebow was beaned Saturday yet opted to stay in the game
7 innings for Dylan–2 Runs–7 innings–10 Ks — 0 WALKS—105 pitches—now 11-8

Great play from Davis in 9th on Baltimore chop
Givens and Brach moped up in 8th and 9th
O's are now 56-56
Hellickson tomorrow
Ain't the Beer Cold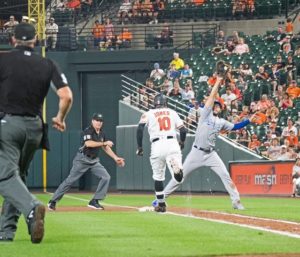 The Orioles have put themselves almost back into the playoff race. Here are a few photos from Dr. Jeffery Gaber at OPACY as Ubaldo carried the night. The bats awakened yesterday. The … Read More »
Something is wrong–drastically wrong with Chris. Probably his last start for a while–one would think.
8 2/3 shot out innings by Gausman as O's defeat Texas 4-0
Adrian Beltre up to 2999 hits–will probaly join the 3000 club on Sunday
2018 Terp commit Jalen Smith looked great in his AAU team game in Vegas
Jamarko Pinkett chooses the Hoyas over Maryland—oh well
John Urschel retires … Read More »
A Win For The Ages—Jordan Spieth captures The Open Championship in stunning fashion. Yes Jordan is the Champion Golfer of the Year. His finish of birdie, eagle, birdie, birdie, —5 under for holes 14-17 will go down as one the most amazing clutch closes ever. Hopefully, the stench of the … Read More »
Jones, Schoop, and Davis continue their hot bats, Miley still mediocre at Best but 9 runs is usually enough to win.