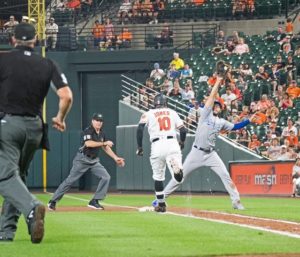 The Orioles have put themselves almost back into the playoff race. Here are a few photos from Dr. Jeffery Gaber at OPACY as Ubaldo carried the night. The bats awakened yesterday. The … Read More »
Something is wrong–drastically wrong with Chris. Probably his last start for a while–one would think.
8 2/3 shot out innings by Gausman as O's defeat Texas 4-0
Adrian Beltre up to 2999 hits–will probaly join the 3000 club on Sunday
2018 Terp commit Jalen Smith looked great in his AAU team game in Vegas
Jamarko Pinkett chooses the Hoyas over Maryland—oh well
John Urschel retires … Read More »
A Win For The Ages—Jordan Spieth captures The Open Championship in stunning fashion. Yes Jordan is the Champion Golfer of the Year. His finish of birdie, eagle, birdie, birdie, —5 under for holes 14-17 will go down as one the most amazing clutch closes ever. Hopefully, the stench of the … Read More »
Jones, Schoop, and Davis continue their hot bats, Miley still mediocre at Best but 9 runs is usually enough to win.
Ubaldo was just throwing Batting Practice on Sunday–11 hits 6 runs in 3 2/3 innings. I think Buck wanted to leave him in to finish the 4th so the Boo Birds would not explode but nercifully for the fans Buck yanked him out. It was just sad. Not funny. Ubaldo's … Read More »
Miley and Ubaldo and pray for rain–NOT!!!!! So it's great that the O's won bjut once again a 5-0 dissipated in the 3rd inning as Ubaldo had a HBP and 3 walks. But 3 Hrs–including 2 from Adam Jones) and 3 rbi from Caleb put this one out of reach … Read More »
Speechless–makes no sense Ubaldo's Line tonight  8IP  98 Pitches  3 Hits  1 Walk  8 Ks
Who was that guy on the mound. In his last start he allowed 9 runs in 2 1/3 innings.
Crazy
19 straight games the O's pitching staff has allowed 5 or more runs. The definition of an effective start for the O's is unclear.
Great news on the O's front–Buck and his wife became grand parents yesterday. A dose of super reality for Buck and Angela. Enjoy him!!!!!!
So many … Read More »
32-33 O's drop a 5-2 decision to the lowly White Sox–Tillman 5 inning 100 pitches
Draymond gets even with the for last year (LeBron wore an Ultimate Warrior T) by wearing a Q logo of the Quicken Arena
Season Ticket money is due on June 30 for Maryland Basketball—FYI
Rickie … Read More »