Winter Sports – Part One
Men's Basketball
As with the football team, questions abounded as Maryland's men's basketball team approached the 2014-15 season. The team had missed the NCAA Tournament in each of Mark Turgeon's first three seasons as the Terrapins' head coach. The roster had been semi-decimated … Read More »
In Maryland Terrapins news:
The women's basketball team added some depth for 2016 Saturday when 2012 Florida Gatorade High School Player of the Year Ieshia Small, who had earlier been granted her release from Baylor, announced via Twitter that she was transferring to Maryland. Small had struggled to find the … Read More »
As I write this post five days remain until the official end of the University of Maryland's first  full year as a participant in Big Ten athletics. In the first of a series I plan to look back at how the Terps performed in their new home but I will … Read More »
One of the adjustments Maryland fans have had to make moving from the ACC to the Big Ten has been finding ways to adapt to the tradition laden conference. The Terps took one step along that road when they created the Rivalry Game and Trophy for what will now be … Read More »
I'm no sports maven but because I write about so many different sports, I often find myself engaged in conversations with people in which I casually mention some fact that they find unexpected. Recently, I surprised someone when I noted that some of Maryland's best women's lacrosse players, including probably … Read More »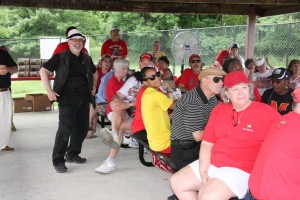 In conjunction with their support group, the Rebounders, the Maryland women's basketball team chose a unique way to celebrate Father's Day by holding the fifth edition of their unique fun(d)raiser – a mini-golf tournament at the Columbia Sports Park. The event … Read More »
Today I have the chance to write about one of my favorite sports to follow at Maryland – field hockey. For those of you who aren't familiar with me, I'll ask you to indulge me as I take a few paragraphs to explain.
Getting to know me
Four or so … Read More »
I can't believe Virginia is advancing to the College World Series against Vandy. That's right–the sane Cavalier team that was trailing UMD twice and came back to win.
Manny Machado will most likely not be on the AL All STAR game roster. He has been incredile..
Nats Pitcher, Max Scherzer  tossed a … Read More »
On a recent broadcast of Terp Talk, host Bruce Posner talked about his excitement over the upcoming season for Maryland men's basketball. Understandably so. The men's team is loaded with talent and potential and has been installed by some wise guys in Las Vegas as the early favorite to capture … Read More »
Those of you who listened to the June 10th edition of Terp Talk might have heard Bruce Posner and I briefly talk about the success of Maryland's move to the Big Ten and the benefits the athletic department has seen in as the first year of this new relationship draws … Read More »
Sasho Cirovski, the head coach of the University of Maryland men's soccer team approaches scheduling with a philosophic belief that he breeds programmatic success by challenging his team early in the season and the 2015 schedule looks to be no exception. By the end of Maryland's 17 game regular season, … Read More »
Last week I looked at some of the rules changes the NCAA Playing Rules Oversight Panel (PROP) made for men's basketball. This week I'll review some of the changes for the upcoming  women's basketball season one of which is considerably more dramatic than any of the changes in the men's … Read More »