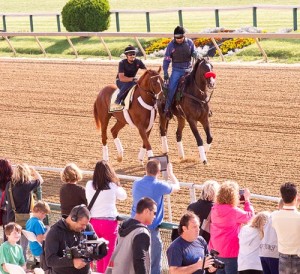 I'll Have Another works out at Pimlico. I like the jockey's confidence and believe Mario will hunt down Bodemeister and win the Preakness.
Some more opinions tomorrow on Koons Ford Presents The Sports Maven at 9AM. Mucho Macho Man might  be the greatest hunchbet of the decade.
The only way that Mine That Bird loses is if he has been overworked in the past 6 weeks.
The one thing that has set Athletic Director Debbie Yow's career at the top of the NCAA is her ability to find the right hires for the University. Recently she reeled in Kerry McCoy from Stanford and now McCoy has the Terps as one of the top Wrestling programs in the country. Cathy Reese,  also a recent hire, has injected life back into the Maryland Lady Lacrosse program. Maryland climb in the race for the Sears Cup, is a testament to Dr Yow's hirings. In 2008-09 Maryland won 5 ACC Titles and 2 NCAA Championships. Now she is faced with the task of finding a top notch Baseball Coach.  I anxiously await her hire!!!
This could only happen in horse racing. We could have a triple crown jockey. Sorry, Calvin Borel, you should have given Mine That Bird the mount in the Preakness. Even though Bird should easily win the Belmont, his record is blemished at the hands of his own favorite jockey.
This poor horse who only won the Derby and got parked out of a victory in the Preakness can't find a stable jockey. My suggestion: Edgar Prado for once and the future, There is no way I would let Borel back on this horse after he deserted him in the Preakness. Remember his sire was Birdstone, a Belmont winner. The filly will duck the Bird and not race in the Belmont.
No filly has won the Preakness since 1924. Rachel Alexandra will not be able to run away from this field. She will be challenged early and not have the breezy run she had in the Oaks. The fast past up front will again play right into the Derby winner's hands, setting up another come from behind win. Mike Smith for Calvin Borel is an upgrade. The following is my predicted order of finish: 
First           Mine That Bird
Second       Musket Man
Third         Rachel Alexandra
Fourth      Terrain
Long shot: Terrain was well regarded in Louisiana Derby and Blue Grass Stakes. Loves to run late and Saturday it could work. Odds are way too long for a horse this good.
What to bet: Mine That Bird to win. Exacta box: Mine That Bird, Musket Man, Terrain, General Quarters, Rachel Alexandra. Trifecta box: Mine That Bird, Musket Man, Terrain, Rachel Alexandra.
Terp Talk Thursday Night 5-14-09
Host–Bruce Posner Co Host –Dino
Guest– Dan Groot, Captain of Men's Lacrosse
Subjects—Men's and Women's Lacrosse in the NCAAs Against Syracuse, Preakness