RACE 12: PREAKNESS
Analysis: California Chrome proved he was up to the hype by winning the Derby in the same impressive fashion as he had won his previous four races. The Preakness field and distance are not different enough from the Derby to expect a different outcome. The pace … Read More »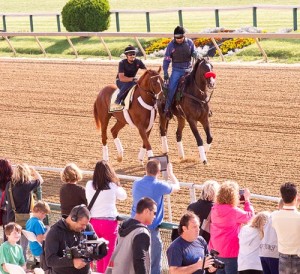 I'll Have Another works out at Pimlico. I like the jockey's confidence and believe Mario will hunt down Bodemeister and win the Preakness.
Some more opinions tomorrow on Koons Ford Presents The Sports Maven at 9AM. Mucho Macho Man might  be the greatest hunchbet of the decade.
The only way that Mine That Bird loses is if he has been overworked in the past 6 weeks.
The one thing that has set Athletic Director Debbie Yow's career at the top of the NCAA is her ability to find the right hires for the University. Recently she reeled in Kerry McCoy from Stanford and now McCoy has the Terps as one of the top Wrestling programs in … Read More »
This could only happen in horse racing. We could have a triple crown jockey. Sorry, Calvin Borel, you should have given Mine That Bird the mount in the Preakness. Even though Bird should easily win the Belmont, his record is blemished at the hands of his own favorite jockey.
This poor horse who only won the Derby and got parked out of a victory in the Preakness can't find a stable jockey. My suggestion: Edgar Prado for once and the future, There is no way I would let Borel back on this horse after he deserted him in the … Read More »
No filly has won the Preakness since 1924. Rachel Alexandra will not be able to run away from this field. She will be challenged early and not have the breezy run she had in the Oaks. The fast past up front will again play right into the Derby winner's hands, … Read More »
Terp Talk Thursday Night 5-14-09
Host–Bruce Posner Co Host –Dino
Guest– Dan Groot, Captain of Men's Lacrosse
Subjects—Men's and Women's Lacrosse in the NCAAs Against Syracuse, Preakness
Click here for Maryland Terp Talk
Maryland Lacrosse captain, Dan Groot,  is scheduled to call in tonight at 6PM. My Cohost Dino and myself will review last week games. Preview the Irony Doubleheader against Syracuse. We will also discuss Basketball recruiting and if we have time lay out our Preakness picks for Saturday. Listen in on … Read More »
Upset winner Mine That Bird might do the unthinkable and skip the 133rd Preakness. The owners and trainer of the winning  derby horse realize that his best race would be the Belmont , since Mine That Bird was bred for distance. Stay tuned!!