12 runs on 20 hits will usually get you a W—O's 12 A's 5—Tim Beckham 4 hits–no Home Runs
Buck not using Britton much
Bryce Harper injured his knee running strongly to 1B
"Minor League Box Office Sensation" Tim Tebow was beaned Saturday yet opted to stay in the game
T1 –
Kevin Kisner -8 -4 F 67 67 — — 134 T1 14
Hideki Matsuyama -8 -7 F 70 64 — — 134 3 12
Jason … Read More »
Great crowd for the exhibition helped out by tons of Redskins fans who had nothing to cheer about
You like that?
Listening to the now 100% Redskin Comcast coverage post I heard delusional praise for the efforts of the Skins
Ryan Mallett played a Trent Dilferish type half–no mistakes, some … Read More »
The Verizon Center has officially been re-branded as the "Capital One Arena". Dan Steinberg of the Washington Post broke the story first saying "Monumental will also announce a separate $40 investment in the privately owned arena, with the money going toward projects such as Monumental360 — a data-based effort to … Read More »
Rory Mcllroy    +520 Jordan Spieth    +675 Hideki Matsuyama    +900 Dustin Johnson    +1000 Rickie Fowler    +1200 Brooks Koepka    +2000 Jon Rahm    +2000 Jason Day    +2000 Justin Rose    +3000 Sergio Garcia    +3000 Adam Scott    +3000 Paul Casey    +3000 Justin Thomas    +3000 Henrik Stenson    +3500 Charley Hoffman    +3500 Thomas Pieters    +4500 Daniel Berger … Read More »
7 innings for Dylan–2 Runs–7 innings–10 Ks — 0 WALKS—105 pitches—now 11-8

Great play from Davis in 9th on Baltimore chop
Givens and Brach moped up in 8th and 9th
O's are now 56-56
Hellickson tomorrow
Ain't the Beer Cold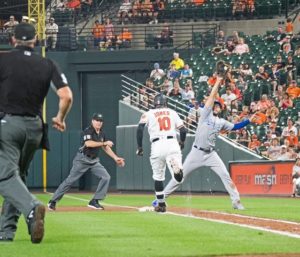 The Orioles have put themselves almost back into the playoff race. Here are a few photos from Dr. Jeffery Gaber at OPACY as Ubaldo carried the night. The bats awakened yesterday. The … Read More »
Something is wrong–drastically wrong with Chris. Probably his last start for a while–one would think.
Wonder what's going to happen with the Baltimore Ravens and quarterback Colin Kaepernick? So does Ravens coach John Harbaugh.
"I'm as anxious as everybody else to see how it plays out," Harbaugh said after practice Tuesday.
Harbaugh said nothing has changed on the team's quarterback front. The Ravens … Read More »
– Baltimore Ravens owner Steve Bisciotti said Sunday that the team is still deciding whether to sign controversial quarterback Colin Kaepernick.
"We're very sensitive to it, and we're monitoring it and we're still, as [general manager Ozzie Newsome] says, we're scrimmaging it," Bisciotti said at a fan forum with … Read More »