Some of the topics for this morning's show:
Coach Dave Pietramala calls in to discuss Johns Hopkins recent victories
Ravens #1 Free agency target: Dannell Ellerbe?
Orioles on a Spring Training roll
The Terrapins face another year not in the big dance
The Heat win #17 in a row
USA Loses to Mexico as RA Dickey gets lit up for 4 runs
Towson University to cut Baseball, Soccer programs
Tiger gets putting help from Stricks–Leads Doral by 2 shots
Brenda Frese ACC coach of the year for first time —Alyssa Thomas Named ACC POY
Hail to the redskins or goodbye to the redskins?  Should washington change the nickname of its NFL team?
Who ywill be the the Orioles 5th starter?  britton, arrieta, jurjens, matusz, bundy, johnson?
How do the lacrosse programs use their tv money and is it worth the tradeoff for being on tv with some strange, not so fan friendly start times …bottom line is about money.  far more money to play on tv than the money you make at the gate. which means better equipment, better training room, better medical and work out equipment for training, better food, better locker rooms, better support staff, you can expand your recruiting and the tv helps recruiting because kids like to be on tv. you miss the crowd and the atmosphere that comes with a good crowd. 
Shawne Merriman retires.  
Who will win the NCAA Tournament?
Some of the many topics on this morning's show:
Review of Maryland night at the Legends Museum
Updates on CJ Brown
Summary of MGN event at the Student union last night
Randy snatches Taivon Jacobs away from Ohio State in the final days
Terps face crucial road game at Virginia Tech at 9PM Thursday night
Terps loosen up and destroy Wake forest at home last Saturday
Brief summary of my Super Bowl experience
Omar Gonzales starts on defense for Team USA  
Greivis continues his torrid run through the NBA
Lacrosse season begins Tuesday at home vs Mt St Marys
An incredible victory concluded an incredible season for the Ravens. This is the story of Baltimore and how intertwined the Ravens and the city have become. In typical nail biting fashion the Ravens surviving.
What a way for Ray Lewis' career to end –a goal line stand to secure the victory. I thought Jim Harbaugh's play selection at 1st and goal from the 7 was horrendous. The mis direction runs had been unstoppablle all day yet 3 passes that were futile were attempted.
John had his team much more ready to play. The Ravens totally dominated through the 1st half and established a lead they were able to hold on to. However, I have never seen a game turn so fast after the lights went out. All of a sudden the 49ers mowed through the Ravens like they weren't there. A sack, a fumble by 27 tremendous running by Gore and Kaepernick brought the 49ers to the brink of victory.
A case could have been for Jacobi Jones as MVP. His TD catch and kickoff return created 2 scores that put the Ravens comfortably in the lead.
I have some great pics of the post game celebration that I will post when I return tomorrow.
Some of the unusual parts of the game
I loved the fake FG —from where I was sitting in the upper end zone it looked Tucker might have hesitated for a split second. 4th and 9 was a strange time for the call. Anyway no harm as the Ravens stiffened on d–got great field position and scored.
I still don't understand the 3rd and goal from the 1 for the Ravens. And you gotta love Joe's checkoff on 3rd and inches –thenthrowing a 50-50 to Anquan successfully.
As for the Terps–vernon 6 catches 104 yards but 1 drop of a tough pass–was his usual tremendous self. Torrey –2 catches but the threat was always there. SF doubled hoim most of the game.
Ray Rice 60 on 20. 4 catches for 19 yards–1 fumble but there wasnt much there as far as holes go.
While I am thinking about it, Joe Cool will always have the Ravens in contention but one thing I know. The first time he has a fair game and we lose the fans will be all over him. I'll say it and I mean–he is the man in the arena –he is 9-4 in the playoffs with 7 road wins. Baltimore has another great QB–I wouldn't trade him for anyone including Peyton, Brady, RG3, Colin, or Drew. He is the man and we are lucky —Much more tomorrow
This Super Bowl will forever be remembered for Deer Antler Spray. Why? Because this will be the straw that puts the Ravens on top. Imagine that someone criticized someone you love. Told half truths and intended to ruin their reputations. And then you have a chance to avenge the criticism. Listen Ray Rice, Torrey Smith, and too many more Ravens to mention worship 52. Deer antler spray.
I do believe that their will be many surprises tomorrow. The brothers will not enter this game with normality.
I have total faith in #5 vs a QB making his 10th start on the biggest stage?
99 and 55 are at full strength. Look for a stronger pass rush then the Ravens have had.
Maybe Frank Gore is the greatest running back ever? I doubt it. Brian Billick says our line will be mauled by SF. Remember thats the same Coach who cut Dilfer for Grbac and set the franchise back.
30,000 Raven lunatics will descend upon the Dome tomorrow. Listen for the O.
Jim is a much better coach then John. Why?
If the Ravens win, my surprise MVP is Torrey.
Who could spoil the dream—#85 formerly #18 at Maryland Vernon Davis.
Like my chances with Justin Tucker vs Akers.
What will Bernard Pollard do? Ed Reed? Pich me because I still can't believe the Ravens are here.
Baltimore needs and wants this one in the worst way.
Got to run –going to see Snoop Dogg at midnight at the House of Blues.
I will be on Twitter all day tomorrow until my battery runs out. @terptalk
Deer Antler Spray!!!!!!!!
Some of the topics for Saturday morning's show:
The Ravens are going to the Super Bowl—-thorough review of Patriots game
What a difference a 4 weeks made for the Ravens
Key game of the season—redskins defeat the Ravens—then the dominoes fellinto place
Pat Joe Flacco his money already
Anquan–sign him or let him go
Scramble for Super Bowl tickets
Revis island leaving New York?
Tremendous crowd at fan fest
NFL fines Brady $10K for sliding kick ar Ed Reed
Anna "Miss Hooters International" apologizes to Ray Lewis
Ray's last game –the legacy he leaves
Why does everyone in the country dislike the Ravens?
Tribute to Earl Weaver
Did Dwight Howard ruin the lakers?
How has Monte Te'os status for the draft been effected
Orioles ticket sales through the roof
Synergy of O's, Ravens Michael Phelps
Some of the many topics for this morning's show:
Preview of Terps and Duke for Saturday afternoon at 1
Terps move to 3-3 ater win over BC
Coach Turgeon responds to my question about the team's slow starts
How the Redskins Victory catapulted the Ravens into the Super Bowl
Duke pummeled by the U 90-63
2 potential Stars of the Super Bowl –Torrey and Vernon Davis
Terps fall to Navy in Spectacular wrestling match
Women's Basketball squad defeats NC State and Georgia Tech–to face Carolina tonight at 8:30
terps shut out Howard 7-0 in 1st Tennis match of the season
Scramble for Super Bowl tickets
There is something to be gained from watching football at ground level, especially from the end zone behind the offense as a play unfolds. What you see, mostly, is how difficult the game is, how fast it moves, and how singularly challenging it is to play quarterback, out of all the positions in sports. With less than a minute to go in regulation of last Saturday's AFC divisional playoff round in Denver, facing third-and-three at his own 30 yard line with no timeouts left, and trailing the Broncos 35–28, Ravens quarterback Joe Flacco picked himself up following a seven-yard scramble and listened to the play call from offensive coordinator Jim Caldwell. "Scat Right 99," Caldwell said.
Four verticals, Flacco thought. Four receivers — two right, two left — running go routes, with Ray Rice trolling underneath as the safety valve out of the backfield. Not much time to think. Flacco knew that Rice would be open; he's always open. But he also knew he had reached the moment of truth in Baltimore's season, and it was not a time to think about safety valves. He was thinking, I hope one of my guys gets one step ahead of one of their corners.
In the seconds before the snap, the crowd sounded frenetic in the -2° wind chill. Broncos defenders ran about, pointing and arranging coverage. No such frantic movement from Flacco, though. Standing alone at the 25, waiting for the shotgun snap, he may have been the calmest guy in the place.
"You better have guts to play the quarterback position," Flacco's backup, Tyrod Taylor, said afterward. "In the middle of everything going on out there, you better not be afraid. You'll fail."
There has always been a calm about Flacco. Calm in the face of criticism that he's a B-minus quarterback, and in the face of -incredulity — both inside and outside the Ravens' -organization — over his turning down a big-money extension entering this season, the final year of his contract. Calm in the big moments of violent games against the archrival Steelers, and in practices when the mouthy Ravens defense never shuts up. That's what Baltimore's coaches and players noticed when he got to his first training camp in 2008. In one of Flacco's first padded practices, Ray Lewis crept close to the line and began shouting out distracting phony signals. The QB stood behind center, lips sealed, waiting for Lewis to shut up, as if to say, Are you quite finished? Then Flacco ran his play. "Around here," former offensive coordinator Cam Cameron said that afternoon, "the days when the defense pushes around the offense are over."
Flacco has had more than a few good moments in the subsequent five seasons. Would you be surprised to know that at 61-30 — four wins better than Aaron Rodgers — he's the winningest quarterback since 2008, when he entered the NFL? That he's started all 91 games, including playoffs, from the day he was drafted? That he's the only passer in NFL history to win a postseason game in each of his first five seasons? Because Flacco's numbers are pedestrian — he's never had a 4,000-yard season or a passer rating above 94.0 — Football Nation thinks he's just another guy. Not that he cares. Says center Matt Birk, "When you talk about Joe's accomplishments, I can promise you he's the least impressed with them."
But in a just-move-the-chains-baby league, Flacco's inarguably the best deep-ball thrower in football now. Through 18 games this year, including the playoffs, Pro Football Focus charts him as having the most completions that travel at least 20 yards past the line of scrimmage (44), the most yards on 20-plus-yard throws (1,442) and the most touchdowns on those deep strikes (15). And of his 105 long attempts this year, zero have been intercepted. Consider all that when taking in Flacco's Saturday cool.
Walking out of the tunnel before the game, Lewis tapped him on the shoulder pads.
"You're our general now," said the retiring one. "Lead us. Lead us!"
—
Forty-one seconds to go. "I wasn't happy with a few of my decisions earlier in the game," says Flacco. "A couple of times, I found myself thinking, Damn Joe! What are you doing?" Now the Ravens were set in the four-across formation: Torrey Smith and Jacoby Jones as the outside speed guys; trusted veteran Anquan Boldin and tight end Dennis Pitta inside. Flacco saw Denver would be rushing three, with a linebacker to his left covering Rice and seven men deep in coverage. Three safeties sat at least 15 yards behind the line of scrimmage, fanned out for all contingencies. The free safety wide to Flacco's right, Rahim Moore, was a couple of yards shallower than the safety aligned in the middle.
Veteran center Matt Birk snapped to Flacco, and chaos ensued.
From a vantage point 35 yards directly behind where Flacco received the snap, you could see defensive end Elvis Dumervil whiz by left tackle Bryant McKinnie. While stepping up to avoid Dumervil, Flacco stared downfield, hoping to find a receiver who'd gained an edge on his cover man. Now defensive end Robert Ayers burrowed in toward Flacco, and the quarterback wriggled away from Ayers's pressure, still scanning the secondary. From field level the mosaic was difficult to read, just as it was for the desperate QB in the busy pocket. But there was Rice, free for the first down.
Some quarterbacks put off the big shot. Some would think it better to take the sure thing — to be within 60 yards with a fresh set of downs — than risk it all for a prayer thrown into double coverage.
"I knew I had Ray," says Flacco. "But when you've got 40 seconds left, no timeouts, and you're 70 yards away, you can't think about the first down. You've got to think about taking shots. Five yards? That's a waste; not worth the time. When I looked down the right side, I saw Jacoby with a step on his guy, and I saw the safety [Moore] sort of leveled off, slow coming over. That was my shot."
"The safety did a bad job tracking that ball," says Taylor, Flacco's locker room neighbor in Denver on Saturday. "You could see he was out of position."
Indeed, Moore had stared too long into the backfield instead of backpedaling into position to help corner Tony Carter. By the time Flacco set to throw at the 25, he knew he had to take the deep shot, a play that would match for pressure and downfield traffic the impossible pass that Eli Manning heaved down the left side to Mario Manningham in the Super Bowl last year. There is a flash of purple uniform slightly behind the corner, and the safety is spotted a second late in moving into coverage. From field level it is a murky mess with no certainty. Just a gut feeling.
"And some luck," says Flacco. As he wound up, linebacker Von Miller, the last threat to disrupt the throw, lunged at the QB, but he got pushed off track by Birk. "I had a chance to hit his arm and swat the ball," says Miller, "but I jumped too early and misjudged it." By that time, Flacco was in full throwing motion.
Says Jones, who caught only 30 passes all year, "All I could think of was, Joe might actually throw me this ball."
"The ball's in the air, and the safety's late coming over," adds Birk, "and I'm saying, Oh, my God! It's got a chance!"
—-
Why wouldn't Flacco be confident as the play developed? One thing Lewis had harped on to his teammates — he is Baltimore's unofficial speechmaker, often making more than one a week — is that they had to treat Saturday's game against a heavily favored top seed as David versus Goliath. Don't just compete in a slow-and-steady way; come out attacking. To an outside observer it made no sense that Flacco would go after celebrated cornerback Champ Bailey — the three-time All-Pro had given up only three completions of 20 yards or longer all season, playing man-up against the likes of A.J. Green, Vincent Jackson and Andre -Johnson — but twice in the first half Flacco laid in perfect throws to Torrey Smith, for 59 and 32 yards, that went for touchdowns, both against Bailey. In total, the corner was targeted seven times and torched for five receptions, 128 yards and the two scores, by far his worst game of the season.
But because Peyton Manning had played passably and because the usually top-notch Baltimore special teams had allowed Denver's Trindon Holliday to return a punt and a kickoff for touchdowns, the Ravens found themselves down 35-28, with the ball at the Baltimore 23 and 69 seconds to go. On first down Flacco just missed Pitta about 18 yards up the right side, and he scrambled for seven yards on second. Now it was time, as the clock ticked down on the Ravens' season.
0:40 . . . 0:39 . . . 0:38. . . .
—-
Miller's lunge had forced the trajectory of Flacco's throw higher than usual, and the ball hung up in the night air. Carter slowed for no apparent reason; Jones began tracking the pass on its cross-stadium flight; and Moore sprinted into the fray. The ball landed in Jones's arms as Moore desperately and awkwardly flailed for it, having timed his leap, cruelly — and familiarly, to any athlete — a moment too soon. Flacco had covered 55 yards in the air, from his 25 to the Broncos' 20, and all you could see from the opposite end zone, 90 yards away, was one vivid image: Directly in the sight line between the end zone and the catch that will live in Baltimore sports history was Broncos safety Jim Leonhard, a former Raven, dropping suddenly to a crouch as if he'd been hit in the head with a two-by-four.
When Jones returned to the Baltimore sideline, after hugging everyone in sight, he looked into Flacco's eyes and screamed, "Smokin' Joe!"
it wasn't over. "I couldn't feel my face," says Birk, "but that was OK. We were still playing [overtime] — and Joe was moving us. Do you know how hard it is to throw in negative wind chill?"
Nonetheless, Flacco had one more play to make. Third-and-13 from the Baltimore three, six minutes left in the first OT. The crowd — -amazingly, there were just 129 no-shows among a freezing throng of 76,732, and it looked as if no one had left — sensed the Broncos could win it with one more defensive stop, a Baltimore punt from deep in its territory, and a first down or two to get Denver into field goal range. Flacco sent Pitta up the right seam and threw a perfect high ball that Pitta caught over Leonhard. Gain of 24. Talking later, Flacco seemed as proud of that throw as the long TD. "It was big," he said, "because we were able to flip the field." Big is an understatement. After the Ravens eventually punted, Denver took over at its own seven . . . and three minutes later Manning threw his worst pass since the Tracy Porter pick in Super Bowl XLIV three years ago.
That was it. The Ravens sealed the deal on Justin Tucker's 47 yard field goal in the second minute of the sixth quarter of the fourth-longest game in NFL -history — a four-hour, 11-minute classic. Baltimore 38, Denver 35.
"Awesome. Awesome. Awesome. Awesome," said Lewis.
The win, yes. But Flacco's January poise too. The Ravens advance to play in their second straight AFC title game at Gillette Stadium on Sunday, 364 days after the still painful first one, in which Flacco outplayed Tom Brady but lost on a dropped TD and a missed field goal. In his last three playoff games — that one in Foxboro and the two played this month, against the Colts and the Broncos — Flacco has thrown for 919 yards with seven touchdowns and one interception.
"Will people finally buy how good this guy is?" asks coach John Harbaugh. "I mean, we love him."
That crowd is growing.
Read More: http://sportsillustrated.cnn.com/nfl/news/20130117/joe-flacco/#ixzz2IIlx6wip
Some of the many topics tonight:
Thorough review of 51-50 Terrapin Victory with Keith Cavanaugh
Recruiting updates with Keith
Keith as well
Max Grossfield sits in as Co Host tonight
FCA Chair Mark Stephens calls in to to talk about Terrapin involvement with the FCA, Ray Lewis' scripture references and the March 4th event with Ravens Head Coach John Harbaugh
Women's lacrosse Coach Cathy Reese calls in to preview 2013 season
Greivis Continues to shine in the NBA
Discussion of upgrades in game day experience at Comcast–Stub Hub effects, Heritage Hall
Alyssa Thomas named ACC player of the Week
Preview of Ravens New England
Belichick on Torrey Smith
Sometimes there are pivotal moments in a franchise's history. Last Sunday many people asked me why I wasn't so upset when we lost to the Steelers.  My response was that no Ravens loss could ever equal the way I felt when Evans dropped the ball against the Patriots. After that everything is secondary. The Ravens will make the playoffs this year and have a chance to get to the promised land so a few losses won't destroy the hope.
Here's my worry. Often a team is about to reach a pinnacle and then something strange happens. Buffalo's Scott Norwood missed a FG against the Giants that would have won the Title—Bills have long since vanished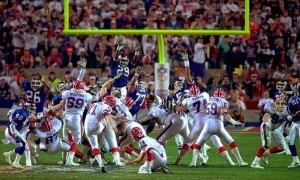 Jeffrey Maier stole a victory from the O's in the playoffs and the O's never recovered and still haven't really.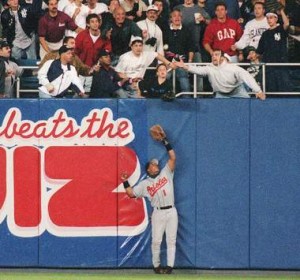 The Caps still can't get over the hump after being an elite regular season team year after year. The list of near misses is endless. So now Evans drops Flacco's pass and then Cundiff shanks a FG a high schooler could make. It lingers on –it doesn't go away. The same Cam Cameron who was a drop away from engineering the Ravens offense into a stunning upset over clearly the best QB in the past 2 decades–is scapegoated after a 9-4 start. The Ravens suddenly look thin across the lines and some of the magic has vanished. Without Ray and Suggs the defense appears leaderless, surviving only on vicious hitting and Haloti Ngata.
Fans and press alike have been blaming Cam for everything wrong with the offense for years. Look, I hope Joe comes out and throws for 400 and 5 TDs on Sunday and we can look at the move and understand. But I doubt that will happen.
Sunday presents itself as a true Judgment day for every player on this team. It's time to step up and save the suddenly downward spiral.
We all know what will make us forget about 'A Drop and a Shank."
"Hey diddle diddle Ray Rice (Lydell Mitchell) up the middle"
All year the Ravens will throw a 5 yard pass on 3 and 7, etc but a 1 yard pass on 4th and 29. But we are fortunate to have a super quality guy in #27. It was virtually hopeless as Ray started his cross field journey to 1st down. A key block by Boldin got Ray what we needed for the first.
Torrey was back in the 2nd half finishing the day with 7 catches for 144 yards. Jacoby Jones redeemed himself for a so so return day, and a first half drop, by catching 5 balls down the wire.
Justin Tucker split the uprights on both the tiring and winning Field Goals.
Dan Fouts was pathetic on the CBS crew. Homerism to the max.
Offensively the ravens were pathetic in the 1st half. No turnovers but thats it.
I just can't remember a more improbable situation that turned out so well for the Ravens. 4th and 29 is just impossible. the San Diego fans were in shock but some were probably happy as this loss could signal the end of Norv Turner and GM AJ Smith.
A few questionable coaching decisions:
4th and one, down 10-3 —the Ravens ran a short running play that started 4 yards behind the line of scrimmage and failed. A FG would have made the score 10-6 and probably would have removed some of the drama of the game.
When the Ravens received the 1st down after the 4th and 29, they sort of just settled for 3 even though there was 1:25 left.
Much more on this game tomorrow night.
Some of the topics for today's show:
Terps move to the Big 10
Review of Ravens Steelers Game with Dennis
Preview of ravens San Diego
The absurdity of the ED Reed fine
Preview of USC—Notre Dame Game
NFL Predictions
Hector Camacho Announced as Brain Dead
Jack Taylor scores 138 for Grinnell College
Some topics for today's show:
Why I fear a collapse could happen to the Ravens
I am not so sure we will see  shot clock in Lacrosse this year
Jay Cutler is the most disliked man in the NFL
Why in the world is the NCAA taking so long in deciding the fate of Dez Wells for 2012-2013
David Stern decides to step down on Feb 1, 2014—one of the most successful Commissioners in sports history
Buck Showalter named Sporting News Manager of the Year
A Football Life—Eddie DeBartolo—Must Watch the Greatest Owner in Football History (5 Super Bowls)
If I was an NFL player , I wouldn't trust Tagliabue either
Islanders to move to Brookyn in 2015
The Arod saga continues to dominate New York talk radio
Emanuel Steward, revered as one of the best trainers in boxing history and whose Kronk Gym symbolized Detroit's gritty, blue-collar boxing scene and produced numerous world champions, died Thursday after a short illness. He was 68.
Tim Tebow named most overrated player in the NFL
Andrew Wiggins #1 Recruit in the NCAA–6'7″ from Canada—Kentucky, FSU , Carolina or Kansas
Indiana tops the Associated Press' preseason Top 25, it was announced Friday.The Big Ten has three teams in the top 5. The rest of the top 10 teams are: Louisville, Kentucky, Ohio State,Michigan, North Carolina State, Kansas, Duke, Syracuse and Florida.  The Hoosiers were picked to win the Big Ten in a poll of the coaches, the conference announced Thursday at its annual media day in Rosemont. Sophomore forward Cody Zeller was named preseason player of the year.
QB problems at Maryland
Marquis College Games today—–OSU at Penn State        Notre Dame at Oklahoma    Duke at FSU    Florida at Georgia