In the span of about 20 minutes, the Stevenson men's lacrosse team went from easy winner to chagrined loser to eventual victor.
The No. 4 Mustangs gave up a three-goal halftime advantage, trailed by three after the third quarter, and opened the fourth frame with a five-goal run to outlast No. 3 Rochester Institute of Technology, 16-14, in an NCAA tournament final at Lincoln Financial Field on Sunday.
An announced attendance of 22,511 witnessed Stevenson extend a single season-record in wins to 22 – the team's 11th in a row – in 24 contests and bring the university its first national championship in any sport.
The Mustangs became just the eighth team to capture the NCAA crown in the 34-year history of the NCAA tournament. They also joined Salisbury and Washington College as the third program from Maryland to seize the title.
Sophomore attackman Mark Pannenton scored a team-high five goals and was named the Most Outstanding Player. Senior midfielder Nick Rossi contributed two goals and two assists, senior midfielder Peter Green posted a hat trick, and freshman goalkeeper Dimitri Pecunes finished with a game-high 15 saves – including 10 in the second half.
Sophomore midfielder Kyle Aquin led the Tigers (19-3) with seven goals – the most in a championship final since Salisbury midfielder Sam Bradman scored seven in that team's 19-7 rout of Tufts in 2011. Sophomore attackman Eddie Kiesa added six points on two goals and four assists. from inside lacrosse.com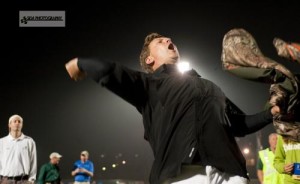 I truly believed on Wednesday that this Stevenson team seemed to be on a mission to get to Championship weekend and nothing was going to stop them. Let's just go through a few of the key players:
Chris Dashiell and Tyler Reid each scored 3 goals for the Mustangs.
The energy of #28 Pat Candon was contagious on the team. Candon finished with 1g and 1 assist
Once again Brent Hiken and Sam Wyatt controlled the X position winning 13 of 20.
When it seemed like Salisbury might make a run at the start of the 2nd half, goalie Dmitri Pecunes stepped up and made a series of stellar saves and never let Salisbury creep back into the game.
Stevenson jumped out to a 5-1 1st quarter start and led 9-3 at halftime.
Congrats to head coach Paul Cantabene, AD Brent Adams, and Stevenson in general for a tremendous victory.
What a super performance by the Mustangs tonight in their impressive Owings Mills Complex. Stevenson got out of the gate early and closed the 1st quarter with a 5-1 lead. Stevenson dominated the X position (Brent Hiken and Sam Wyatt) and the groundball contest. Mark Pannenton scored 3 goals and Senior middie Peter Green added 2 goals and 2 assists.  Freshman goalie Dmitri Pecunes (Calvert Hall) was outstanding in the nets for the Mustangs. Stevenson will face defending Champion Salisbury Sunday night at 7PM for the right to go to Philadelphia and play for the DIII NCAA Title.
Stevenson men's lacrosse sophomore Michael Crowe(Arlington, Va./Yorktown) scored his 12th goal of the season 1:17 into overtime as the No. 5 Mustangs defeated No. 8 Lynchburg 12-11 Saturday night at Mustang Stadium. Lynchburg trailed 11-7 with 2 minutes remaining and proceeded to score 4 goals to tie the game at 11 in regulation. Ten different players scored for #5 Stevenson who improved its record to 9-1. What a tremendous venue to watch a game.
The story for tonight's game is  how impressed I was with the new facility at Steveson. First of all it's only about 5 minutes from my house. Parking couldn't be much easier. The facility is beyond belief–I labeled it the Best D3 Facility in the world.  The seats for the fans are a high pitch so the person in front of you could be 6'5 and it wouldn't matter. The whole setting is serene. 
Coach Paul Cantabene has reloaded quickly as he had to replace 8 All Americas and the finest D3 attack in the country. So far so good although Widener was no match for the Mustangs tonight. The venue is so accessible and the lacrosse is at an extremely high level. Add beautiful weather and it was a perfect night.
I ran into Mary Clare McFadden at the game who reported to me that her daughter Caitlyn (2010 Tewaaraton Award Winner for the Terps) is loving life down in Florida where she is the Assistant Lady's Lacrosse Coach for the Gators.