Game 1—6 rushes 29 yards
Game 2 –2 rushes 11 yards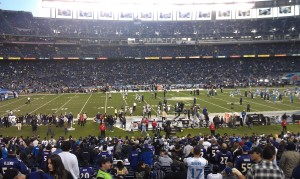 Some random thoughts of the worst and most disappointing Ravens loss in recent memory:
In my discussions with Joe Platanis on the Sports Maven on Saturday, I told him I was concerned that the Ravens offense was just too predictable. We shout out that #27 is going to get 25-30 touches and what happened yesterday was bound to happen.
Brad Jackson on Comcast said that when we were down 24-7 in the 3rd quarter we should not have abandoned the run. Was he watching the same game I was. The Ravens could not stop Rivers no matter what they tried. Were we supposed to grind out out a 7 minutes drive 3 times when we couldn't stop the Chargers. Ridiculous.
The Ravens offense has been horrible since the return of Lee Evans. Can he ever get open? Now Flacco isn't looking for Torrey or Bouldin as much. If I see one more check down to Ray Rice, I might puke. How could you never try to go deep to Torrey all night? How could Bouldin only be thrown to 3 times. Joe just cannot get into a shootout on the road.
Why did we keep blitzing when Rivers was picking us apart? Zero sacks. Is it that easy to score on the Ravens. Stop Suggs and the rush is dead.
I am worried about the health of Ed Reed. Everytime he makes a tackle, it looks like he is in tremendous pain.Is it his neck? No game is ever worth him getting seriously injured.
Cundiff has turned horrible. All confidence is just about gone. If he is hurt and believe that he is, bring in Shayne Graham and take your chances. You can not win if you miss 35 yard field goals. Cundiff is still valuable as a kickoff specialist.
Jared Gaither has helped turn this team around. It's a shame the Ravens couldn't wait until Jared straightened himself out. Yes, it was great that he said Go Terps when introducing himself. The Ravens did give him every chance possible.
Speaking of Terps in the NFL—–I was home watching football all day and every time I looked at the screen another Terps was in a critical role. How could we not have won.
     Torrey–6 catches 77 yards 1 TD
     Darrius Heyward Bey–8 catches 155 yards 1 TD for Oakland
     Lance Ball –35 yard touch down run for Denver–(Yes and 1 crucial fumble)
     Josh Wilson—key interception and goal line tackle for the Skins
     Shaun Hill –still backup QB fo rtheLions
     Nick Novak —FG kicker for the Chargers
     Vernon Davis–hopefully he will help beat the Steelers tomorrow
Ok now that I have vented let us not forget that for the 4th year in a row, the Ravens have made the playoffs. But unfortunately for the 4th year in a row our path to the Super Bowl will probably be 3 games on the road—Denver or Diego—then probably Pittsburgh–then probably New England. Not a great path. Don'y buy your air tickets to INDY yet.
As predicted, there were 9-10,000 Ravens fans in attendance at the game. That's the gamble when you see your team on the road—it's a long way home!!!!
Phil Rivers never defeated Maryland when he was QB at NC State. And before last night, he had never beat the Ravens. Payback was hell!!!!
I just watched a few minutes of the Chargers game today and heard nothing but praise for the efforts of the former Raven and Terrapin. Guess who the Ravens play next week?