Men's Outdoor Track & Field will continue at the University of Maryland, director of athletics Kevin Anderson announced Tuesday. Private donations provided to the `Save Our Sports' fundraising effort will allow men's outdoor track to continue for the next two years prior to the transition to the Big Ten Conference … Read More »
Funding has been raised for men's outdoor track and field to reach its first benchmark goal, but seven other sports have been discontinued at the University of Maryland, athletics director Kevin Anderson announced Monday. According to a plan detailed early in the spring, men's track and field will compete with 14 … Read More »
Three-time All-American Kiani Profit, who finished her eligibility at the University of Maryland with a trip to the NCAA Outdoor Championships earlier this month, will compete in the heptathlon at the U.S. Olympic Trials on Friday and Saturday.
Profit, who hails from Pasadena, Calif., is part of a strong field … Read More »
Maryland senior Kiani Profit was second in the heptathlon 800-meter run Friday in 2:10.71 and finished ninth overall in the two-day competition at the NCAA Division I Outdoor Track & Field Championships hosted by Drake University.
Profit scored 5,625 points in the event to finish ninth overall in an outstanding field. … Read More »
This is the weekend every NCAA Division I track and field coach and student-athlete have been pointing toward all year.
According to Maryland head coach Andrew Valmon, the final rounds of the NCAA Outdoor Track & Field Championships are the product of successful careers for seniors Kiani Profit and Zack Ray, … Read More »
Maryland junior Dwight Barbiasz finished fifth in the high jump at the 2011 NCAA Outdoor Track and Field Championships at Drake Stadium. Barbiasz cleared 7-2 ½ (2.20m) to garner four points for Maryland in the championships. The Milford, N.H., native cruised through his first four jumps. He needed only … Read More »
When Dwight Barbiasz lines up for his first jump this Friday at the NCAA Outdoor Championships, he will have someone in his corner who has been there before.  Barbiasz will be joined by assistant coach Frank Costello, a former two-time All-American in the high jump as a Terp … Read More »
Kristen Batts made the most of her final throw of the women's discus competition Thursday, capturing the individual championship to become the first winner of the Atlantic Coast Conference Outdoor Track and Field Championships being hosted by Duke University. Batts, a Terrapin senior, had a mark of 160 feet, 11 inches … Read More »
Kiani Profit crushed her own school record in the pentathlon and set a NCAA event record on the way to a tie for second place in the multi-event Friday at the NCAA Indoor Track and Field Championships being hosted by Texas A&M. Profit scored 4,396 points over the five events to … Read More »
Kiani Profit and Dwight Barbiasz will represent the University of Maryland this weekend at the 2011 NCAA Indoor Track and Field Championships hosted by Texas A&M University  Profit and Barbiasz won their respective events two weeks ago at the Atlantic Coast Conference Indoor Championships. Profit set a … Read More »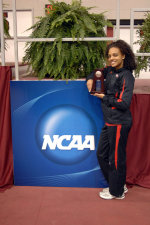 University of Maryland All-American Kiani Profit added an international victory to her impressive list of accomplishments Sunday when she won the heptathlon at the North America-Central-America-Caribbean Under-23 Championships.  Competing for Team USA, Profit scored 5,576 points to win, … Read More »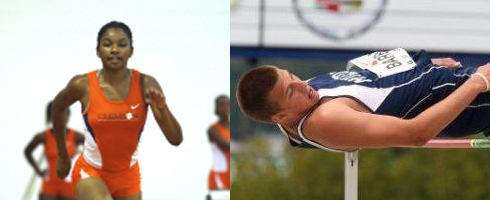 Maryland sophomore Dwight Barbiasz and Clemson junior April Sinkler were named Atlantic Coast Conference Men's and Women's Indoor Track and Field Performer of the Week, respectively, for the period ending January 17.  Barbiasz provisionally qualified for … Read More »