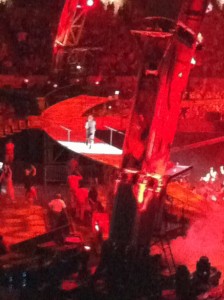 Some comments on the concert tonight:
This is my 2nd U2 Concert and the M&T Bank experience kills the Fed Ex Field one—no backups getting in—I was home by 11:30 instead of 2:30
Was it me or was the opening act incredibly boring?
The 4 million dollar stage eliminates bad seats at a concert.
Where did everyone park? the industrial side of M&T was virtually empty of cars
$11 for a 24 oz can of beer–wonder what the markup is?
Hard to believe many stands ran out of $40 Tshirts. Should I repeat that?
It's a Beautiful Day , Walk on, Mysterious Ways, Sunday, Bloody Sunday—A+ performances
The Turgeon buzz is everywhere. No matter where I go the questions are about Maryland Basketball recruiting!!!!
First trip back to M&T since loss to UVA. Still stings.
It was hot and muggy but compared to Lax Title Game it was like a winter snowstorm
Still lamenting missing the Boss at the Civic Center
I journeyed along with 100,000 others to Landover last night to catch U2 for the first time. Some of my comments
Most incredible staging of a show I have seen.
Amazing how 4 guys can generate such great music.
Bono's voice and showmanship were great. Edge –awesome
Just sorry I didnt know any of the new songs.
My last trip to FedEx unless Maryland or the Ravens are playing.
U2 was great but there is definitely an East Coast bias towards the Boss.
By the way tickets for the Boss in Baltimore might just be the hottest in the country right now.