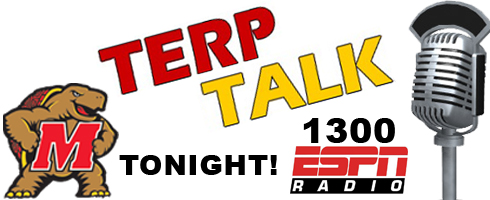 Big night for Terp Talk tonight. There should be a major breaking story that we will cover, as well as the performance of the Hawk and PeShon Howard at the High School Invitational at Coppin.  We will preview the Final Four matchups and certainly preview the UVA Maryland lacrosse game scheduled for Sturday night.Dino will back in the house tonight. Click the Listen Live button on the site or go to espn1300.com. Email any thoughts or questions to bposner7@gmail.com or call in tonight at 1-866-950-5225.
It's only an exhibition game but every Terrapin fan greatly anticipates tonight's game.  My guess for the  starting lineup will be Bowie, Greivis, Sean Mosley, Landon, and Dino at the 5. I would not be shocked if Gary starts Eric Hayes over Adrian Bowie, simply because Eric is a Senior. I am sure that Freshmen James Padgett and Jordan Williams will each get significant PT tonight. I certainly will be at the game tonight and probably will be blogging live. This Thursday on Terp Talk we will have a bloggers preview of the 2009-10 Basketball team. I have invited fellow bloggers Scott Harris (Shell Games) and Chris Stoner (Baltimore Sports and Life) to the studio.
Darvin Moon , a logger from Oakland, Md has parleyed a $30 buy in to a chance to win more then 9 million at the WSOP Final table in November. He will be calling in the show Thursday night. Matt Levinson and Dino will be in to co-host on Thursday.  We will begin to preview the Terrapin football season and discuss what constitutes Terrapin Nation. Listen in on the web by clicking Listen live. Email any questions to bruce@terptalk.com. Call in the show at 1-866-950-5225.
Terp Talk Thursday Night 7-09-09
Host–Bruce Posner CoHost–Dino Guests Baseball Coach Eric Bakich, Frank Urso, Steve Krulevitz
Subjects—Maryland Baseball, 73 and 75 NCAA Lacrosse Titles
Because of the increased emails I have been receiving, I might begin an email segment on the show. Please send any questions you have to  myself or this week's co-host Dino to answer to bruce@terptalk.com
Thursday night at 6PM EST we will air a replay of the April 30, 2009 show that featured Montrose Coach Stu Vetter talking about recent Maryland verbal commit, Terrence Ross and an interview with Caitlyn Mcfadden, Maryland lacrosse star. Listen live on ESPN 1300 AM or listen in on the site by clicking listen live. The show is streamed on TerpTalk.com.
Terp Talk Show –Aired Thursday April 23, 2009 on ESPN 1300 Radio
Host: Bruce Posner Co-Host: Dino Guests Don Brown Matt Zenitz
Subjects—Recruitment of Lance Stephenson –Basketball recruits, Lacrosse, Braxton Leaves, Terps in the Draft, NFL Draft, Don Brown, Defensive Coordinator
Click here for Maryland Terp Talk
Because I was on the air at ESPN tonight , I missed the Maryland Basketball awards banquet. Testudo times reports of the sharing of the MVP award between Dave Neal and Greivis and they believe Greivis should have been the sole winner. There is no dispute that as Greivis went so did the Terps. Dave Neal provided an integral role in many of the victories but it was Greivis who was the straw that stirred the drink. In the major win of the season Greivis scored a triple double against the eventual NCAA Champs. Perhaps the proper title for Dave Neal should have been Unsung Hero, because night in and night out Dave surprised us all and was an inspiration to the team, but I can certainly live with the sharing of the MVP award.
When I was out in Kansas City for rounds one and two of the NCAA, all the talk was about 2 players the incomparable Blake Griffin and the irascible Greivis Vasquez. Greivis is a passionate, fiery, confident, and yes cocky  basketball player. He is exciting to watch, a pleasure to coach (ask Gary) and will always bring success to whatever team he plays for. VIVA VASQUEZ!!!!