Here my thoughts on the significance of the Penn State victory  and the Controversial hand shaking incident
What lies ahead for Terrapin football after epic win
Recorded interviews with Melo Trimble, Richaud Pack, and Dion Wiley after Saturday's scrimmage
Field Hockey Clinches Outright Regular season title in Big 10
Soccer needs win at Rutgers tonight to win Regular season title
Matt Rambo indefinitely suspended from Lacrosse squad
Interview with Terrapin legend Michele Uhlfelder regarding her recent induction to the National Lacrosse Hall of Fame
- Maryland sophomore midfielder Taylor Cummings has been named the Honda Sports Award winner for women's lacrosse, announced by Chris Voelz, executive director of THE Collegiate Women Sports Awards (CWSA) Thursday.
Cummings is the 2014 Tewaaraton Award winner and a two-time IWLCA first-team All-American. She is the first female sophomore to ever win the Tewaaraton. A product of Ellicott City, Md., she helped Maryland earn a national championship and led the Terrapins in goals scored (63), draw controls (128), ground balls (37) and caused turnovers (30).
"I am so honored and humbled to win the prestigious Honda Award," Cummings said. "I want to thank my coaches and teammates for an amazing season and for helping me continue to grow both as a student-athlete and as a person. The future is bright for Maryland women's lacrosse and I feel incredibly blessed to be a part of it."
A U.S. Women's National Team member, she earned All-ACC honors for a second time and was named to the ACC All-Tournament Team after Maryland captured its sixth consecutive conference title. Additionally, she was named the NCAA Championship Most Valuable Player after her performance in the final four.
from umterps.com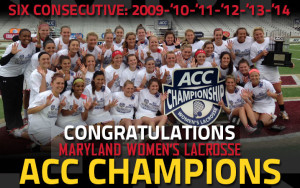 Absolutely incredible job by Coach Cathy Reese in preparing her team for the physical onslaught from Syracuse. The Terps kept their composure and thoroughly dominated the game. Taylor Cummings controlled most of the draws and thus the Terps played at their pace.Brooke Griffin was named Tournament MVP.
Audio from Taylor Cummings 
from umterps.com
Top-seeded Maryland capped an illustrious conference tenure with a spectacular 13-7 win against No. 2 seed Syracuse to win its sixth-straight Atlantic Coast Conference Women's Lacrosse Championship Sunday at Alumni Stadium.
ACC Championship Most Valuable Player Brooke Griffin finished the day with three goals and two assists and registered a staggering 15 points in three games during the tournament. Taylor Cummings posted a hat trick and Kelly McPartland recorded five points on two goals and three assists as Maryland moved to 19-1 in 2014.
Maryland utilized a decisive 10-3 advantage in the draw – led by five from Cummings – to amass a 7-5 lead through 30 minutes of play. After totaling a tourney-record seven goals in the semifinals against Virginia Friday, Griffin picked up right where she left off against the Cavaliers, putting the Terps on the board with the first two scores of the game at 27:24 and 23:13.
CHESTNUT HILL, Mass. – For the second straight game, sophomore Halle Majorana posted four goals as top-seeded Maryland defeated Virginia Tech 14-9 in the quarterfinals of the Atlantic Coast Conference Women's Lacrosse Championship Thursday at Alumni Stadium.
The Terps (17-1) picked up scoring from seven different players. In addition to Majorana, Taylor Cummings (3g), Zoe Stukenberg (2g) and Beth Glaros (2g) notched multiple goals for the Terps, who beat Virginia Tech for the second straight game after topping the Hokies 22-12 last Saturday in College Park. Kelly McPartland, Erin Collins and Kristen Lamon also scored for Maryland.
Maryland freshman right-hander Mike Shawaryn struck out a career-high nine and Tim Lewis came through with a clutch RBI single in the eighth to lead the Terps past No. 25 Georgia Tech, 4-1, Saturday afternoon at Bob "Turtle" Smith Stadium to clinch the series.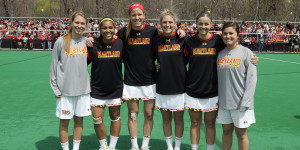 The No. 1 Maryland women's lacrosse team topped Virginia Tech 22-12 Saturday at the Field Hockey & Lacrosse Complex to earn the top seed in the upcoming ACC Championship.
Maryland (16-1, 6-1 ACC) wrapped up a share of the regular season conference title and will battle for a sixth-straight tournament championship when the ACC Women's Lacrosse Championship begins next Thursday at Boston College. Senior Beth Glaros led the Terps with five goals as Maryland honored its six-member senior class prior to first draw. Sophomore Halle Majorana posted a career day with four goals. Brooke Griffin added four goals and Kelly McPartland and Taylor Cummings chipped in with two each.
 Brooke Griffin netted five goals to lift the No. 2 Maryland women's lacrosse team to a 13-8 victory against No. 18 Virginia Sunday at the Field Hockey & Lacrosse Complex.
Maryland (15-1, 5-1 ACC) outscored Virginia 7-2 in the second half to win the final conference meeting between the two programs. In addition to Griffin, Taylor Cummings led the Terrapin attack with three goals and two assists. Halle Majorana and Zoe Stukenberg also aided the offense with two goals each.
The No. 2 Maryland women's lacrosse team edged Princeton 8-7 on the road Wednesday.
The Terps (14-1, 4-1 ACC) were led in scoring by Taylor Cummings, Kelly McPartland and Brooke Griffin, who all tacked on two scores each for Maryland. McPartland netted the game-winning, eight-meter goal with 1:39 to play.
Princeton outscored the Terps 5-3 in the first half despite goals from Cummings, McPartland and a last-second tally by Griffin.
The No. 2 Maryland women's lacrosse team dropped its first game of the season 17-15 at No. 1 North Carolina Saturday.
Taylor Cummings and Kelly McPartland each netted four goals and Zoe Stukenberg added three for Maryland (13-1, 4-1 ACC). A late, valiant comeback effort fell just short while the Terps surrendered 17 goals, the highest mark they have allowed in a game since April 22, 2007. Despite the loss, Maryland dominated the draw, posting a 24-10 advantage in the category led by 10 from Cummings and eight by Beth Glaros.
My take—Today Carolina was the better team but not by much. It is likely that these 2 teams will meet again twice but the only one that really matters is the possible game on Memorial weekend in Baltimore.
The No. 2 Maryland women's lacrosse team picked up a pair of clutch performances from its freshman class Saturday as it edged No. 4 Boston College 10-9 Saturday at a rain-soaked Field Hockey & Lacrosse Complex.
Rookie goalie Emily Kift made three game-changing saves late in the second half and freshman Deb Milani turned the tides in the draw to keep the Terps (13-0, 4-0 ACC) undefeated in 2014. Sophomore Taylor Cummings posted three goals and added an assist to lead Maryland offensively. Beth Glaros, Erin Collins and Halle Majorana chipped in with two goals each.
Brooke Griffin tallied seven points to lead the No. 2 Maryland women's lacrosse team to a 16-10 win against new conference foe No. 8 Notre Dame Saturday at the Field Hockey & Lacrosse Complex.
Griffin notched four goals and three assists as Maryland (9-0, 3-0 ACC) held its ninth opponent to 10 or fewer goals in 2014. Taylor Cummings posted four goals and Kelly McPartland recorded a hat trick to aid the Terrapin attack. Cummings added a pair of assists to move her team-leading point total to 41.
from umterps.com