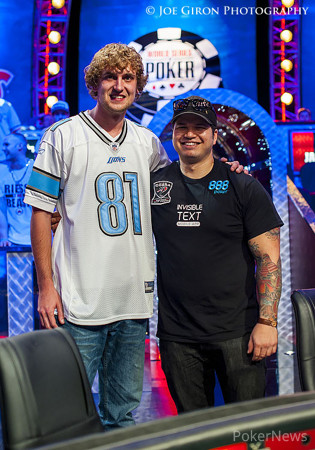 The 2013 World Series of Poker Main Event final table has been cut down to its final two players. Tomorrow, the second leg of the conclusion to this epic event will take … Read More »
The 2013 WSOP November Nine Is Set; Carlos Mortensen Finishes 10th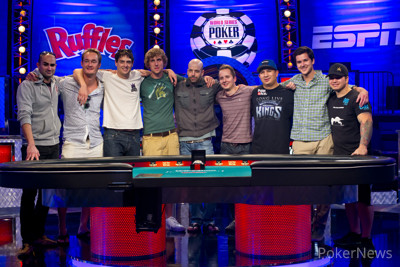 The 2013 World Series of Poker Main Event has reached this year's November Nine. At noon on Friday, 27 players remained for Day 7, but that has since … Read More »
Top 7 Payouts
1st $8,359,531 2nd $5,173,170 3rd $3,727,023 4th $2,791,983 5th $2,106,526 6th $1,600,792 7th $1,225,224
In a classic final threesome duel between, ASU Freshman Jacob Balsinger, Martha Vineyards native Jesse Sylvia and online guru Greg Merson, it was Merson who pressured, used position, and yes had some luck to best his rivals and win $8 million dollars and more important the coveted Gold Bracelet and … Read More »
"Clear intention" was the reason the Magician gave for his victory. He must have spent some time with the Zen Master. The final hand: Antonio went all in with trip fives against 2nd place finisher England's Sam Trickett's flush draw. The board came up empty and Antonio's entourage went nuts. … Read More »
This was the brainchild of Cirque Du Soleil's founder Guy LaLiberte. Every major Pro is entered and as the 1st day winds down,  the Poker Brat, Phil Hellmuth , Jr is at the top of the heap.
Please someone explain to me why after grinding and playing brilliant poker to reach the final 3, Ben Lamb, arguably the greates player in the land) would go all in with KJ off. Martin Stasko's pair of 7s held up. 2 hands later later Ben went home with Q6 off … Read More »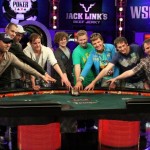 Final hand—KK vs the short stack all in KQ —-The community cards brought only a Q—The final 9 is set. Ben Lamb current leader of the Player of the Year will be the favorite. We will soon learn about the … Read More »
For those of you who wonder why I keep writing about the WSOP. Now it's time to watch on the deuce as they get near the final table.
The Poker Brat spent 5 days putting himself in position to win then in 3 hands lost the Players Championship. Check it out on ESPN3.com Part II. Black Friday has not had the crippling effect on the WSOP as most thought it might. Fields are higher and in general entrance … Read More »
There are 4 players left and Hellmuth's big lead is teetering. This is the Pro Player's Championship–a $50,000 buy in event that test 10 disciplines of poker.
I only relate this hand because it is so unbelievable. Anthony Esfandiari, better known as the Magician was at the final table of the Event 45 of the WSOP in 2nd place with a huge chip advantage. After stealing blind after blind, he got trapped in a all in situation … Read More »